A speed mentoring evening for aspiring journalists to meet senior ones all from the comfort of your home!
About this event
We're obviously really sad that we can't host any interns right now or organise events but we are determined to provide as much support as we can until we can get going again after lockdown. We also want to connect as many of you as possible with each other and with senior journalists. Networking doesn't have to end just because we're all stuck at home!
We would love you to join us for a night of speed mentoring over Zoom! If you are a student, aspiring journalist or less than a year into your career, please sign up to be a mentee. If you are one of our hosts or an experienced journalist with over three years experience who wants to volunteer their time, please sign up to be a mentor.
Once everyone has signed up, we will send you a link with the details so you can join the session and some tips for making the most of the evening.
Looking forward to seeing you on screen!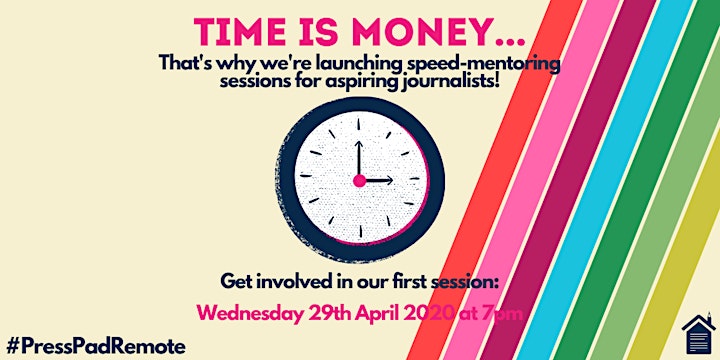 Organiser of PressPad Speed Mentoring
PressPad is an award-winning social enterprise that is fighting to lower the financial barrier of entry into journalism. We link young people with work experience in London with experienced journalists who can offer a spare room plus great advice. We also add them to our intern networks so they can learn from each other. 
It's mentoring, networking and accommodation all rolled into one.