Description
Have you ever felt stressed at work?
Whether racing towards a deadline, taking on extra tasks, or working hard to demonstrate your commitment to your company, we have all been guilty of burning the candle at both ends.
Everyday we face challenges at work that cause us to experience stress in its many manifestations. If we do not develop sufficient coping mechanisms to deal with stress, we are at risk of facing burnout.
Burnout is a 'state of vital exhaustion', as defined by the World Health Organisation, and is the result of experiencing continued stress without allowing your body time to recover and return to a normal, calm state.
Why is it important?
Burnout not only affects the mental health and wellbeing of you and your teams, but it has a huge economic impact on organisations. In Britain last year, over 26.8 million working days were lost due to work-related ill health. It is estimated that each person suffering from stress, depression or anxiety took around 25.8 days off work!
What can we do about it?
Come to our FREE workshop, where we will cover topics such as:
Burnout in the UK and across the world

The business case for preventing burnout

Building resilience in yourself and your teams

Identifying your personality type and how this affects the management of stress

Tools and exercises to help you cope with stress and build resilience in yourself and others

Using mindfulness in the workplace to prevent burnout
Where and when?
The Crucible Theatre in Sheffield (55 Norfolk St, Sheffield S1 1DA)

Thursday 9th May from 10:00 – 12:00
This burnout workshop is completely FREE as it forms part of the SME Tools to Prevent Burnout project, which is fully funded by the Erasmus+ programme.
There are limited spaces available at the event, so register to secure your place now!
If you have any questions, please get in touch with us at office@inovaconsult.com or 0114 279 90 91.
Who is it for?
This event is open to anyone looking to build their resilience and learn about stress management, in both themselves and others.
Interested in a free seminar before our workshop?

Dismissal: How to Get it Right - By Taylor&Emmet Solicitors
Taylor&Emmet Solicitors are holding a free breakfast seminar at the Crucible prior to our workshop. They will be analysing the law surrounding unfair dismissal in one of their popular Employment Law seminars.
To register, follow this link.
---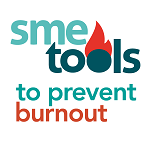 Inova's Burnout Project
Inova Consultancy has 17 years' experience participating in European projects, dedicated to supporting individuals with regards to their health and wellbeing in the workplace.
The Burnout project is designed to help both employees and managers raise their resilience to prevent burnout by providing them with toolkits made up of tips and practical advice that they can incorporate into their daily working lives.

The European Commission support for the production of this publication does not constitute an endorsement of the contents which reflects the views only of the authors, and the Commission cannot be held responsible for any use which may be made of the information contained therein.