Multiple Dates
Preventing Suicide in Adur & Worthing - Talking about Suicide: Ten Tools
A 90-minute Zoom training for anyone who works with the public in Adur & Worthing. Anyone can help prevent a suicide through a conversation.
About this event
The session is delivered live on Zoom by a professional trainer. It was created by Olly's Future (registered charity no. 1187184) and Start the Conversation.
Who should attend this training?
Anyone who works with the public in Adur and Worthing, including:
Bartenders, waiters and hotel staff
Barbers and hairdressers
Foodbank volunteers or other frontline support worker
Charity shop volunteers
Parks and foreshore staff
Taxi drivers and bus drivers
Car park attendants, traffic wardens
Pharmacists
As the eyes and ears of our community, here's your chance to learn how to help prevent a suicide through a caring conversation. This FREE short online training is for you.
Why should I attend?
The Samaritans estimate that 1 in 20 people is thinking of suicide at any time. That means if your job involves talking to people, you could come across someone who is struggling to cope.
In just 90 minutes, learn ten tools and the confidence to start a conversation with someone you're worried about. You could save their life.
You don't need to have all the answers – just a willingness to want to help.
The pandemic has taken its toll on all of us. And that's why these ten tools for talking about suicide are more needed now than ever. Anyone can learn these life-saving skills.
What will I learn?
You'll learn to put aside common fears that can get in the way of starting a conversation, such as:
"What if I say the wrong thing?"
"What if I make things worse?"
"What if I ask about suicide and put the idea in their head?"
You'll also learn to talk about suicide with confidence, including:
What is 'healthy' vs 'unhealthy' language around suicide?
How, why and when should I ask someone if they are thinking about suicide?
How do I listen without trying to fix their problems - and why is this important?
Will I have to talk?
There is zero pressure to talk or share your experiences; many people attend our training simply to observe and learn.
To ensure you feel safe and relaxed, Rob or Craig will be online to help you with any IT problems, and one of our professional Emotional Support team will be available to offer personal help.
- - - - - - - - - - - - - - - - - - - - - - - - - - - - - - - - -
This FREE training is part of the Preventing Suicide in Adur & Worthing initiative, funded by Adur & Worthing Councils.
Note: Spaces are free but they are limited. Please cancel your booking (via Eventbrite or by emailing training@ollysfuture.org.uk) if you won't be able to attend for any reason, so someone else can take your place.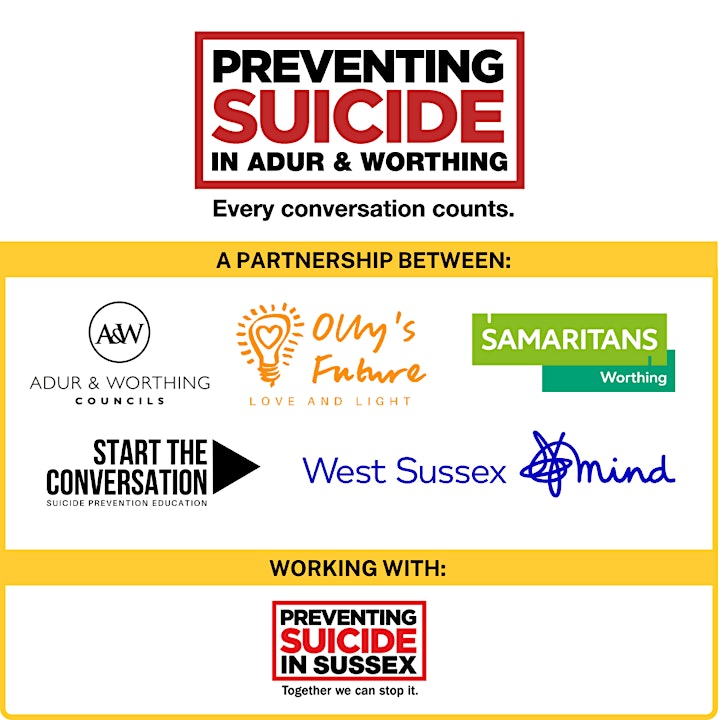 Organiser of Preventing Suicide in Adur & Worthing - Talking about Suicide: Ten Tools
A creative and passionate partnership between Olly's Future (registered charity no. 1187184), set up in loving memory of Oliver Hare who took his life two days before his 23rd birthday, and Start the Conversation, specialist and bespoke suicide prevention education, founded by Rose Allett.
In an effort to prevent more needless suicides, these organisations are working to remove the fears that stop people talking about suicide by delivering simple no-nonsense, no-jargon skills training for everyone. 
They welcome new partnerships and collaborations. Contact either organisation to discuss working together.