PRFest looks specifically at five key areas which will affect the sustainability of our industry.
About this event
In this week-long event, a first for PRFest, we look at the sustainability of our industry from a people and planet perspective.
Five key areas include:
Work
Society
Next Generation
Planet
Corporate Social Innovation
The theme for this year represents where we are as an industry and as practitioners. Everything changed due to COVID, but it's made us all think about the future. Each area is given a dedicated day within the programme.
The steering group has helped shape the programme with their thinking, contacts, experience and with a view to being a more diverse and inclusive event.
Below is an outline of the event. Full details of speakers, their biogs, session etc will be added to the website over the next two weeks.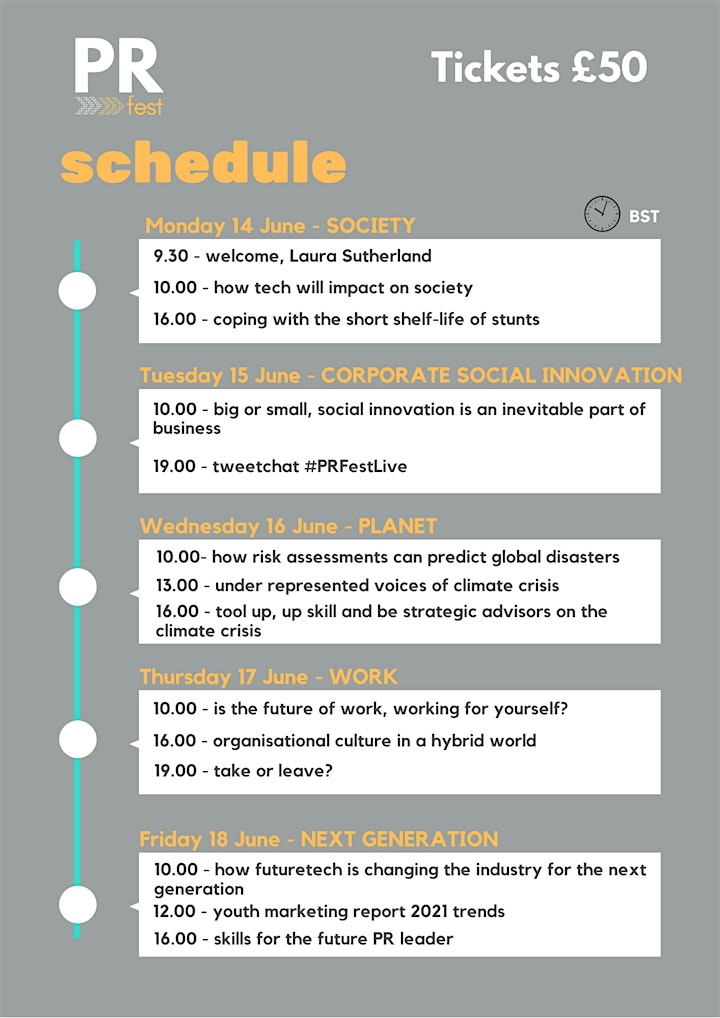 Highlights include:
-Philippe Borremans talks about his experience advising foreign governments about COVID.
-Underrepresented voices of the climate crisis, specifically looking at islands and coastal communities
-There will be an opportunity to win free training
-Plus more to be announced!
Further information
The event is held over a number of channels including Zoom, Twitter, Instagram Live.
Anyone can join the Twitter and Instagram Live events, but only those who have 'Access All' tickets, can attend the main events on Zoom.
As always, we want this to be a highly practical event, with lots of learning, sharing and collaborating. It means you can leave being able to implement your ideas and thinking.
You will have the same Zoom link for the whole event, so you don't need to worry about different links for different days. Each day you'll get a reminder email of what's on, what time and where to go. The Instagram Lives will be saved to IGTV so you can watch at a later date and you can follow #PRFestLive for the Twitter chat.
£5 from every ticket sold will be donated to the Taylor Bennett Foundation, which PRFest has supported since 2017. It's mission is to help Black, Asian and Ethnic Minority graduates into a career in public relations.
Any questions or suggestions? Please contact Laura Sutherland who is always happy to help. You can reach her at laura (at) aura-pr (dot) com.
Terms and conditions:
No invoices
No refunds
Tickets can be transferred to a colleague via logging in to your booking and amending the name and details of attendee
Please keep your email confirmation for your CPD points
Aura PR reserves the right to amend or cancel PRFest. This includes changes to dates, times, speakers, content and the programme
Please ensure you check your Spam/Junk folder for PRFest emails and add them to the 'safe sender' list
The copyright of all materials remains with PRFest and the speakers and therefore may not be reproduced, copied, or in any way incorporated into or stored on any website, electronic retrieval system, publication or in any other form
Attendees registration information is in compliance with GDPR and as PRFest is an Aura PR event, the data is held with Aura PR. For questions regarding your data, please refer to Aura's Privacy Policy or get in touch to ask any questions.
Aura PR will not be held liable for delay in delivery, or failure to deliver due to any cause outside of its reasonable control.