Understand how to cost up your services and products with strategies, tips and mistakes to avoid!
About this event
About the session
Setting prices for products or services is a huge challenge for many business owners at startup as well as during scale-up! Mistakes made in pricing decisions result in lost revenue, disrupt cash flow and reduce profits in your business.
As a business owner, are you frustrated by not receiving the right price for your products or services? Do you feel undervalued by customers despite the time and effort you have invested in delivering the 'perfect' solution to a customer? Or, maybe you feel the struggle to achieve your desired revenue or profits is a result of a mistake you've made when setting your prices.
This virtual seminar covering 'Pricing strategies and tips for small businesses' also includes four common mistakes made by business owners and offers solutions on how to avoid costly pricing errors.
What's covered:
• Importance of pricing in SMEs
• Pricing for brand awareness and value
• Costs: being in business and doing business
• Key considerations in setting prices
• Four common mistakes made in setting prices, and how to avoid them
• Developing clear strategies for pricing in your business -including case studies
This virtual seminar is ideal for owners of small businesses (pre-startup to established) and trading as sole traders, freelance consultants or company directors.
Time: 1 hour (including time for Q and A)
About your host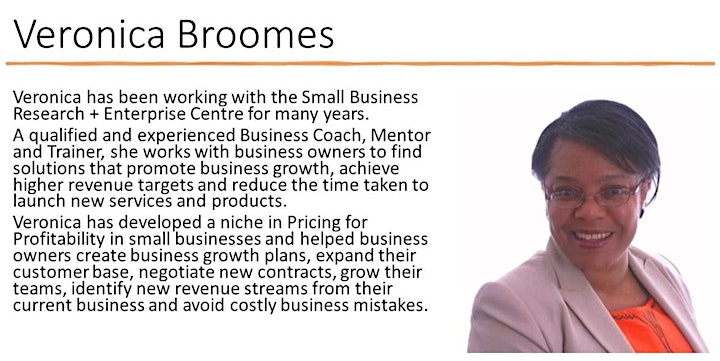 Organiser of Pricing Strategy for Small and Medium Enterprises
We are a business support service who help start-ups and small businesses turn their ideas into reality with access to business data, advice, mentorship and events.
We create events with the small businesses and start-ups in mind, we partner with industry leaders, professional and experts to bring you events that will help your business grow.