Sales Have Ended
Registrations are closed
Thank you for your interest in a ticket, though Eventbrite registration has ended if your like to join the Gather.Town session for some causal networking please email - dom@ukie.org.uk
Sales Have Ended
Registrations are closed
Thank you for your interest in a ticket, though Eventbrite registration has ended if your like to join the Gather.Town session for some causal networking please email - dom@ukie.org.uk
Chat & engage about different elements of Pride and matters important to LGBTQ+ communities. Followed by informal networking afterwards!
About this event
When Will They Happen?
The PRIDE chat sessions will take place from 29th June, throughout July and right up to the first week of August, with each session starting from 4pm and ending at 6pm.
Even if Pride month ends with June, we believe it is vital to encourage ongoing discussion around Pride and LGBTQ+ matters beyond just one month!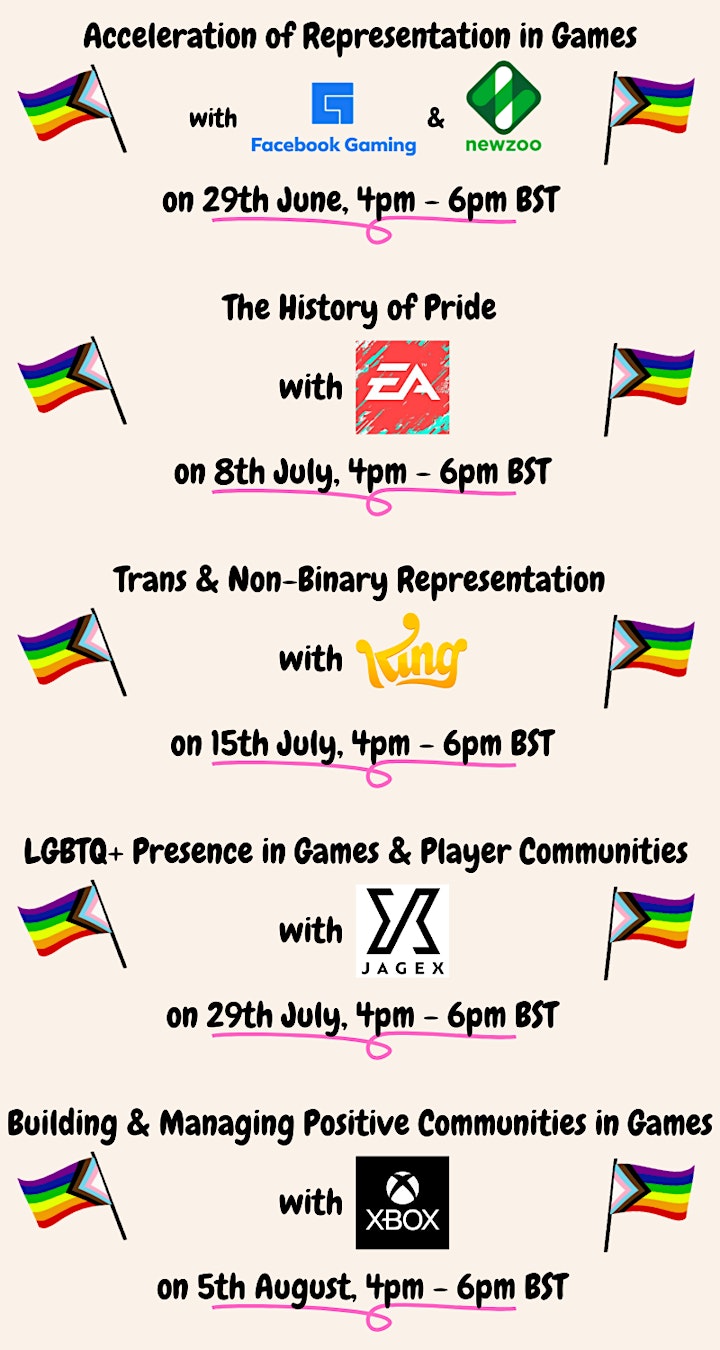 What Can You Expect?
Each PRIDE chat session will start at 4pm on their respected date and will be two hours long, starting with a hour slot which will be chaired by a Founding Partner of the #RaiseTheGame Pledge:
Trans & Non-Binary Representation with King, on 15th July.
LGBTQ+ Presence in Games & Player Communities with Jagex, on 29th July.
Building & Managing Positive Communities in Games with Xbox, on 5th August.
Each Founding Partner will lead their session differently from one another so you won't want to miss any of them!
After the first hour, the second hour slot will be dedicated to socialising, might that be carrying on discussions from the first session or simply having fun and playing games with fellow industry folk!
These events will allow games industry professionals who identify as LGBTQ+, see themselves as allies wanting to learn more, or any other background to come together within safe spaces to openly connect, discuss and gain insight around important matters to them and many communities.
Where will they happen?
All session will take place online. The first hour of each session will take place in Zoom, with live transcripts on and pro account features active to ensure sessions are secure and can be moderated effectively.
*Please note the Zoom segment of sessions may be recorded, with the intention to create short clips from footage for social media; only if permission have been granted from those featured in footage. Full recordings will not be released publicly.
The second hour of each session will take place in a private space on the virtual platform Gather.Town. The platform boasts proximity video chat, encourages informal networking and there is also the option for more private conversations. See below for an example of what the platform looks like.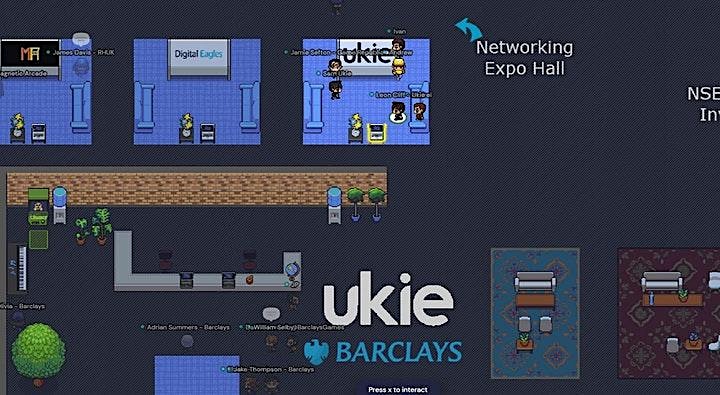 Need More Details?
If you have any issues or questions, please don't hesitate to email - dom@ukie.org.uk
More about #RaiseTheGame
The #RaiseTheGame pledge is a holistic driven initiative managed and facilitated by Ukie aimed at helping the overall UK games industry grow and improve in all areas of equality, diversity and inclusivity. From guidance and practical advice to engagement activities like events both online and in-person, the pledge is a call to action to rally the sector together and become lead examples of inclusion to other industries.
Though the pledge is managed by Ukie, any games industry company can applied to sign-up and be involved in activities surrounding the pledge, all that is asked is a strong commitment to make a positive impact, the time to listen and consider along with the effort to implement such change. Even if you're at the start of your journey or think your company too small to make a difference - all companies no matter their size or where they are in their equality, diversity & inclusion journey are welcome.