Sapphic stories are often told through the (cisgender, heterosexual) "male gaze" but what happens when we tell our own stories? Magic.
About this event
Join us for a discussion of the stories only we can tell.
We have four panellists at the discussion: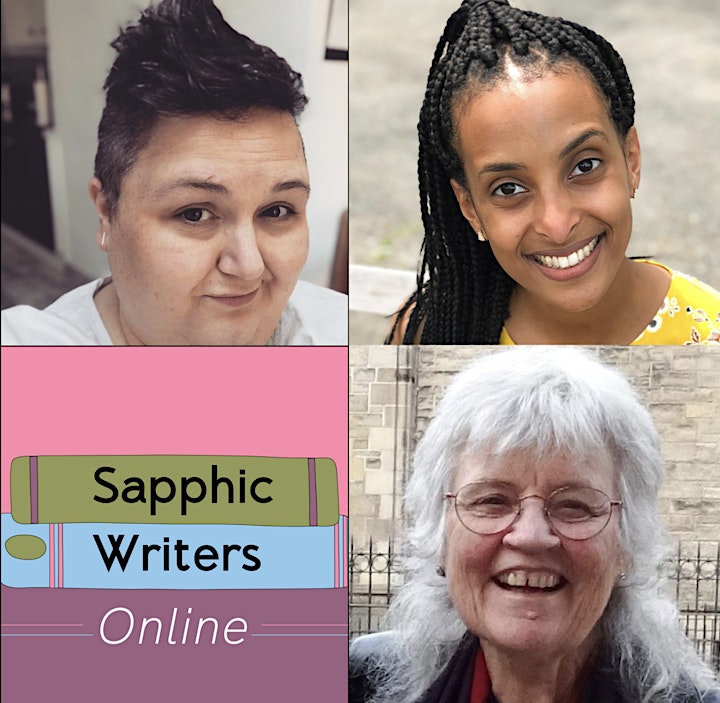 Sigrid Nielsen (she/her) co-founded Lavender Menace with Bob Orr in Edinburgh in 1982 - the first LGBT+ bookshop in Scotland and the second in the UK. She also published short pieces in anthologies and co-edited In Other Words: Writing as a Feminist with Gail Chester in 1987. She and Bob founded Lavender Menace Queer Books Archive in 2019 (www.lavendermenace.org.uk).
Lola Keeley (she/her) is a writer and coder. After moving to London to pursue her love of theatre, she later wound up living every five-year-old's dream of being a train driver on the London Underground. She has since emerged, blinking into the sunlight, to find herself writing books. She now lives in Edinburgh, Scotland, with her wife and four cats.
Zebib K. Abraham (she/her) is a writer and psychiatrist (M.D.) She is completing an MFA at University of Edinburgh. She has been published in The Rumpus, Apparition Lit, The Selkie, Midnight & Indigo, and more, with forthcoming publications in Fantasy Magazine and others. She is black, queer, and from an immigrant background.
Chyna Deveroux (they/them) from Sapphic Writers - Sapphic Writers is a small writing organisation that provides avenues of support, connection, and inspiration within the global sapphic writing community by offering workshops, publication and performance opportunities, and news and resources aimed at this underserved community of writers.
The event is chaired by Siobhán Carroll (they/them), a writer and performer based in Edinburgh.
Organiser of Pride in Writing: Sapphic Voices
The Staff Pride Network is an inclusive network that serves as a resource for the rich diversity of LGBT+ employees across the institution, including PhD students who prefer to attend staff events.
We strive to take an intersectional approach to providing a safe, supportive and welcoming environment for all people who self identify as part of LGBT+ communities, whether or not they are 'out' in the wider world, and to make LGBT+ issues more visible within the University environment.  
Different organisations use different acronyms to refer to specific groups, and terminology is always evolving. Our definition of LGBT+ includes, among others, those who identify as lesbian, gay, bisexual, transgender, queer, gender fluid, intersex, non-binary, asexual, pansexual and polyamorous. It also includes all those individuals and communities whose sexuality or gender identity is a matter of shared personal, political and/or social experience, as well as those who are LGBT+ allies. 
SAFE SPACE
We welcome all those who self identify as part of LGBT+ communities, regardless of identity or background, and provide a space where all can feel safe and included. We do not support or tolerate anti-LGBT+ violence, harassment or speech, and encourage inclusive and respectful language. As a positive space for listening, we promote the dignity and wellbeing of all network members.