For the first time since our existence we're creating a physical space filled with storytelling by people of Black ancestry.
About this event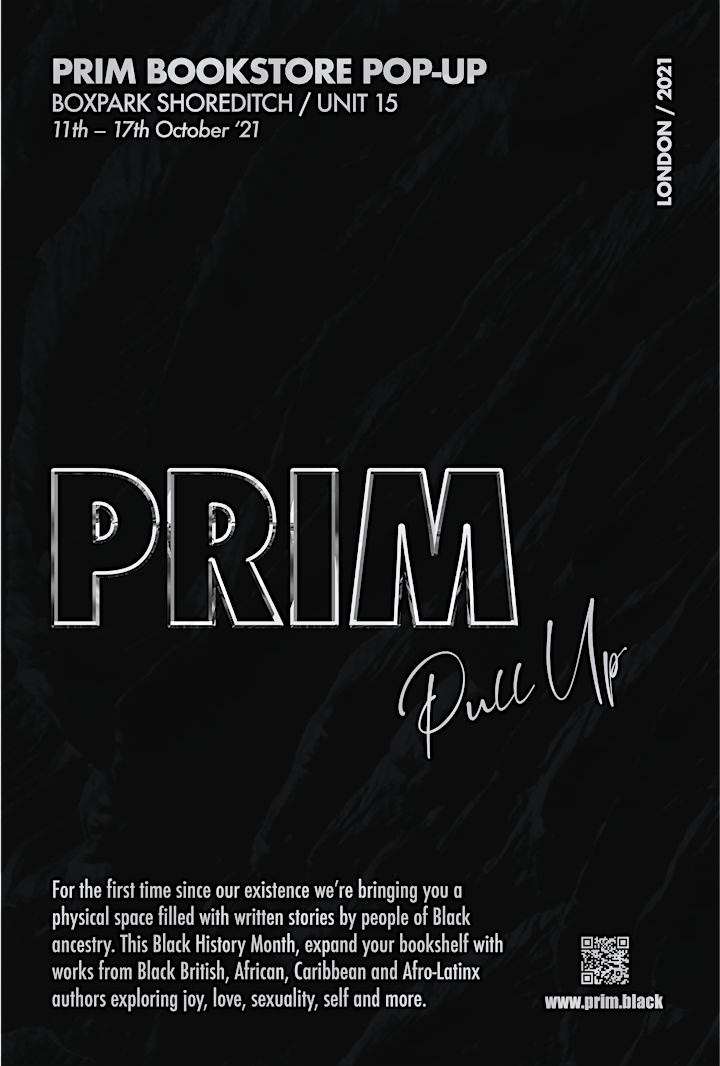 PRIM POP-UP BOOKSTORE @ BOXPARK SHOREDITCH
For the first time since our existence we're creating a physical space filled with storytelling by people of Black ancestry - this Black History Month we'll be taking over UNIT 15 at Boxpark Shoreditch, transforming it into a bookstore and community library with books by authors of Black ancestry from the UK and around the world. We want visitors to expand their bookshelf with works from Black British, African, Caribbean and Afro-Latinx authors exploring joy, love, sexuality, self and more. As well as engage in other forms of storytelling through artwork by queer and Black creatives, an installation by Audible UK where guests can listen to audiobook samples, furniture provided by Black artists alongside sensory smells provided by Aesop.
The PRIM pop-up bookstore will include books to be purchased curated by PRIM, a community library where BIPOC visitors can enjoy a free book donated by our community and publishers such as Penguin Random House, Atlantic Books, Faber + Faber, Orion Books, Headline Publishing and more. The books available for sale and as part of our community library range from fictional works by Bernadine Evaristo, Paul Mendez, social commentary by Otegha Uwagba, to reads focused on sexual politics by Patricia Hill Collins and Nana Sekyiamah and also political commentary by Brazilian activist Lelia Gonzalez and the renowned Charles W. Hills.
PRIM Founder and Director, K Bailey Obazee notes, 'Black History Month is a great time to ramp up on celebrating the history and present work of the Black community in Britain. For PRIM, aside from what we do to celebrate US all year round, every year, this is our chance to contribute to the array of offerings during BHM, and not being funny, but this is basically my wet dream! To really hone in on queer Black people too - this is what PRIM is about.'
Alongside our activation we'll be hosting a number of curated events.
PRIM Launch Party (RSVP required) on Monday 11th October in Boxpark's BEATBOX, which includes performances from Amber-Simone, PepperCoast and more alongside DJ sets from Sippin' T, Talia Goddess, Yodea and Drybabe.
The Art of Archiving Roundtable (ticket required) we've brought together filmmakers and photographers we admire deeply; Akinola Davies Jr., Holly-Marie Cato; and Stephen Isaac-Wilson filmmaker for an intimate roundtable discussing their practices and its archival importance. The chat will be moderated by PRIM Founder and Director, K Bailey Obazee.
In Conversation with African Queer Authors (live on IGTV) - PRIM will also be collaborating with Cassava Republic showcasing African queer writers via an IGTV stream from the bookstore led by Bookstagram.
Stay updated by subscribing to our newsletter and following us on instagram.