About this Event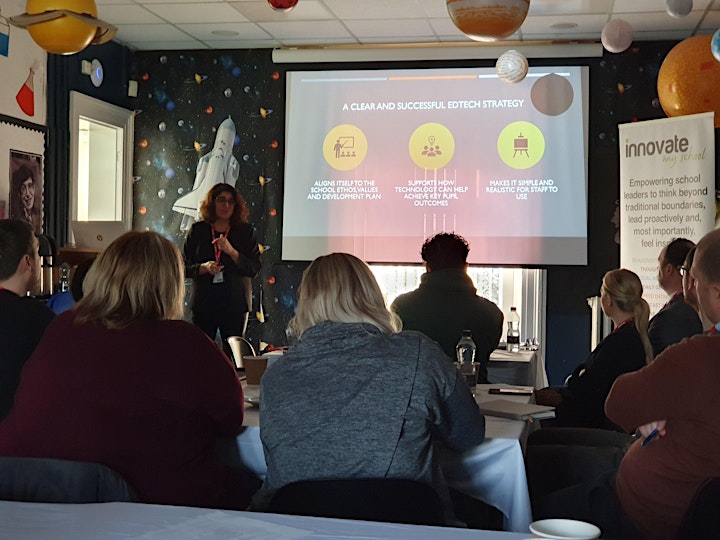 Why should I attend?
An effective digital strategy consists of a well planned framework to accommodate change and shift in culture. Much too often, schools arm themselves with top of the range technologies only to find that through poor design, analysis and implementation, they are unable to transform the mindsets of their teaching staff. These are expensive mistakes to make that can be avoided when an effective digital strategy is in place.
This workshop is targeted at primary digital leaders, directors of IT, IT coordinators and senior leaders - anyone who has the responsibility to bring the use of educational technology into their school environment.
Areas of study in the workshop
Digital Leadership (take away: vision statements / examples / templates and a list of questions to get started with your own SLT): Digital Leadership is focused on creating a culture of change and mind set in school by using technology as a key driver for change. It is the understanding of how to develop and deliver a successful implementation of educational technology in School, while considering how efficiencies can be harnessed through effective use of technology. These efficiencies may be pedagogical, financial and operational.
Digital Ecosystems (take away: checklist of basic IT audit): Digital Ecosystems is the consideration of the school's infrastructure, architecture and educational workflows using technology. Whichever ecosystem is chosen, the system, school applications, and processes need to work seamlessly with one another. This section discusses the integrated whole of the IT Team, Systems, School Workflows and how best to bring them together to achieve successful teaching and learning outcomes.
Digital Workflows (take away: start of your school toolkit - study of ecosystem and available tools): Digital Workflows offers an understanding of how the use of technology can work alongside current pedagogical strategies in the classroom. This section discusses theoretical models of research such as TPACK, SAMR and Rosenshine principles for integrating the technology into lessons within content delivery, feedback, marking and assessment and flipped learning; always reflecting upon how a teacher can be more effective or efficient while using the technology with students.
Digital CPD (take away: "I can statements'): Digital Teacher Training (CPD) offers an understanding of how best to work with teachers in using educational technology both appropriately and meaningfully within their pedagogical practices. This area of professional development is a key indicator to change management at a human level and the challenges that follow. It showcases a 4 step iterative process outlining the development and growth of teacher practice from basic uses to more advanced and competent qualities.
Who is Dr Neelam Parmar?
Dr. Neelam Parmar currently works as Director of Educational Technology, Digital Learning and Innovation at Ashford School and as Educational Technologist at United Learning. She also works as Educational Technologist for the United Learning Group of Schools. Neelam draws on her research and practical experiences of working with technology and regularly presents around the UK and internationally on the role of EdTech in education, providing strategy, roadmaps and CPD programmes for blended and online learning approaches. She is the author of the 'Digital Literacy in the Primary' series and 'Digital Parenting' book. Neelam is an award-winning professional, international researcher, author, thought leader and speaker on effective technology, pedagogy and curriculum integration within education and is currently engaged with the DfE EdTech Leadership Group, #EdTechImpact workshops and @WomenEdTech movement.
Agenda
09:15 - 10:30 EdTech Strategy: The Guiding Principles
10:30 - 10:45 Refreshments and Networking
10:45 - 11:45 EdTech Impact Micro-meetings
11:45 - 13:00 EdTech Strategy: Let's Get Started!
13:00 - 13:15 Q&A, Takeaways & Close
Why is this workshop fully-funded?
To make this workshop free to attend, Innovate My School will be running one of their popular speed dating sessions with 6 fully-vetted EdTech companies that have proven to positively impact teaching and learning outcomes.
"What a success! We were all so pleased with just how well our Innovate My School session went. Every single person found me at the end to say how useful it had been."
- Kirsty Tonks, Principal of Shireland Technology College [hosted one of last year's workshops]