Event Information
Refund Policy
Contact the organiser to request a refund.
Eventbrite's fee is nonrefundable.
One day, FIVE experts, and tons of ideas, activities, and resources to help your 2021 sales and marketing campaigns power your business.
About this Event
Join our panel of experienced marketing strategy, sales and PR experts, and ensure you're ready to attack the new year.
This event is a collaboration between Mike Pye + Co, Use Space, Expo Stars Interactive and Unhooked Communications.
Are you preparing to make 2021 a defining year for your business?
Has the chaos of 2020 caused you to diversify or evolve?
Do you want to get out of the gates quickly to take a leap on your competition?
To say 2020 has been a tumultuous year for business is an understatement. For some, it's been a disaster, while for others, there have been big opportunities and massive growth. What's certain is that it's been a time of great change for everyone: new ways of working, new technology, restructuring teams, fostering new ideas and finding new ways to collaborate.
Most businesses are now looking ahead to 2021 with eagerness, planning to put this year behind them or capitalise on the progress they've made, preparing to drive forward with purpose and power.
What you do now, during this important pre-Christmas period, will prepare you to capitalise on the opportunities that await.
During this half-day workshop we'll help you:
Make sure your marketing is in a fit state to help you push on with confidence.
Be ready to adapt to new digital marketing opportunities to grow your market share.
Create a powerful message that truly resonates with your target audience in this new and different world.
Translate your message into compelling content ideas and PR opportunities that drive engagement and coverage.
Utilise PR campaigns to generate leads, boost SEO, build new partnerships and grow your business.
Turn the table on your prospects by refining your sales technique so that you can work smarter, not harder.
Get inspiration from other businesses who have turned the challenges of 2020 into opportunities.
Measure and track results to make sure your activity is supporting business growth.
Create the systems and structure you'll need to maintain momentum throughout the year.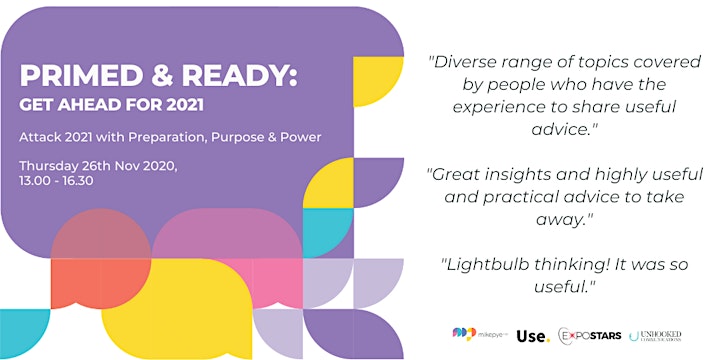 Hosted in the beautiful and spacious Garden Room at Use Space, this event will help you prepare for a powerful start in the New Year. Ensure you're on track by joining us face-to-face or online (via livestream) for an insight-packed day led by our experts – specialising in marketing strategy, digital, sales, branding and PR.
Five interactive and collaborative workshops delivered by expert speakers. Expect plenty of resources, activities and golden insight to drive your sales and marketing plans forward.
Agenda:
13.00 PM - Welcome and Introductions
13.15 PM – Preparation is Key – AJ Handley-Rowe, Digital Specialist, Mike Pye + Co
Prepare to discuss where you are now and take a deep dive into your marketing strengths and weaknesses.
Understand key areas marketing you need to review
Delve into customer insights and assess whether your brand resonates
Review your use of channels and explore untapped opportunities.
Define the systems you need in place to harness digital effectively
Make the most of the skills and partners available to deliver your ambitions
Understand what is important to measure – delving into hard and soft metrics
By the end of the session, you will have a clear understanding of how your marketing is performing and insight into the opportunities you can capitalise on to take a leap on your competition in 2021.
14.00 PM – Break
14.15 PM – Refine Your Message – Sarah Wilde, Brand Specialist, Mike Pye + Co
Get inspiration from other businesses who are successfully pivoting or relaunching their brands and harness collective imagination to rebuild in the right way.
Clearly communicate brand messages that truly resonate
Learn how to connect with different audiences and project a consistent image
Engage both internal and external audiences
Harness the collective creativity and imagination available
Explore how to best utilise resources available to you and how to rebuild a stronger, more impactful brand or campaign message.
15.00 PM - Amplify Your Messaging and Brand – Claire Gamble, MD, Unhooked PR
PR expert, Claire Gamble, will be joining us to deliver a session that will help attendees discover:
How PR feeds into and amplifies wider sales and marketing strategy
The magic formula for developing impactful PR campaigns and stories
How to position your business in the right way and engage your audience
How to use PR to generate leads, boost SEO, build partnerships and grow
How to measure and track results
15.15 PM - Lunch (included in ticket purchase)
15.30 PM - Plan Your Attack - Mike Pye, Managing Director, Mike Pye + Co
Form your preparation plan to attack 2021. Pull together your previous learnings and get hyped for the new year.
Understand the key elements of a successful relaunch
Measure future success with meaningful KPIs and milestones
Map out your plan to market and outline your budgets
Detail the collateral required to get your wheels back in motion
Address any holes in your skillset and technology
Create a solid campaign plan
Equipped with a detailed plan and plenty of handy resources and insight, leave with the clarity and conviction to drive real momentum with your marketing plan.
16.00 PM – Sales Strategy Post Covid-19 – Lee Ali, Managing Director, Expo Stars
Sales Expert, Lee Ali, shares why you need to stop selling and start facilitating brilliant buying experiences and creating long-lasting and profitable business relationships. Learn how to:
Ditch cold-calling and make the most of your time and energy
Reduce time-wasting sales leads that are misaligned with your audience
Turn the tables on your prospects and provide a great buying experience
Create long-term business relationships that stand through turbulent times
Long gone are the days where Sales was just a numbers game.
16.45 PM – Q&A
Who is this event for?
Owners and senior leaders in ambitious businesses who want to use this time effectively to develop stronger businesses and take a lead on the competition.
At the end of this 1/2 day workshop, you'll walk away with:
A better understanding of how to drive your business forward through marketing, sales and PR – including key marketing principles and what they look like in action through real-world case studies.
More clarity on the strengths of your current strategy and what areas need more of your attention.
Worksheets, activities, planners and resources you can use time and time again, developed by Mike Pye + Co based on these timeless principles.
Previous attendees to our events have said:
"Light bulb thinking! It was so helpful to take time out to think about "planning" marketing and prepare with confidence"
"Open forum, good information, engaging and knowledgeable speakers"
"Diverse range of topics covered by people who have the experience to share useful advice."
"Thanks to Mike Pye, Sarah Wilde & AJ Handley-Rowe for hosting their very informative webinar this morning discussing how you should continue to market your business within a crisis such as the one we're facing right now...."
"So much useful info and examples that helped bring it all to life"
"The session this morning was extremely useful - thanks so much! "
"Just wanted to say a big thank you to the team for today's webinar….I learnt a lot !!!" I really liked your informal style and the balance of input from all of you was spot on. Also loved your format of 'research', 'stories' and 'best practice tips'…kept it interesting and engaging."
"Just a personal note to say thank you very much for this morning. I found it a really good event, incredibly useful and have scribbled lots of useful and practical takeaways. Nice atmosphere too I felt."
"Great insights and highly useful practical advice to take away."
Date and Time
Location
Refund Policy
Contact the organiser to request a refund.
Eventbrite's fee is nonrefundable.