Location
Exeter Library
(and broadcast to Zoom)
Castle Street
Exeter
EX4 3PQ
United Kingdom
PRISM's Speakers series returns with talks on "Biosciences beyond the binary" and "Transitions in science: phase and gender"
About this event

PRISM Exeter's Speakers series returns for LGBTQ+ History Month 2022 with talks from Dr Charlie Wand and Dr Robert Ellis.
Charlie will talk about his experiences in STEMM* as a member of the LGBTQIA+** community and provide tantalising insights into his field of research. Robert will provide this year's Allyship talk and take you on a tour through the full spectrum of sex across non-human biology and the importance of disaggregating for sex and gender in data.
(*STEMM is a catch-all term for the fields of Science, Technology, Engineering, Mathematics and Medicine)
(**LGBTQIA+ refers to people who identify as Lesbian, Gay, Bi, Trans, Queer/Questioning, Intersex, Asexual or are otherwise not cisgender and/or not straight/heterosexual)
----------
"Is this event for me?"
Yes (probably). We welcome everyone interested in attending our event, regardless of how you identify: we simply take a zero tolerance approach to discriminating language or actions of any kind. We particularly welcome STEMM professionals, STEMM enthusiasts, young adults, and the parents, educators and influencers of children and young adults. Please note that attendees under 16 must be accompanied by a responsible adult (i.e. someone that is known to them and who is over the age of 18).
----------
About the Speakers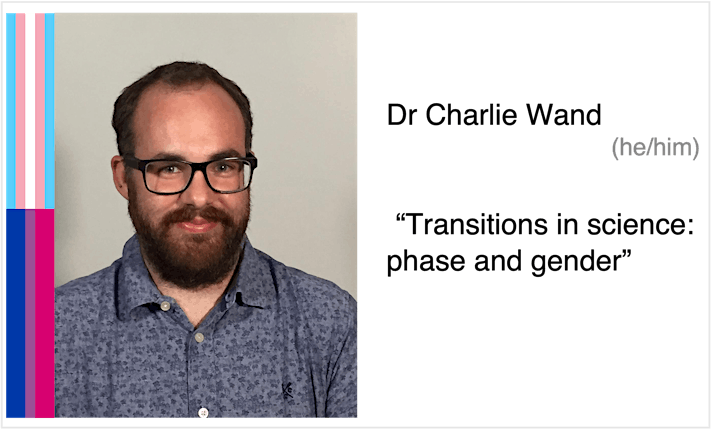 Dr Charlie Wand - Transitions in science: phase and gender
Transitions are all around us, from the day/night cycle through to the melting and transforming of solid material into gas. In this talk, Charlie will consider two very different transitions: phase transitions in soft materials and his own gender journey and how this has influenced his scientific career to date.
Dr Charlie Wand is a Lecturer in Natural Sciences at the University of Exeter. Prior to joining in 2021, he has held post-doctoral positions at the University of Manchester, the University of Cambridge, and the Swedish School of Textiles. Charlie obtained his PhD from the University of York in 2014, where he investigated confined liquid crystal systems. His research uses computer simulations to investigate soft matter systems with industrial applications, from shampoo through to cutting-edge display technologies. Charlie is a bisexual trans man and he is active in outreach and widening participation, particularly to increase the visibility and representation of both bisexual and trans masculine people in STEMM.
Dr Robert Ellis - Biosciences beyond the binary
This talk will move the consideration of sex from a typically human and biomedical context out into the natural world. It will explore the diversity of sex in nature, highlight why this understanding is fundamental for addressing some of society's greatest challenges, such as climate change, and counter the widely-held assumption that sex is binary, genetically determined and fixed throughout an organism's life. In doing so, it aims to showcase why now, perhaps more than ever, it is vital that biosciences moves beyond the binary.
Dr Robert Ellis is a Senior Lecturer in Sustainable Aquaculture and Global Change in the Biosciences department at the University of Exeter. His research focuses on adaptation and acclimation in aquatic animals exposed to environmental change. He was one of the first researchers to highlight differential responses of male and female organisms to climate change, demonstrating the contrasting impacts of increased seawater temperature and changing seawater chemistry on marine mussels during his PhD.
Subsequently, his research has highlighted the widespread lack of consideration afforded to sex in a climate change context, and has proposed the repercussions such oversight risks. As a result, he has become impassioned to enact change among the wider scientific community, contributing to policy recommendations (European Commission 'Gendered Innovations 2' policy report), peer reviewed publications, and delivering invited seminars, workshops, and outreach events calling for such change.
----------
About the event
This is a hybrid event with both in-person and virtual tickets available. Please check the details of your ticket when booking.
Venue: Rougemont Room, Exeter Library, Castle Street, Exeter, Devon, EX4 3PQ
Date: Monday, February 28th 2022
Provisional event schedule (all times are in GMT):
Doors open from 6:30pm; Zoom room opens from 6:50pm
7:00pm: Welcome from PRISM Exeter
7:05pm: Welcome from event partner, BIPC Devon
7:20pm: First talk, followed by Q&A
7:50pm: short comfort break
8:00pm: Second talk, followed by Q&A
8:40pm onwards is reserved for general networking (in-person audience) and discussion (Zoom audience)
The number of in-person tickets available is limited to 40. Please be sure to book your tickets early to ensure you don't miss out. A small cost is included in these tickets to cover the refreshments (tea, coffee, water), provided by The Owl and Pussycat coffee house, which will be available from 6:30pm to in-person audience members. In-person ticket sales will close one week prior to the event so that numbers can be confirmed for catering. This is an alcohol-free event.
Online-only attendance is free. A live feed displaying the speaker and their slides will be broadcast to Zoom. Both in-person and virtual attendees will be able to contribute to the Q&As after each talk.
Please note: the talks will be recorded and uploaded to our YouTube channel 2-3 weeks after the event. Audience questions will be removed from the recordings to preserve audience anonymity. Original recordings will only be seen by the PRISM Exeter coordination team and will be deleted within 30 days of the event.
This event is held in partnership with BIPC Devon. The manager of BIPC Exeter will provide a brief talk about the resources available at the Business & IP Centre, how they can help you, and how these can be accessed.
----------
About the venue:
Exeter Library is located in the heart of Exeter City Centre, within walking distance of both Exeter Central train station and Exeter bus station. A limited number of accessible parking for blue badge holders is available outside the venue. The Rougemont Room is on the second floor - see the Exeter Library website for a map of the layout. Ramp access is available to the front entrance of the library and lift access is available to reach the Rougemont Room and the adjoining toilets. Event attendees will be the only people inside the library during the event. The toilet facilities are gender-neutral, individual cubicle units. Disabled access toilet facilities are also available.
Please note that face masks must be worn by visitors to Exeter Library. Attendees must be prepared to show a valid Covid passport to access the venue if government guidelines require this at the time of the event. The speakers will remove their masks during their talks. Hand sanitiser stations are located throughout the Exeter Library building.
----------
About PRISM Exeter:
PRISM Exeter are a network, originally established in July 2018, catering for LGBTQ+ individuals and their allies who work and study across the Science, Technology, Engineering, Mathematics and Medicine (STEMM) sector in the greater Exeter area. For more information, visit their website at prismexeter.com.
----------
About the Speakers series:
PRISM Exeter's Speakers events series was established to showcase and celebrate the incredible work of LGBTQ+ people in STEMM as well as game-changing diversity and inclusion initiatives from across the UK. These events run three times a year, typically in February, June/July, and November to coincide with LGBTQ+ History Month in the UK, Pride Month / PRISM Exeter's birthday, and LGBTQ+ STEM Day, respectively.
-------------------------