Alexandre Coates and Dr Jon Davies show us a queer side to science, tech, engineering, maths and medicine
About this event

PRISM Exeter's Speakers series returns for LGBTQ+ STEM Day 2021 with talks from Alexandre Coates (Heriot-Watt University, Edinburgh) and Dr Jon Davies (University of Exeter).
Alexandre and Jon will talk about their experiences in STEMM* as members of the LGBTQIA+** community and provide you with tantalising insights into their fields of research.
"Is this event for me?"
Yes (probably). We welcome everyone interested in attending our event, regardless of how you identify: we simply take a zero tolerance approach to discriminating language or actions of any kind. We particularly welcome STEMM professionals, STEMM enthusiasts, young adults, and the parents, educators and influencers of children and young adults. Please note that attendees under 16 must be accompanied by a responsible adult (i.e. someone that is known to them and who is over the age of 18).
About the Speakers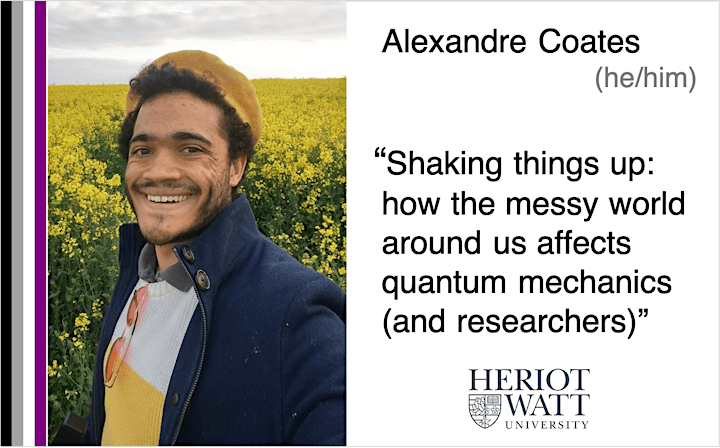 Alexandre Coates - Shaking things up: how the messy world around us affects quantum mechanics (and researchers)
Alexandre is an asexual theoretical physics PhD researcher and award-winning student representative at Heriot-Watt University. As a researcher, he focuses on how quantum mechanics and the messiness of the real world affect the transport of energy. As a postgraduate representative, he pushes for more transparency and fairer working conditions in universities. He has successfully been involved in PhD pay rises; equal access to extensions during COVID; co-designing a new PhD mentorship scheme and hosting a regular set of theoretical physics talks.
In his talk, Alexandre will explore recent research looking at how the combination of the messy world of quantum mechanics might shed light on mysteries of photosynthesis, and stimulate new nature-inspired technologies: "It is almost impossible to avoid the effects of the outside world: no matter how well you make and seal a box, eventually the air inside will reach the same temperature and humidity of the world outside. Normally, this is an annoyance. But, on the tiny scales of atoms, molecules, and quantum mechanics – it can be an advantage!"
Of course, researchers themselves also work in an environment: universities. Alexandre's talk will also draw on some of his own experiences as a minoritised PhD student, how that has influenced him, and what he has done to make a better environment for himself and others to thrive in.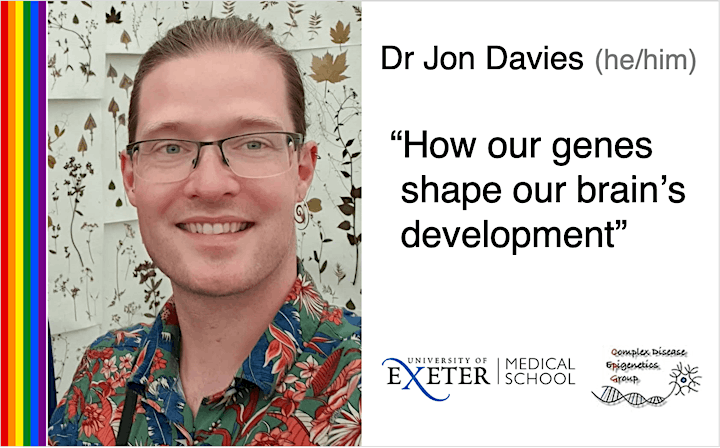 Dr Jon Davies - How our genes shape our brain's development
Jon is originally from Burton-on-Trent but has moved around a bit since, studying at the universities of Southampton, the West of England, and Plymouth. He currently works in the Complex Disease Epigenetics Group, based in the RILD building at the RD&E Wonford Hospital in Exeter. He is a research scientist and focusses on developmental biology. He is openly 'out' as a gay man in his research group and finds that being so has facilitated a better and more inclusive working environment: "I feel that I have seen things change over my time in academia but have also had my fair share of negative experiences due to my sexuality and my presentation as a queer man. I know I am lucky to be part of such a supportive network as the group I work with and the Staff LGBTQ+ Network at the university."
In his talk, Jon will provide fascinating insights into the role played by our genes - the building blocks of life - in the development and causes of psychiatric disorders such as Autism. Jon will particularly focus on his active research on pre-natal brain cell development and the novel ways he and his colleagues are able to isolate and identify the specific cells they are interested in studying.
Content warning: Jon's talk contains references to miscarriage and infant mortality as well as images of surgery / dissection of human tissue. Warnings will be provided before such images are displayed.
About the event
This is a hybrid event with both in-person and virtual tickets available. Please check the details of your ticket when booking.
Venue: Rougemont Room, Exeter Library, Castle Street, Exeter, Devon, EX4 3PQ
Date: November 17th 2021
Provisional event schedule (all times are in GMT):
Doors open from 6:30pm
7pm: Welcome from PRISM Exeter
7:05pm: Welcome from event partner, BIPC Devon
7:20pm: First talk, followed by Q&A
7:50: short break
8pm: Second talk, followed by Q&A
8:40pm onwards reserved for general networking (in-person audience) and discussion (Zoom audience)
9:30pm: Venue closes
The number of in-person tickets available is limited to 50. Please be sure to book your tickets early to ensure you don't miss out. A small cost is included in these tickets to cover the refreshments (tea, coffee, water) being provided by The Owl and Pussycat coffee house. Please note, this is an alcohol-free event.
Online-only attendance is free. A live feed displaying the speaker and their slides will be broadcast to Zoom. Both in-person and virtual attendees will be able to contribute to the Q&A with the speakers after their talks.
Please note that the talks will be recorded and uploaded to our YouTube channel 2-3 weeks after the event. Audience questions will be removed from the recordings to preserve audience anonymity. Original recordings will only be seen by the PRISM Exeter coordination team and will be deleted within 30 days of the event.
This event is held in partnership with BIPC Devon. The manager of BIPC Exeter will provide a brief talk about the resources available at the Business & IP Centre, how they can help you with your business, and how these can be accessed.
About the venue:
Exeter Library is located in the heart of Exeter City Centre, within walking distance of both Exeter Central train station and Exeter bus station. The Rougemont Room is on the second floor - see the Exeter Library website for a map of the layout. Ramp access is available to the front entrance of the library and lift access is available to reach the Rougemont Room and the adjoining toilets. Event attendees will be the only people inside the library during the event. The toilet facilities are individual gender-neutral cubicle units. Disabled access toilet facilities are also available.
Please note that face masks must be worn by visitors to Exeter Library. The speakers will remove their masks during their talks. Hand sanitiser stations are located throughout the Exeter Library building.
About PRISM Exeter
PRISM Exeter are a network, originally established in July 2018, catering for LGBTQ+ individuals and their allies who work and study across the Science, Technology, Engineering, Mathematics and Medicine (STEMM) sector in the greater Exeter area. For more information, visit their website at prismexeter.com.
About the Speakers series
PRISM Exeter's Speakers events series was established to showcase and celebrate the incredible work of LGBTQ+ people in STEMM as well as game-changing diversity and inclusion initiatives from across the UK. These events run three times a year, typically in February, July, and November to coincide with LGBTQ+ History Month in the UK, PRISM Exeter's birthday, and LGBTQ+ STEM Day, respectively.
-------------------------
Organiser of PRISM Speakers for LGBTQ+ STEM Day