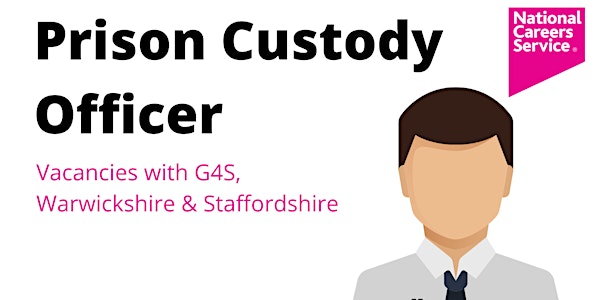 Prison Custody Officer Vacancies with G4S, Warwickshire & Staffordshire
Join our webinar to find out about the latest job vacancies for prison custody officers. No experience necessary, extensive training offered
About this event
G4S Care & Rehabilitation Services (CaRS) already successfully manages 4 prisons, one secure training centre and a number of community contracts in England and Wales. The philosophy of G4S prisons is rehabilitation, equipping residents with the skills to re-integrate into mainstream society on release. G4S seeks to normalize prison conditions as far as possible to reflect life in the outside community. The aim is to create an environment in which staff and residents feel safe. There are currently vacancies at HMP Rye Hill based in Rugby and HMP Oakwood based in Wolverhampton. This webinar is a great opportunity to find out about:-
The personal qualities required to be an effective prison custody officer
The entry requirements - having the right PERSONAL qualities is more important than academic qualifications
What the job role actually looks like
The training involved
The pay and benefits of working for G4S
Opportunities for career progression
How to apply for one of these roles
What the recruitment process involves
The webinar will include a guest speaker from G4S, and commitments permitting, an appearance by a serving prison officer who will give you an insight into a typical day in this work, and their advice to anyone interested in applying.
If you are someone who wants to go into a career in which you can make a positive impact on people and help them to take steps to improve their life situation, then this role could be for you.
There will be plenty of opportunities in the webinar to ask questions, either live or on the chatbox facility provided.
This event will be delivered via Microsoft Teams. For new customers, we recommend that you have an appointment with a National Careers Adviser before the webinar takes place.
In the appointment, depending on your needs, the National Careers Service Adviser can help you to:-
explore different careers & options
review your strengths, skills & develop your career goals
plan your next steps
make use of high - quality career-related tools
understand the job market
access learning, training, apprenticeship, and employment opportunities, including making applications
develop your CV, interview skills, and job searching techniques
implement your plan of action
By giving us your personal information, you are consenting to be contacted by telephone or email by the National Careers Service to arrange an appointment with a careers adviser prior to the webinar.
To join the webinar, please click on the following link:-
https://teams.microsoft.com/l/meetup-join/19%3ameeting_MDVjY2JiMWYtZDgzNy00MmVhLWE2MWItMGJlZTc4YmIyMTIy%40thread.v2/0?context=%7b%22Tid%22%3a%22f88fe43a-14a8-4ce0-8e65-12a43d35e735%22%2c%22Oid%22%3a%228a6a38e7-27d1-473e-866d-39443c9b197b%22%7d