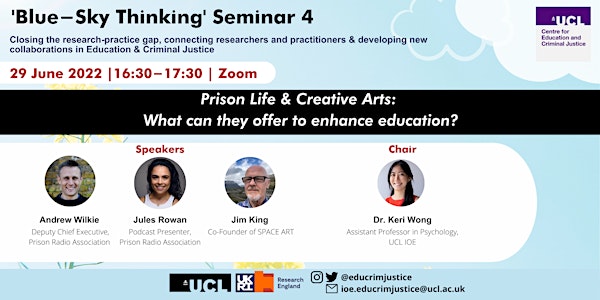 Prison Life & Creative Arts: What can they offer to enhance education?
This event is funded by the UKRI Research England UCL Enhancing Research Culture Programme.
About this event
This is the final event in the "Blue-Sky Thinking" seminar series, which aims to stimulate new connections and collaborations between researchers and practitioners in Criminal Justice.
What life is like behind bars is unimaginable for most – but what can the role of the creative arts offer to enhance the education of prisoners? This seminar welcomes experts from the Prison Radio Association (PRA) to discuss on-going work in and out or prisons, why they do what they do (Andrew Wilkie) and experts who now work with PRA and have lived experience (Jules Rowan) of what it's like in prison and the role of the arts in her life. We will also hear from an educator and co-founder of Space Art, Jim King, a prison educator with extensive working experience in prisons and the added value of creative arts education in transforming Scottish prisons.
Our panellists for this event are Andrew Wilkie and Jules Rowan from the Prison Radio Association, and Jim King from Space Art Scotland. This seminar will be chaired by Dr Keri Wong.
Andrew Wilkie
I joined the Prison Radio Association 15 years ago to set up a brand new radio station inside HMP Brixton. From there, we developed National Prison Radio, broadcasting into more than 100 prisons across England and Wales. We aim to support people in prison through radio, and we run production centres in two prisons – Brixton (a men's training prison in London) and Styal (a women's prison near Manchester). Previously I was a radio producer working for the BBC and in commercial radio, and I've produced dozens of programmes for BBC Radio 1, 2, 4 and the BBC World Service through my career.
Jules Rowan
When I was 20 I was sentenced to 5 years. I served half my sentence in prison, and during this time I wanted to change the way I was living my life. I studied and exercised as much as I could. I got quite a few level 1 and 2 qualifications, but also my level 3 in Personal Training, and I now work as a personal trainer at a gym based in London which I love. I also started working with National Prison Radio when I was released, creating workouts for the prisoners on the radio, and being involved in other work to help people that have been in the same situation as me. I am now part of the presenting team for the brand new Prison Radio Podcast project, launching later in the summer, which is very exciting!
Jim King
Jim has extensive experience as an adult educator prior to leading the Scottish Government's investigation into the extent of literacy/numeracy issues within Scotland's prisons (2002).
In 2010, Jim was appointed Head of Learning & Skills at the Scottish Prison Service (SPS) with national responsibly for education, arts and libraries. Working with education providers, Jim was responsible for facilitating and introducing a number of innovative educational and artistic programmes. Drama and Scots Language initiatives provided new opportunities for engagement as well as Reader & Writer programmes and collaborations with Scottish universities including the ground-breaking 'Astrobiology' partnership with the University of Edinburgh.
In 2010, Jim's drama script: Behind the Vale, highlighted the issues of women in custody and was performed by prisoners at HMP & YOI Cornton Vale. The performance was recorded as part of wider project by BBC Scotland and utilised at several conference venues. Jim also co-delivered an evening class at HMP Barlinnie, with the script winning the Roger Graf Platinum award for film at Koestler.
In 2017, Jim led an international group of prison educators to review and update the Council of Europe Recommendations on Prison Education (1989). He was privileged write the report and present its findings to the Council of Europe Penological Committee in the Autumn of 2019. The report can be found here.
Keri Wong
I am a developmental psychologist and criminologist, lecturer, and podcast host at the UCL Institute of Education. I received my BA (Hons.) in Psychology and MA in Criminology from the University of Pennsylvania and PhD in Psychology from the University of Cambridge. During my PhD, I developed the first dimensional measure of childhood paranoia, Social Mistrust Scale, which is free to use in research, schools and clinics and is available in 8 languages. Prior to joining UCL in 2018, I was the Cambridge Betty Behrens Research Fellow (Clare Hall) where I researched the causes of antisocial behaviours and schizophrenia-spectrum disorders using virtual reality.
Currently, I am co-Director of the Centre for Education in Criminal Justice System (ECJ), which provides a knowledge exchange platform for both academics and practitioners in the criminal justice system. I am PI of the UCL-Penn Global COVID Study (GlobalCovidStudy.com), an online survey on the impacts of COVID-19 on mental health and social trust, which has informed UK policy discussions. I was co-chair of the IOE Early Career Network (@IOE_EarlyCareer; 2019-21), host of the official IOE podcast Research for the Real World, and sat on the Athena Swan Silver Award Self-Assessment Team. I currently host and founded the official IOE podcast for early career academics, Academia et al. (2021).