Private Practice 2021: Surviving and Thriving in Uncertain Times
About this event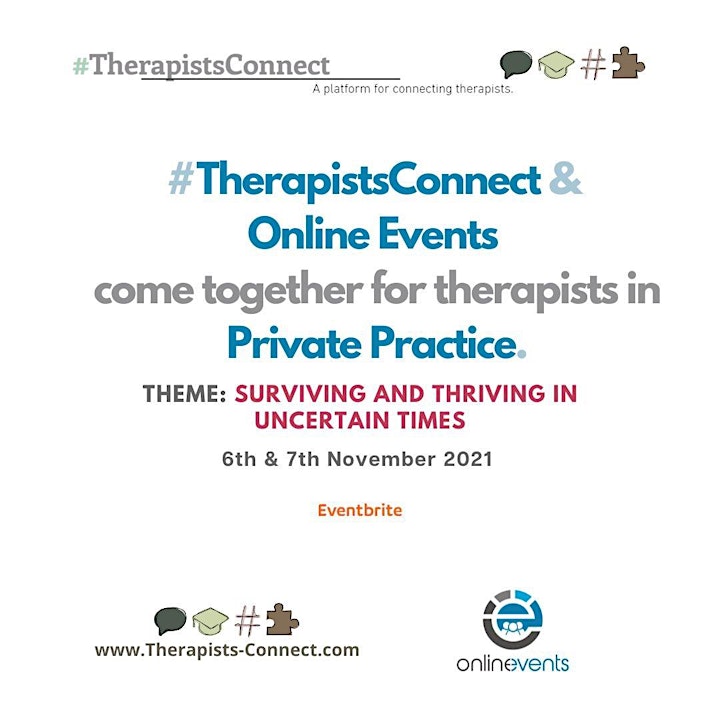 Sat, 6 Nov / Sun, 7 Nov 2021
Worldwide community platform #TherapistsConnect, joins together with Onlinevents, a leading online training organisation, to discuss the global effects of the pandemic on the world of private practice. A chance to also explore and celebrate this unique sector, we invite private practitioners to join us for this inclusive and open event!
Discuss the last year, and the impact on private practice
Meet other private practitioners and connect
Join with the varying worldwide therapy communities, to see similarities and differences in the private practice sector.
Hear from keynote specialist speakers in the field.
This Conference is open to anyone who wishes to learn alongside other private practitioners - (psychological) therapists of any kind I.e counsellors, psychotherapists, psychologists, social workers etc.. , practising in the UK, and across the world. Or, for those interested in, or thinking about entering into the sector. You may choose your payment amount, no-one will be checking up, or judging the amount you pay. You work out what is best for you.
As a guideline, in the UK a full day virtual therapy conference might be £125. Have a look round and work out an average price in your country, then let it resonate. What is the right fee for you? If you can afford more, you will be supporting someone who needs a lower price. If you are the person who needs a lower price, bring yourself, your enthusiasm and be in community!
Private Practice 2021 – Surviving and Thriving in Uncertain Times (times are in BST)
Saturday, 6th November
CLICK HERE TO SEE THE START TIME OF THE CONFERENCE IN YOUR LOCAL TIME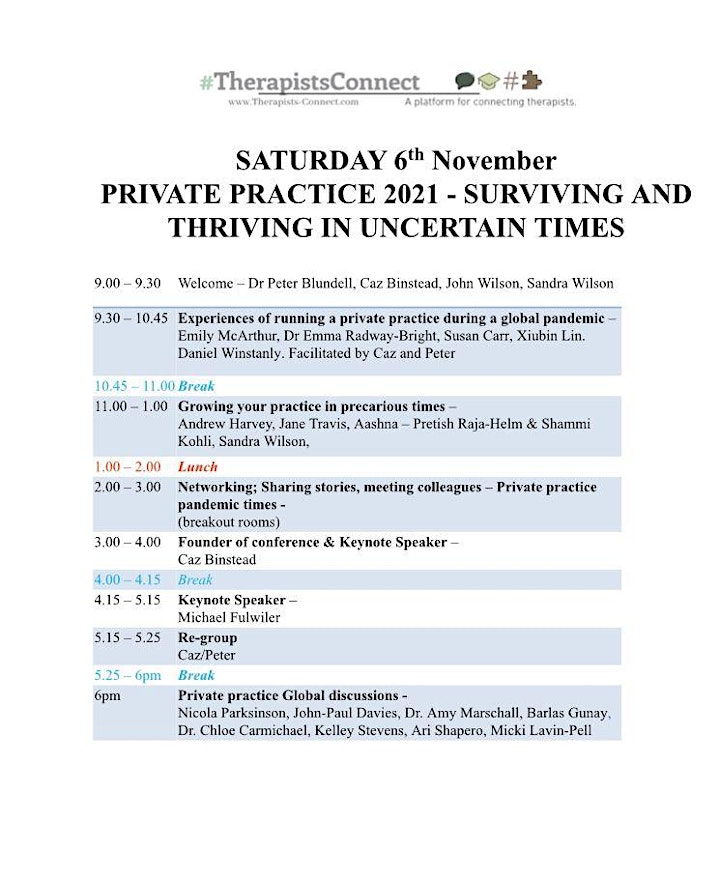 Private Practice 2021 – Surviving and Thriving in Uncertain Times (times are in BST)
Sunday, 7th November
CLICK HERE TO SEE THE START TIME OF THE CONFERENCE IN YOUR LOCAL TIME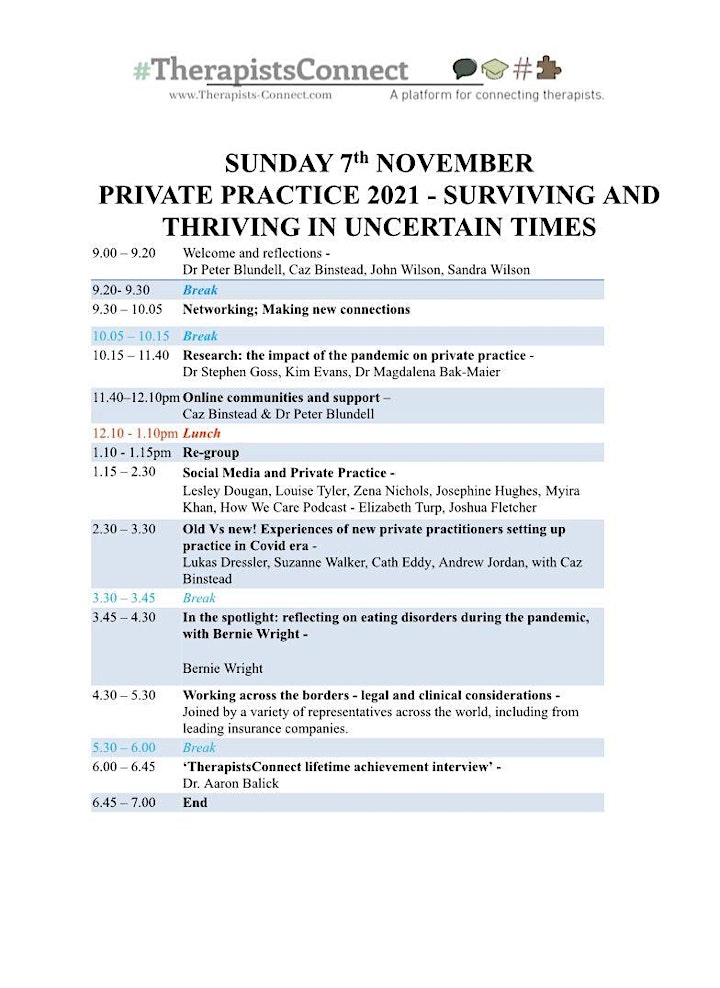 Event Hosts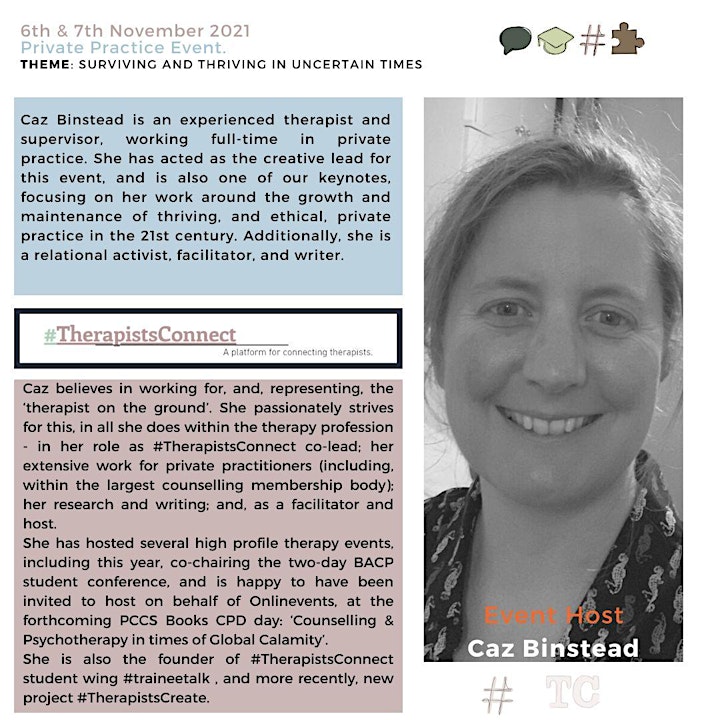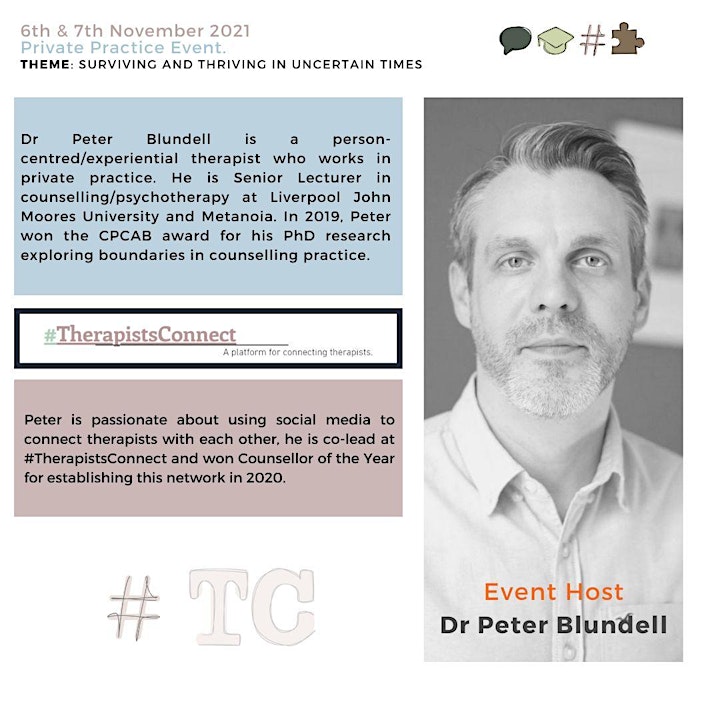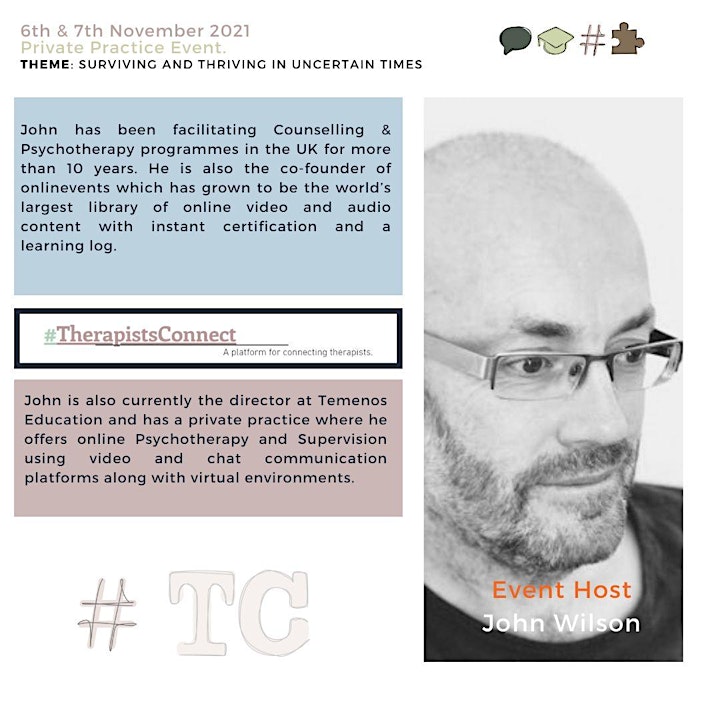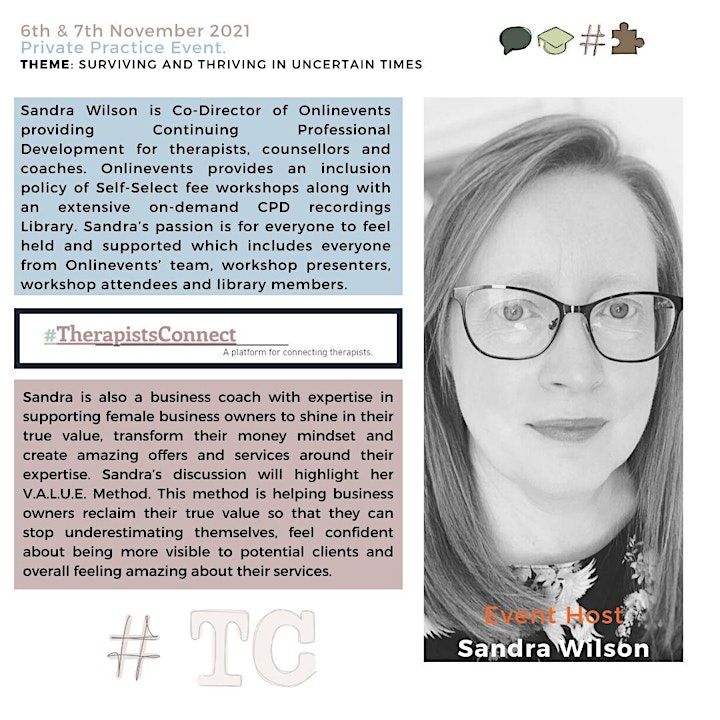 Keynote Speakers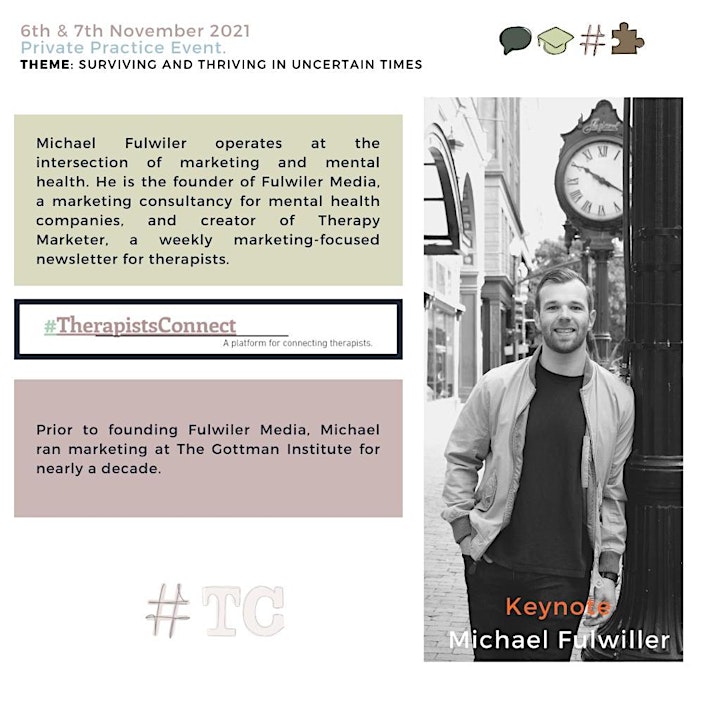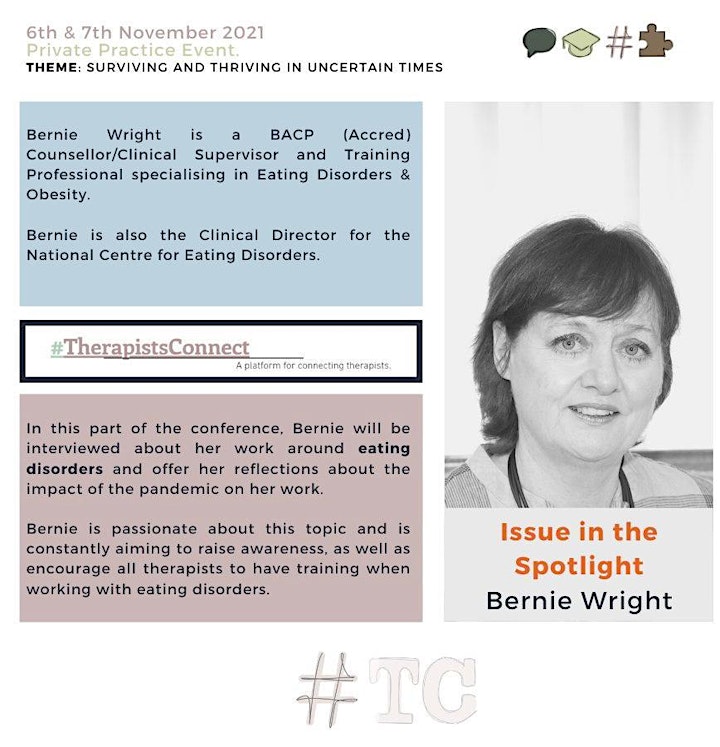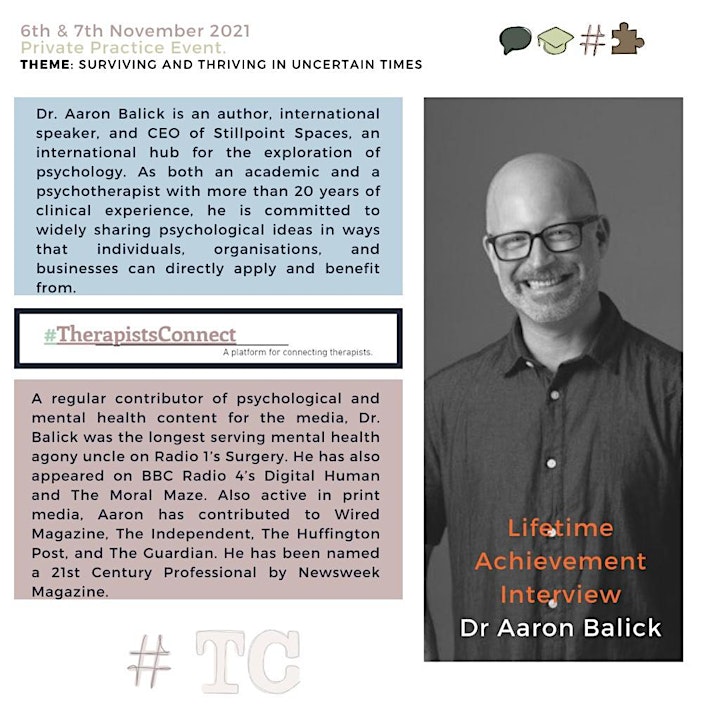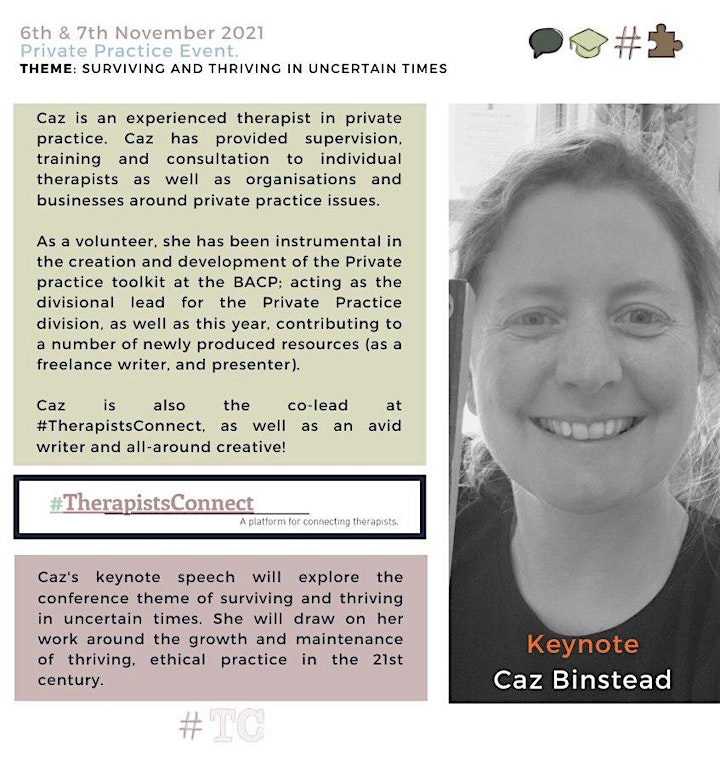 Working across the borders - legal and clinical considerations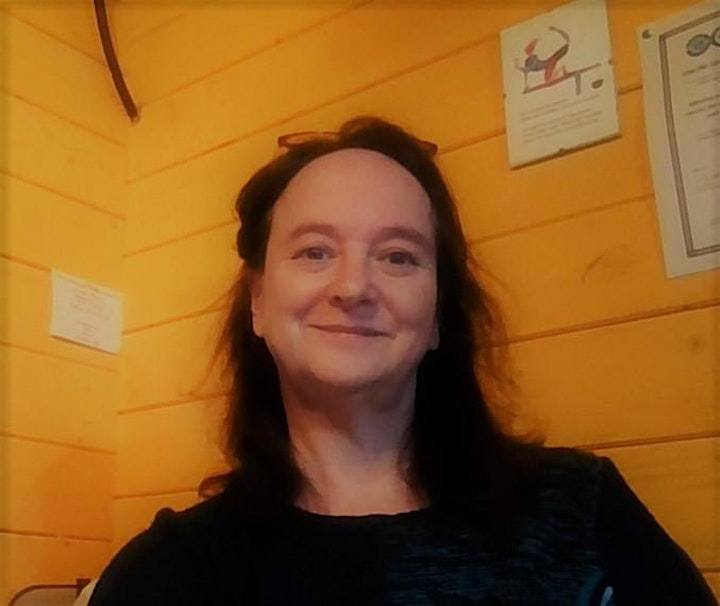 Dr Kate Anthony
Dr Kate Anthony is widely considered to be the leading expert in the use of technology in mental health clinical settings. She holds Fellowships for the British Association for Counselling and Psychotherapy, the International Society for Mental Health Online and the Association for Counselling and Therapy Online. She has published five textbooks on the field and is author of many published articles and chapters over her 25 year career. Her company was recently awarded Most Innovative Mental Health Training Company 2021 at the Scottish Enterprise Awards.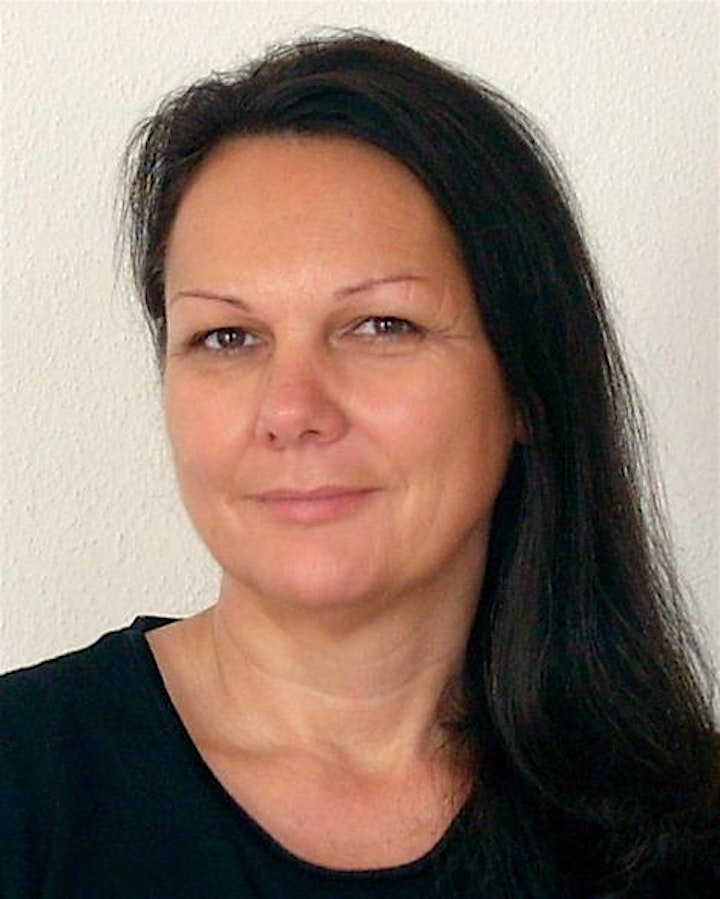 Dr Andrea Uphoff
Andrea works as a client-centred psychotherapist, supervisor and trainer, both in England and Germany. She has also travelled extensively in her work, meeting cultures far beyond either border. She is fascinated by the new opportunities to 'travel' with the aid of technology and has a particular interest in the questions raised when working online with geographically extended boundaries.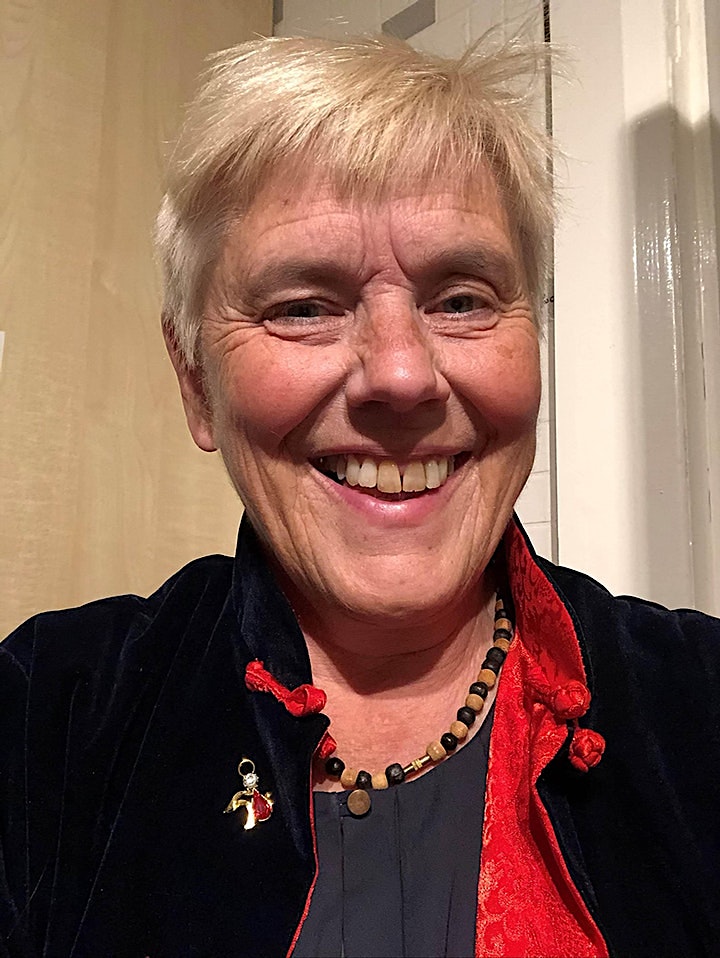 Pip Weitz
Pip is a qualified and experienced as an online therapist, online supervisor, and virtual reality therapy facilitator using avatars. She is registered as an ACTO Level 3 Senior Professional Member with the Association for Counselling and Therapy Online and is its Vice Chair and is also a registered member of the BACP. Apart from her internationally based online therapy and supervision work delivered in either French or English, she is Principal of The Academy for Online Therapy.
In her spare time she is a keen but amateur paddleboarder, owner of a narrowboat, tennis and badminton player, and loves watching cricket, and enjoys nothing better than walking with her two Westies, Betty and Daisy on the South Downs. She speaks fairly fluent French and divides her time between her homes in Normandy France and Brighton UK.
ACTO Online Supervision Competences | https://acto-org.uk/online-supervision-competences/.
Academy for Online Therapy courses | https://www.acadtherapy.online/courses.
Jo Mountain
Jo has over 30 years' experience in the industry and knows the sector and issues affecting psychological therapists, counsellors and private practice inside out. Jo and her team at Howden look after the insurance programme of over 16,000 psychological therapists. Howden are recommended by many professional associations including the British Association for Counselling and Psychotherapy (BACP) and British Psychological Society (BPS).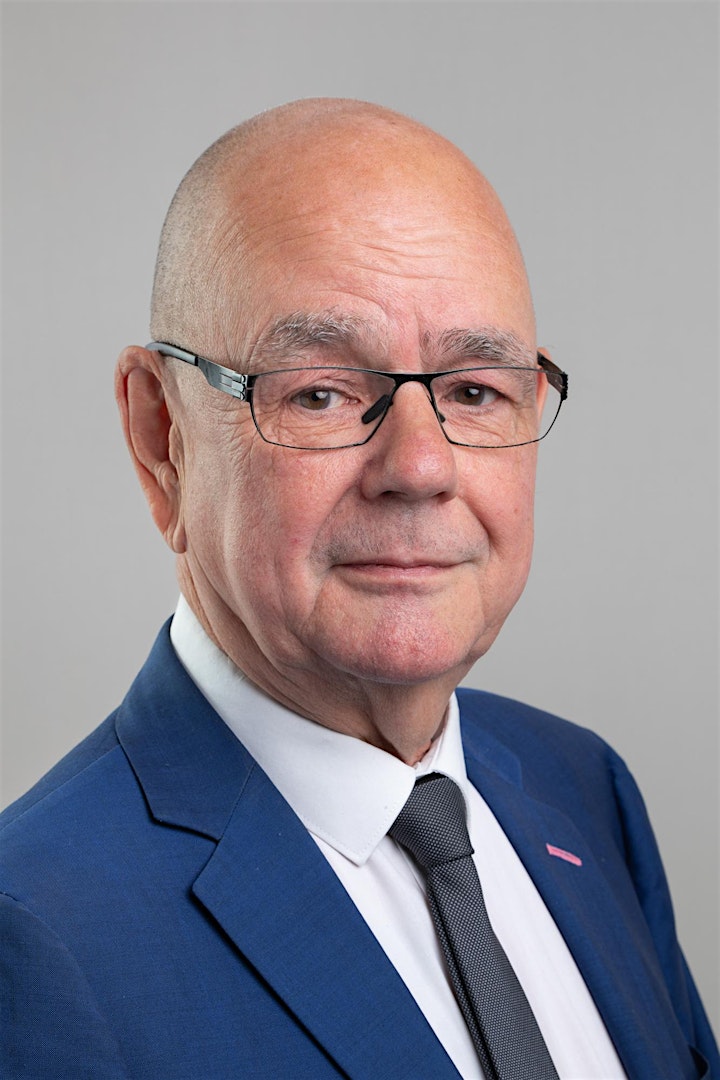 Steve Johnson
Steve has specialised in providing insurance for the psychological professions since 1988 when he co-founded the Psychologists Advice and Insurance Service as a division of a Leeds based insurance brokers. The service was moved to another Leeds based broker in 1994/95 and became part of Towergate in 2002. Steve stayed with Towergate as Managing Director of that business for 4 years. In 2006 Steve and two senior colleagues left to join Howden to form their specialist division. In 2010 Steve joined Oxygen Insurance Brokers to form Oxygen Professional Risks where he remained as team principal until joining Partners& in May this year. He is currently working on launching an exciting new facility. Much of Steve's time over the last 33 years has been spent helping and supporting practitioners who might be faced with a complaint or a claim. Steve is currently a trustee of two specialist counselling and psychotherapy charities and sat for a time on the BACP Professional Standards committee.
Organiser of Private Practice 2021: Surviving and Thriving in Uncertain Times
Sandra and John are a sibling team who are proud to be serving the helping professions for more than 10 years with online interactive learning. The workshop programme is being offered alongside the Onlinevents CPD Library which we believe is the world's largest online library of video and audio learning, with instant certification for the helping professions including counsellors, coaches, teachers, supervisors and nurses.
100% Learning Guarantee
Our number one priority at onlinevents is your learning. Which means we stand by our learning experiences 100%, no matter what, no holds barred, no ifs, no buts.