The Bomb Factory presents 'Scar Tissue', a solo exhibition by resident artist Marcus Nelson.
About this event
The Bomb Factory Art Foundation is pleased to present 'Scar Tissue', the debut solo exhibition by London-based artist Marcus Nelson. Nelson presents a series of large-scale paintings that explore the theme of mental ill health amongst young men, exacerbated by the pressures of trying to achieve the masculine ideal. 
This subject has long been of interest to the artist, who, in 2018, co-founded 'Boys Don't Cry UK', an art collective that raises public awareness regarding male mental health and suicide.The paintings explore trauma as experienced by young men conforming to stereotypes of masculinity. Nelson shows us tortured bodies fighting and grappling in gyms, where painful emotions are kept just below the surface.
Having practiced boxing and mixed martial arts whilst growing up, these aggressive contact sports and the physical and mental experience of them have provided the artist with a rich vein of inspiration for his work. Photoshopped images of boxing and wrestling figures provide the basic forms for his paintings. The bruised and flayed bodies twist and writhe on the canvas, illustrating some moments of intimacy but also of extreme violence.
Masks must be work in the gallery, and a card-only bar will be available at the venue.
Click here for more information.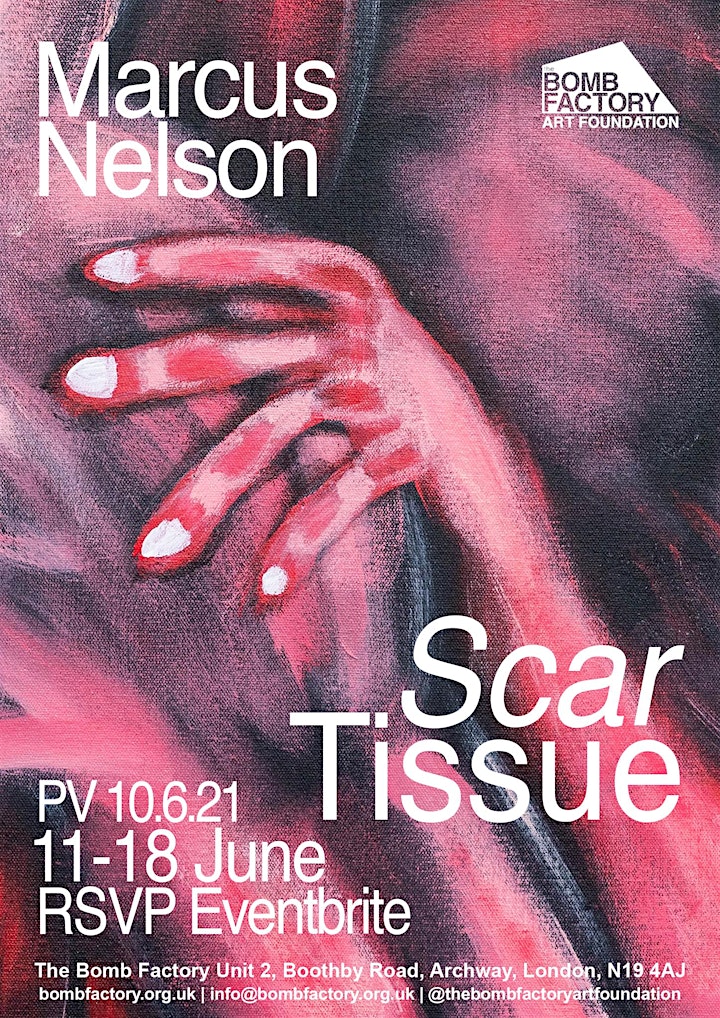 Organiser of Private View: Marcus Nelson 'Scar Tissue'
The Bomb Factory Art Foundation is an independent space for contemporary art based in Archway, north London. We are an artist-led non-profit organisation offering affordable studio space, a gallery and workshop to artists at any stage of their careers.
There are over 20 resident artists ranging from recent graduates to internationally acclaimed prize winners. 
The Bomb Factory Art Foundation provides a dynamic context for the creation, support and experience of contemporary art through our evolving programme of exhibitions, open studio events, artist talks and educational activities.
The Bomb Factory Art Foundation is a registered charity.