Location
Morley College London - Chelsea Centre
Hortensia Road
London
SW10 0QS
United Kingdom
PRIVATE VIEW Thursday 26 May 6-9pm UNFORESEEN Photography Exhibition - Chelsea Gallery - Morley College - Chelsea Centre SW10
About this event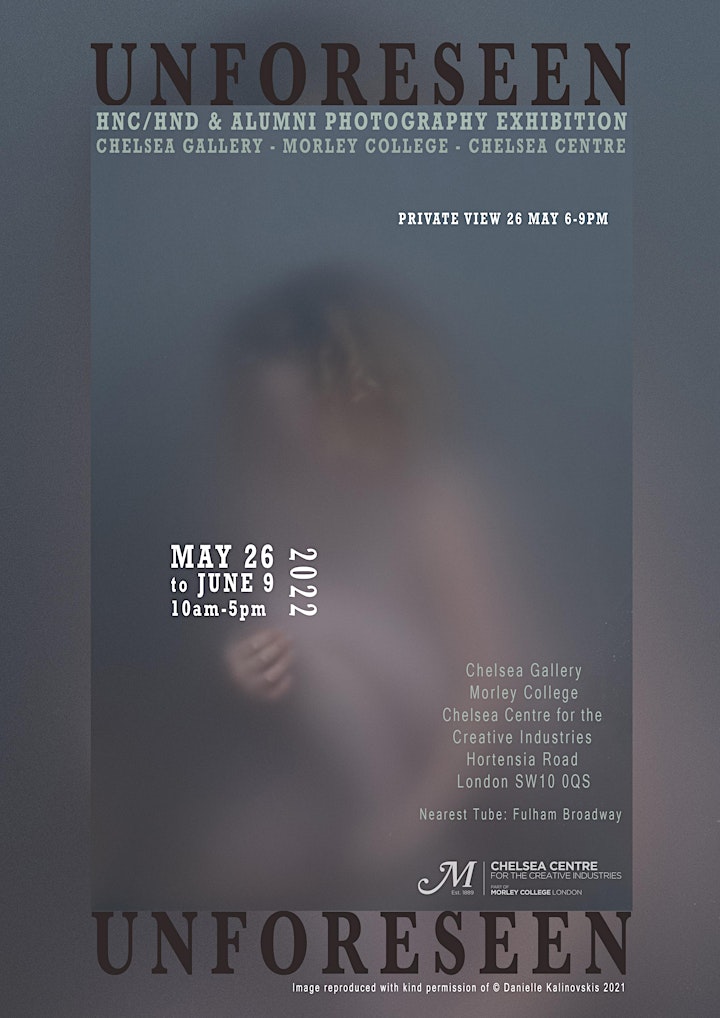 A photography exhibition featuring the original work of fourteen HNC/HND & Alumni photography students, each bringing a unique story and visual sensibility to an unmissable group show. The exhibition is showcasing a range of ideas and thought-provoking images by talented, emerging photographers.
Visit the Chelsea Gallery in Morley College's Chelsea Centre for the Creative Industries, to meet the exhibitors and enjoy an evening of culture and great photographic work.
The exhibition will continue until Thursday 9 June.
UNFORESEEN Photography Exhibition PRIVATE VIEW - Thursday 26 May 2022 image
For more information contact:
Asimina Giagoudaki - asimina.giagoudaki@morleycollege.ac.uk
Niki Sianni - niki.sianni@morleycollege.ac.uk
Follow the Photography Department at the Chelsea Centre on
Instagram: @morley_college_photography
https://www.facebook.com/morleyphotographychelseacentre
We offer HNC, HND & BA top-up photography courses; for more information contact niki.sianni@morleycollege.ac.uk
BA top-up in Photography - https://www.morleycollege.ac.uk/courses/course/ba-hons-photography-top-up-part-time/
BTEC HNC in Photography - https://www.morleycollege.ac.uk/courses/course/btec-hnc-in-photography-part-time/
BTEC HND in Photography - https://www.morleycollege.ac.uk/courses/course/btec-hnd-in-photography-part-time/
UAL Level 3 Extended Diploma in Photography - https://www.morleycollege.ac.uk/courses/course/ual-l3-extended-diploma-in-photography/
NCFE Level 2 Certificate in Photography - https://www.morleycollege.ac.uk/courses/course/ual-level-2-certificate-in-photography-2/