Description
Join us at the Camberwell College of Arts Undergraduate and MA Conservation Summer Show 2017 Private View on Monday 19 June 2017
18:00 - 21:00
Catch the up and coming artists, designers and conservators of tomorrow at Camberwell College of Arts from the courses listed below.
Please note that the Summer Show is across two sites - Peckham Road and Wilson Road, there is a short walk between the two. Please see the map below for details.

Undergraduate Fine Art Programme at Peckham Road: 45-65 Peckham Road, London SE5 8UF
BA Drawing
BA Painting
BA Photography
BA Sculpture


Undergraduate Design Programme and MA Conservation at Wilson Road: Foundation Building, 1 Wilson Road, London SE5 8LU
BA Graphic Design
BA Illustration
BA 3D Design
FdA Graphic Design
FdA Illustration
Please register for your free tickets for our Private View and bring a digital or printed version with you on the night. If you wish to visit both Peckham Road and Wilson Road, you will need a ticket for each site.
Students and Staff of University of Arts London do not require a ticket, please show your UAL ID to our event staff when entering.
Please be aware that at our Summer Show we will implement bag searching upon entry, this is due to the UK Threat Level as "Severe". If you have any questions, please contact us on info@camberwell.arts.ac.uk.
Please note that last entry to this event is at 20:30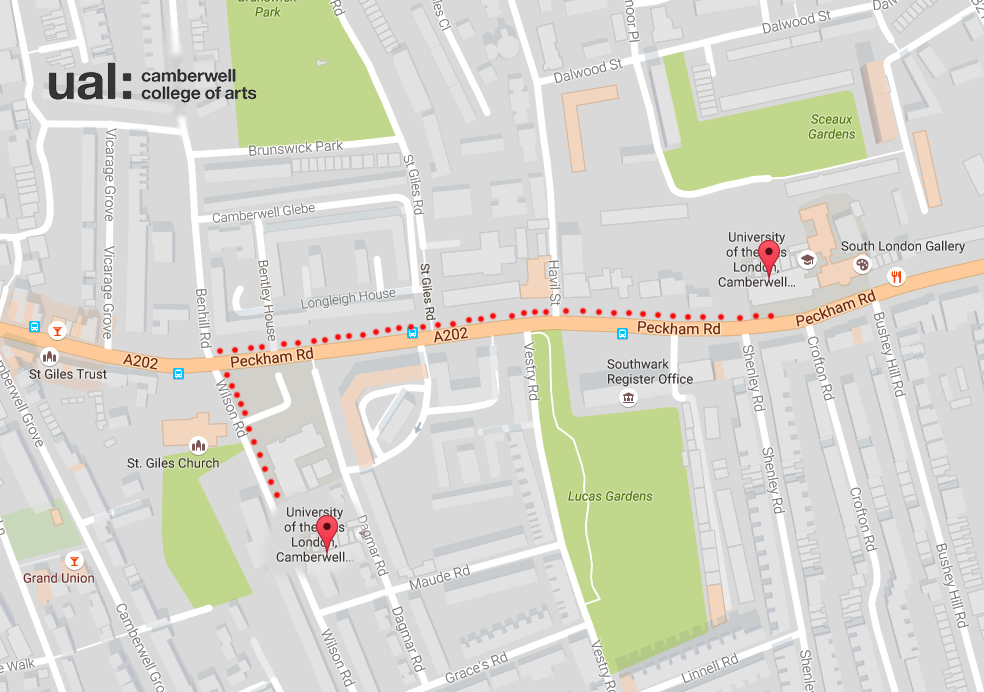 Top images from left to right work by: MA Conservation Stephanie Jamieson, BA Sculpture Josh Wright, BA Photography Mattew Lee