| | |
| --- | --- |
| Pro Speaking Mastermind Discovery Day SHEFFIELD SAT 22 Jul-17 | |
Event Details
"One of the best days of my life" - Jordan Shaw
The final frontier in the Speaking game is when your master the business of Speaking and everything that it can do for your business, network, personal confidence and the legacy you leave behind.
In this pioneering programme Billal Jamil will reveal, deliver and support the IMPLEMENTATION of cutting edge, untold secrets direct to a selected power team. Sharing exactly what has catapulted his speaking career and the world class Public Speaking Academy.
Due to the nature of the programme - this is an exclusive event with eligible applicants being invited onwards to go through a selection process. 
Successful applicants will enter an in-demand 12 month Mastermind programme with upward potential of significant speaking skill growth, professional business capability shift and financial rewards. 
This is your chance to join the Head of the Public Speaking Academy as he reveals step by step in a highly practical programme that will remove the mystique from the public speaking industry.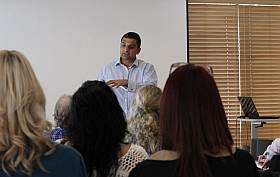 You Qualify If:
You have an existing track record in business /speaking
You have a 'giving' client orientated mindset
You can prove you are motivated to do what it takes
Are willing to work hard and make sacrifices even when it gets tough
Have a genuine mission/purpose greater than just earning top end fees!
You have a passion for people and clients
You are in a business area with growth and need
Your are flexible geographically
Benefits Include - Opportunities for...
Uncovering your Personal Story
Your speaker marketing plan
Your signature talk discovery and creation
Finding your unique business USP
Associate Opportunities with the Academy
Business Development Opportunities
Big stage contacts and support
Lucrative Speaking opportunities abroad
The Public Speaking Academy are award winning professional speakers and coaches to Royalty, CEO's, Politicians, Leaders, Executives and Media personalities. Our unique approach delivers consistently and drives genuine breakthrough change in 99.8% of course attendees.
We are a proud Northern team, our courses are acclaimed across the UK, and the world.
 What Do Previous Attendees Think?
Here are just some of our course delegates, filmed immediately after attending (many who had never spoken in public before, let alone direct to camera!):
"It was just amazing!" - Daria Ni


"...took me from feeling like a nervous amateur speaker to appearing like a polished professional. It was a really empowering experience and one I'd happily recommend" - Amal Stapley


Where

Jurys Inn
119 Eyre St
S1 4QW Sheffield
United Kingdom


Organiser
Passionate about transformational training. We don't just teach groundbreaking methods, we ensure you experience a permanent shift in your Public Speaking skills. Our methods are fun, creative and build on your existing and hidden strengths.
The Public Speaking Academy is a passionate organisation dedicated to all spoken word, presentation and communication skills – enabling people from all walks of life to become confident and exciting speakers.
Professional Speech Coaches
Our trainers are Professional Speakers and Coaches. Our approach is practical not lecture based, not only will we teach what is most relevant but do so in a creative positive environment. Resulting in sharp shifts in your confidence and speaking delivery.
How We Can Help You
Our training uniquely combines highly interactive small group work with coaching for your individual needs. As professional speakers we will model what works for you. You benefit from our experience without the associated challenges or time costs, transforming your ability quickly in a safe environment.
Positive, Supportive
Our courses are always held in a positive and supportive atmosphere – creating a team bias for you to succeed. You learn from tutors, other delegates and through self reflection during intense coaching sessions.
Proven Results
All our delegates experience speaking transformation – see our post-course videos for testament of this. And many delegates return to us to continue their speaking journey.
We are committed to helping all our clients become the very best and in doing so maintaining our reputation as the Home of World Class Speaking.