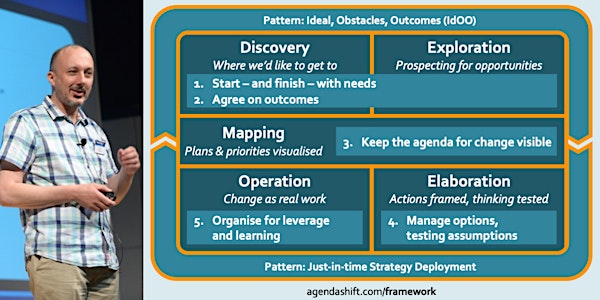 Probe! Stories, Hypotheses, Challenges, & Experiments (EMEA 10:00-12:00BST)
Refund policy
Refunds up to 7 days before event
Eventbrite's fee is nonrefundable.
A two-hour hands-on introduction to hypothesis-based change as practiced within a wholeheartedly outcome-oriented process
About this event

The Probe! workshop is a standalone and enhanced version of the Agendashift transformation strategy workshop's Elaboration session (chapter 4 of the Agendashift book), featuring the Agendashift Experiment A3 template and exciting new material from the Impact! and Wholehearted:OKR workshops.
Topics and exercises:
User stories, job stories, and their authentic situations of need
Hypotheses "hard" and "soft"
Just-in-time option selection
Challenge Mapping
Indicators of success
Generating and selecting solution ideas
Framing solution ideas as hypotheses
Developing experiments with the Agendashift Experiment A3 template
Portfolios of experiments
This highly interactive session will be conducted over Zoom and Google Docs. Participants will need to connect from a computer and over a suitable network – any corporate firewalls etc allowing access to those tools.
All participants will receive a certificate of participation and qualify for a £50 discount on the Agendashift partner programme. Existing partners receive the discount on their next renewal.
Your facilitator will be Agendashift founder Mike Burrows. Mike is the author of the Lean-Agile classic Kanban from the Inside (2014) and Agendashift: Outcome-oriented change and continuous transformation (2018); his third book Right to Left: the digital leader's guide to Lean and Agile was published in 2019 and as an audiobook in 2020. Outside of Agendashift, he is known for Kanban's values model, the Featureban and Changeban games, and as a strong advocate for participatory and outcome-oriented approaches to change, transformation, and strategy. Prior to his consulting career, Mike was global development manager and Executive Director at a top tier investment bank, CTO for an energy risk management startup, and interim delivery manager for two of the UK government's digital exemplars.
More: About Agendashift | Our mission: Wholehearted | Become an Agendashift partner | Workshops | Resources