Probing QCD at the high energy frontier

Monday, May 21, 2018 at 8:30 AM

-

Friday, May 25, 2018 at 2:00 PM (CEST)
Event Details
Probing QCD at the high energy frontier
May 21 - 25, 2018
Organisers:
Guillaume Clement Beuf (ECT*)
Nestor Armesto (University of Santiago de Compostela)
Tuomas Lappi (University of Jyväskylä (FIN))
Cyrille Marquet (CPhT - Ecole Polytechnique)
 Abstract:
The LHC, the FCC and future deep inelastic scattering experiments probe QCD at unprecedentedly high collision energies. Understanding the physics of these collisions in weak coupling QCD requires reorganizing perturbative calculations to properly resume the effects of the high energies and large parton densities. This workshop will focus on recent advances that are pushing the theory of QCD in that regime to higher orders in perturbation theory, and towards a controlled first principles understanding of new processes, such as the initial stages of heavy ion collisions, exclusive processes and multiparticle correlations.
When & Where

ECT*
Strada delle Tabarelle, 286
38123 Trento
Italy


Monday, May 21, 2018 at 8:30 AM

-

Friday, May 25, 2018 at 2:00 PM (CEST)
Add to my calendar
Organizer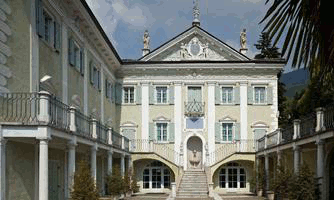 The European Centre for Theoretical Studies in Nuclear Physics and Related Areas (ECT*) in Trento (Italy) provides a dedicated and structured combination of scientific activities for a large international scientific community. ECT* acts as an "intellectual" centre of competence, complementary in scope and activities to existing research facilities based at universities or experimental laboratories. It promotes coordination of European research efforts in nuclear physics and related research areas.