Description
This month our guest speaker is Julian Maurice

The objective of the presentation is to demonstrate how focusing on your product rather than profits ultimately leads to a more successful long-term business. Julian shows how the planets' most profitable brands manage to take most of the profit in their chosen markets, while only taking a small percentage of their market sales and then demonstrates how the same model can be used by independent property investors to achieve similar results. Higher profits with less product. Julian calls it The Boutique Business Model. Attendees will learn:
The value of differentiation – making your product stand-out rather than following how everyone else does things and how doing so increases profits by 100's of percent

Interior Design Colour Theory – taking examples from the worlds most acclaimed product designers, Julian shares scientific colour systems that ensure that an interior scheme has maximum appeal every time.
The talk is simple in its message, powerful in its potential results and entertaining in its delivery and presentation.
Free talk prior to the meet: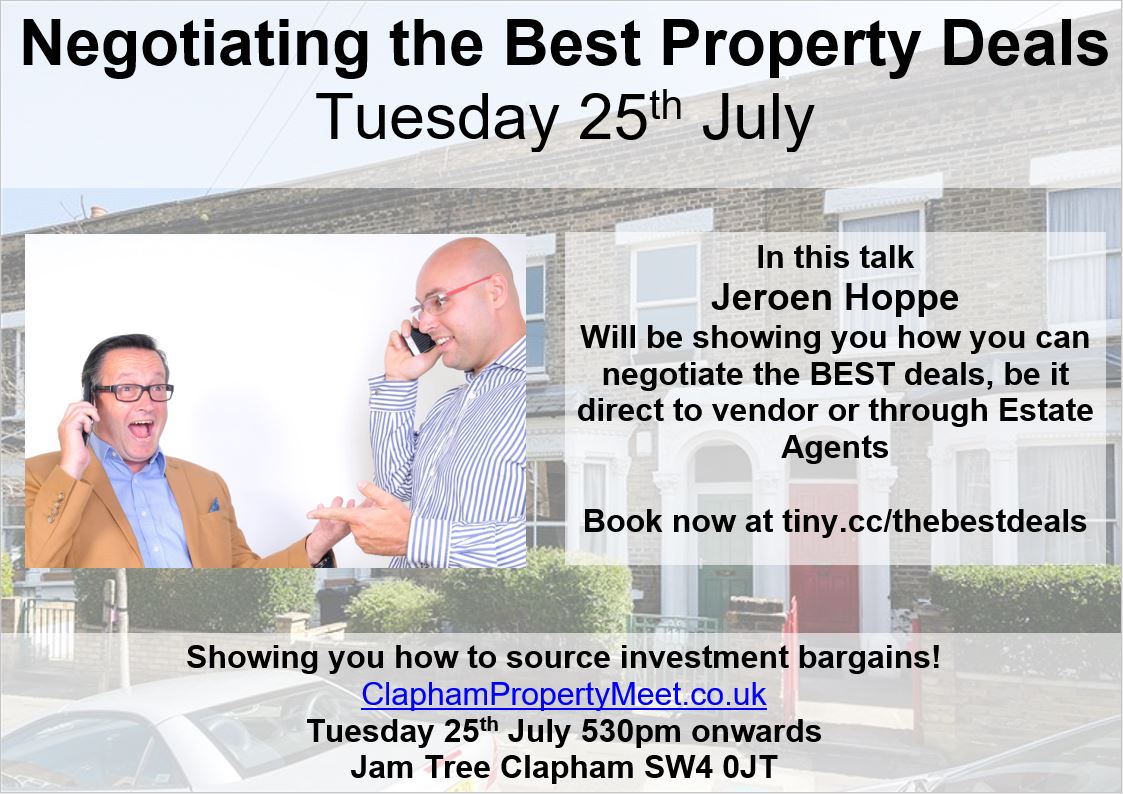 Negotiating the best deals, Direct to Vendor and Through Estate agents!
Our very own Jeroen Hoppe will be giving a free talk on some of the negotiation tactics he uses. Jeroen has nearly 15 years of estate agency experience alongside his property investing, so he is familiar with playing both sides of the game. Negotiating with estate agents and vendors is key to successful property investing - want to save £££ on your next purchase? It's a talk you don't want to miss.
Registration, early networking and a free talk by Jeroen Hoppe is between 530-630pm. We'll then take a break and at 7pm we'll kick off with our main speaker as well as the latest on current issues from your hosts until 8:45pm. Unique to the Clapham Property Meet is QUESTION TIME - an opportunity for you to get your questions answered by our professional investors. Email your questions in advance to question@claphampropertymeet.co.uk or see us on the night to make sure you are heard.
Drinks and further socialising/networking to follow the main event.