A 'warts and all' insight into the journey of product discovery and definition, with tips to help you refine your design thinking techniques
About this event
Product Unleashed
Are you interested in the world of products, innovation, design or doing things differently? Join the Product Unleashed community to learn first-hand from product experts.
Each meetup welcomes guests from some of the most influential product companies around, giving you unique insights, tangible ideas and new techniques to take back to your teams, driving change from the inside out.
* This is a hybrid event, offering the option to come along in person or join us from anywhere online! Please select your preferred option when registering a ticket.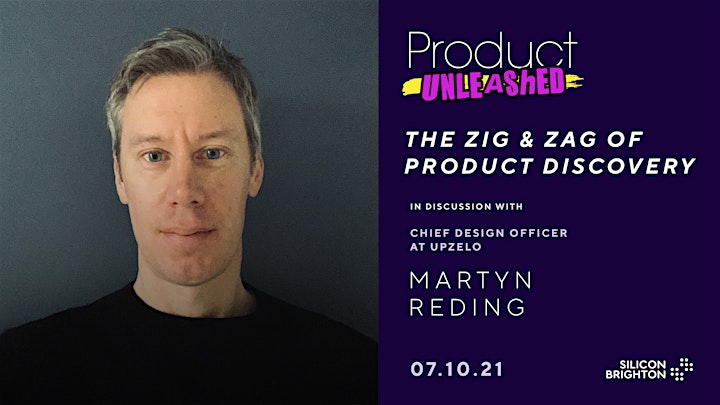 The Zig & Zag of Product Discovery
Earlier this year, Martyn Reding left his role as Head of Product Design at property website Zoopla to join a fresh venture, building a new product from scratch.
In this talk, Martyn will share his path through product discovery and definition, giving a 'warts and all' insight into his transition from a team of thousands to just two. He will share how he used design thinking techniques to move quickly and keep a small team aligned through multiple pivots.
Martyn is an award-winning design leader and team builder who's worked with some of the world's top brands including BBC, Penguin, Virgin Atlantic, Ikea, Microsoft and Zoopla. He also mentors through Revive, acting as a product design advisor to startups and scaleups.
About your hosts
Product Unleashed is brought to you by your hosts John Griffin and Dominic Port.
The duo have worked on the design of products of all shapes and sizes, and bring their energy and enthusiasm to this unique meetup, packed with great guests and knowledge for anyone interested in levelling up their game in the world of product.
About our supporters
A special thanks to MPB and The Student Room for supporting this event, it wouldn't be possible without their help.
MPB has been an established employer in Brighton for over a decade, currently employing 120 people in the city.
They are the world's largest online platform to buy, sell or trade used photography and videography equipment; committed to making kit more accessible and affordable, and helping to visualise a more sustainable future.
The Student Room is the largest, best-loved and most useful student community.
Home to over 10 million monthly users, The Student Room is the natural destination for young people to connect. As the largest online engagement platform for students in the UK, it's an invaluable part of life for most young people looking for meaningful connections, life advice and study support.
Organiser of Product Unleashed: The Zig Zag of Product Discovery
Silicon Brighton
Silicon Brighton is a platform for the thought leaders and innovators of Brighton to come together to network, share knowledge and discuss trending topics.
We are dedicated to hosting an environment where our attendees leave with new knowledge, skills and connections.
Silicon Brighton - Powered by James Chase