About this Event
ProductCamp is a free, user-driven, collaborative "unconference" for Product Managers and Marketers that is held across the world. The Belfast edition of the event is back for a 2nd year on Friday 4th October, is held at by Allstate, Mays Meadow, Belfast, from 12 -5pm, and is hosted by Alison Coote, Emma Mulholland and Steven Limmer.
If you have never heard of a ProductCamp before, it is a ten year old "un-conference" for product professionals. By un-conference, it means that ProductCamps are in many ways like traditional corporate conferences, except that:
ProductCamps are free
ProductCamps are put on "by-and-for" the people who go
At ProductCamp, there are no passive "attendees," there are only active "participants," meaning everyone is expected to contribute in some way (e.g. presenting, volunteering, setup/teardown)
Last year was the first year for Product Camp Belfast, and it was a resounding success, with over 80 product managers, designers, researchers , developers, and delivery professionals all getting involved in the conversation, sharing knowledge, and generally networking. It was deemed a success by all attendees, and hence, we're getting together to do it all again!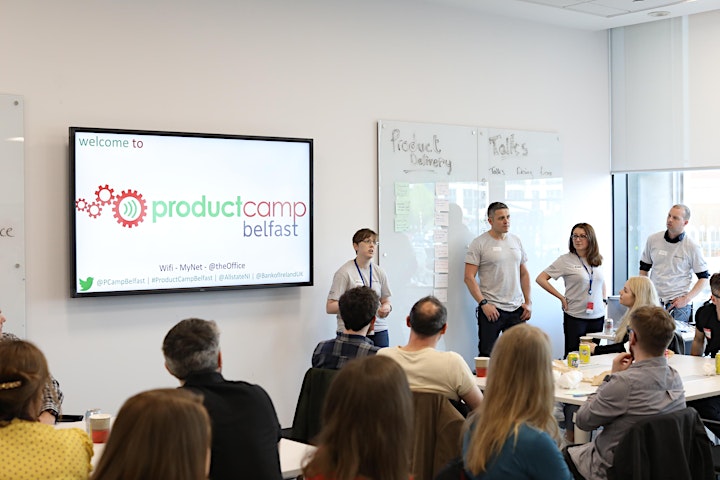 What should I expect?
Registration will begin at 12pm, with a light lunch being provided. The official kick-off will be at 12:45pm. Sessions will run between 12:45pm and 5pm with breaks being scheduled every few sessions for networking and general conversation.
What do I need to do
Turn up, have fun, and if you have a talk you'd like to try out, please feel free to add it to the Session! We also ask that you follow the code of conduct, please see our site for details.
Talks can be submitted here
Schedule of events (tbc)
12:00 - Registration & lunch
12:25 - Welcome
12:30 - Talk submissions and voting
12:45 - First round of talks
14:30 - Afternoon break
14:45 - Second round of talks
16:45 - Event wrap-up and retrospective
17:00 - post-event gathering