Sales Have Ended
Ticket sales have ended
Sorry, tickets are no longer available for this event.
Sales Have Ended
Ticket sales have ended
Sorry, tickets are no longer available for this event.
How gardeners can help save our insects; an inspiring talk by eminent environmental scientist Dave Goulson.
About this event
Join renowned bee expert and best-selling author, Professor Dave Goulson, to explore the key role we can play in helping to revive our natural world.
Insects make up over half the species on Earth yet across the globe they are suffering a catastrophic decline. The latest scientific research shows that insects are dying out up to eight times faster than larger animals with 41 per cent of insect species facing extinction. Dave Goulson suggests that insect numbers have more than halved in the UK since 1970.
Fortunately, there is something we can do to start reversing the trend. Insect populations can recover. With just a few small changes, our gardens and meadows could become a vast network of nature reserves, where humans and wildlife can thrive together.
Dave Goulson, author of the best-selling The Garden Jungle and A Buzz in the Meadow, is a natural storyteller and inspiring speaker. In this talk he will give us practical information that will show us what we can do to increase insect numbers and help rebuild a healthy natural environment. Gardens, meadows, verges and public green spaces could all play a part in nature's recovery. Join us on the evening of January 14th to discover more.
The online talk will be followed by a Question & Answer session.
This event is organised by Moor Meadows, a grassroots community group based on Dartmoor. We are a not-for-profit organisation, run by volunteers passionate about meadows and nature. Our mission is to celebrate the wonderful diversity of native plants and wildlife to be found in species-rich grasslands and to help reverse the trend of wildlife declines.
This talk is free, but if you can afford a donation, between £2.50 and £10, this will go towards supporting the work of Moor Meadows. As you know, the group is not-for-profit, run by volunteers and any funds go entirely towards providing events with top speakers and helping with the running costs of our website and forum.
Dave Goulson is Professor of Biology at the University of Sussex, specialising in the ecology and conservation of insects, particularly bumblebees. He is founder of The Bumblebee Conservation Trust and author of several books, including the Sunday Times bestsellers A Sting in the Tale, A Buzz in the Meadow and The Garden Jungle.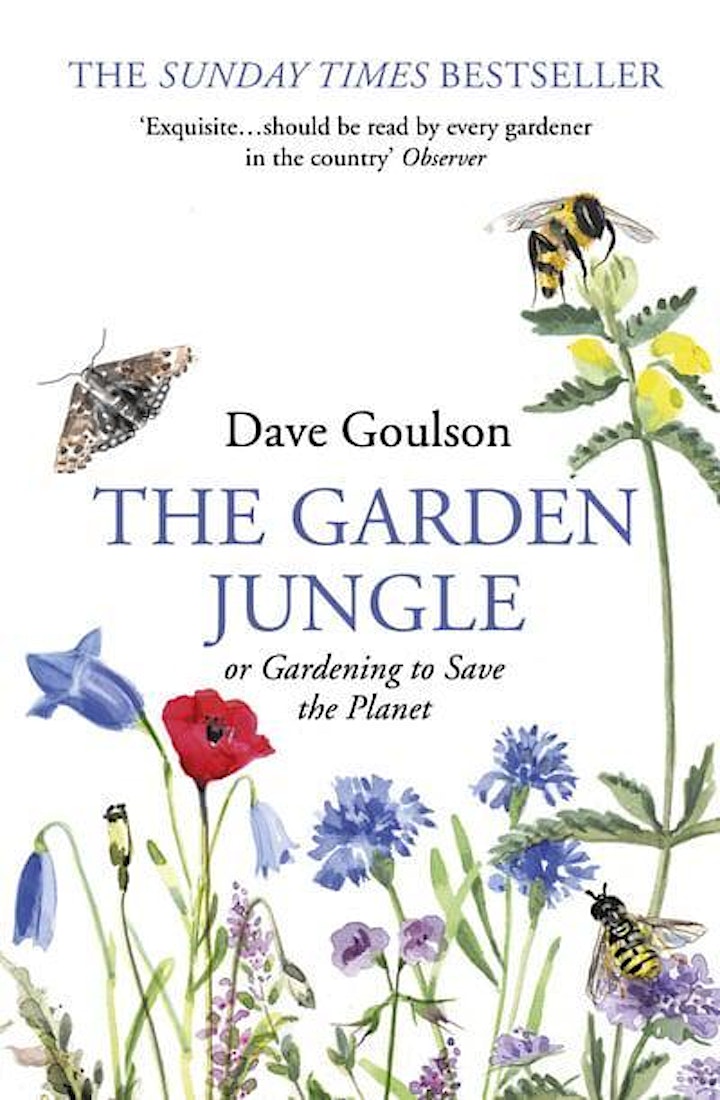 Book reviews of The Garden Jungle –
'For those who think of science as being dry and boring this book will be a revelation. Goulson's book is juicy and delicious, layered with flavours and steeped in culture.' Nicola Davies, Daily Telegraph
'This is a truly positive and empowering read – you close it better informed, filled with poetry, pies and ready to get out there and make a difference.' Laline Paull, Observer
Organiser of Prof Dave Goulson, The Garden Jungle: how to save our insects