Prof Henry Jenkins Public Lecture (Interdisciplinary Italy Summer School)
We are delighted to invite you to Prof Henry Jenkins' public lecture "Convergence Culture in the Age of Covid-19: A Fever Dream".
About this event
This event is hosted by Interdisciplinary Italy research team as part of its Second Summer School "The digital turn: When, why, and how to embrace it" (1-3 July, 2021), organised by Prof. Clodagh Brook (Trinity College Dublin) and Dr. Eleonora Lima (Trinity College Dublin).
This talk explores some of the core trends impacting the relationship between mass media and participatory culture during (and we hope, following) Covid-19. What happens when we decrease the volume of mass media and force people to spend more time interacting with each other through screens? What are people doing to entertain themselves and each other? How have entertainment producers, even political parties, sought to embrace a more "participatory" aesthetic to reflect current constraints on their production capacities? What long term trends in media, entertainment, and popular culture may the pandemic have set into motion?
Henry Jenkins is the Provost's Professor of Communication, Journalism, Cinematic Arts and Education at the University of Southern California and the founder and former co-director of the MIT Comparative Media Studies Program. He is the author or editor of 20 books on various aspects of media and popular culture, including Textual Poachers: Television Fans and Participatory Culture, Convergence Culture: Where Old and New Media Collide, Spreadable Media: Creating Meaning and Value in a Networked Culture (with Sam Ford and Joshua Green), and By Any Media Necessary: The New Youth Activism (with Sangita Shresthova and others). He has two more books that just came out this spring - Popular Culture and the Civic Imagination: Case Studies of Creative Social Change and Comics and Stuff. He is the co-host of the How Do You Like It So Far? podcast which explores popular culture in a changing world and has run the Confessions of an Aca-Fan blog for more than 15 years.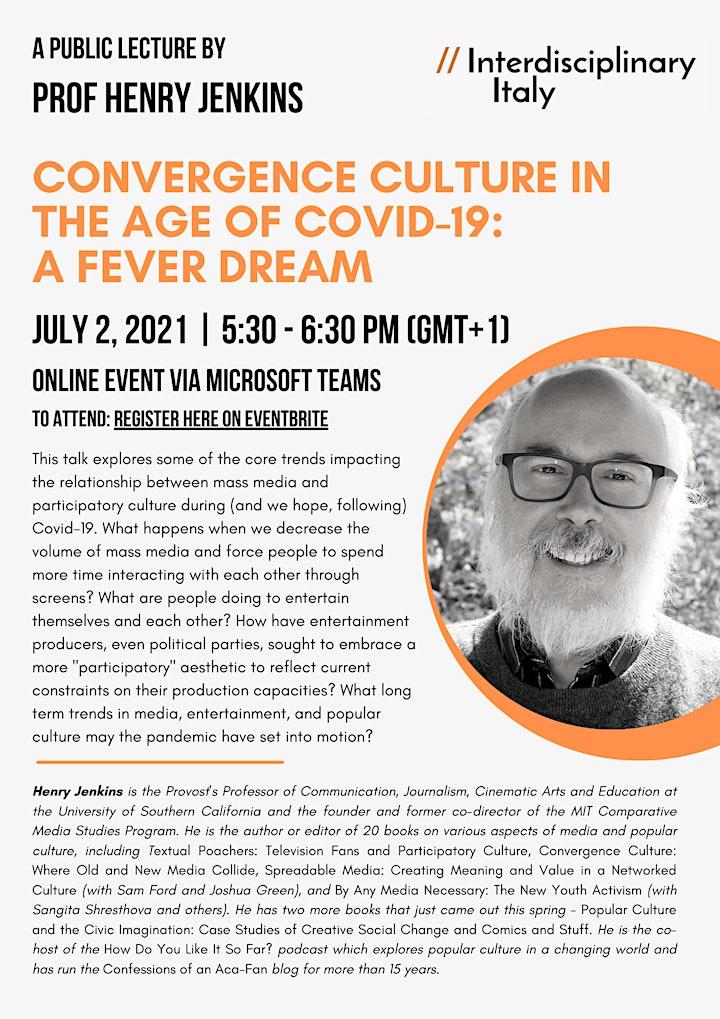 Organiser of Prof Henry Jenkins Public Lecture (Interdisciplinary Italy Summer School)