Prof Massimo Riva Public Lecture (Interdisciplinary Italy Summer School)
We are delighted to invite you to Prof Massimo Riva's public lecture "Simulating the Past: From Analog to Digital (and Vice Versa)".
About this event
This event is hosted by Interdisciplinary Italy research team as part of its Second Summer School "The digital turn: When, why, and how to embrace it" (1-3 July, 2021), organised by Prof. Clodagh Brook (Trinity College Dublin) and Dr. Eleonora Lima (Trinity College Dublin).
This talk explores how the virtualization of everyday life has ironically made a giant leap during the real-life emergency caused by the pandemic. Among the effects of the lockdown, the closure of galleries and museums has stressed how crucial is the access to our heritage when the institutions meant to preserve it cannot function. This is particularly relevant for a country like Italy that in addition to possessing one of the largest artistic patrimonies in the world also counts on tourism as one of its main economic resources. Having just completed a digital monograph one of whose main topics is "virtual travel" in the pre-digital age (18-19th centuries), Prof Riva will offer some remarks about the challenge posed by simulating the past in digital culture, looking in particular at a peculiar class of analogue devices and popular forms of entertainment (the mondo nuovo or cosmorama, the magic lantern, the moving panorama, and the stereoscope) that provided dynamic, immersive experiences which propelled viewers to a "new world," foreshadowing present-day VR, AR, and XR experiences.
Massimo Riva (Professor of Italian Studies at Brown University) has published on a wide range of topics, including several authored and edited or co-edited books on literary maladies and national identity in the 18-19th centuries, post-humanism and the hyper-novel, contemporary Italian fiction and the future of literature in the digital age. Since the late 1990s, his pioneering work in the digital humanities has led to the creation of several projects, including the Decameron Web, recipient of two major grants from the National Endowment for the Humanities, the Virtual Humanities Lab, also supported by a two-year grant from the NEH, the Pico della Mirandola Project, and the Garibaldi Panorama & the Risorgimento Archive. He is the recipient of several honours, including a Digital Innovation fellowship from the American Council of Learned Societies. He has recently completed a digital monograph entitled: Italian Shadows. A Curious History of Virtual Reality, a project of the Brown Digital Publications Initiative, funded by the Andrew W. Mellon Foundation, to be published next year by Stanford University Press.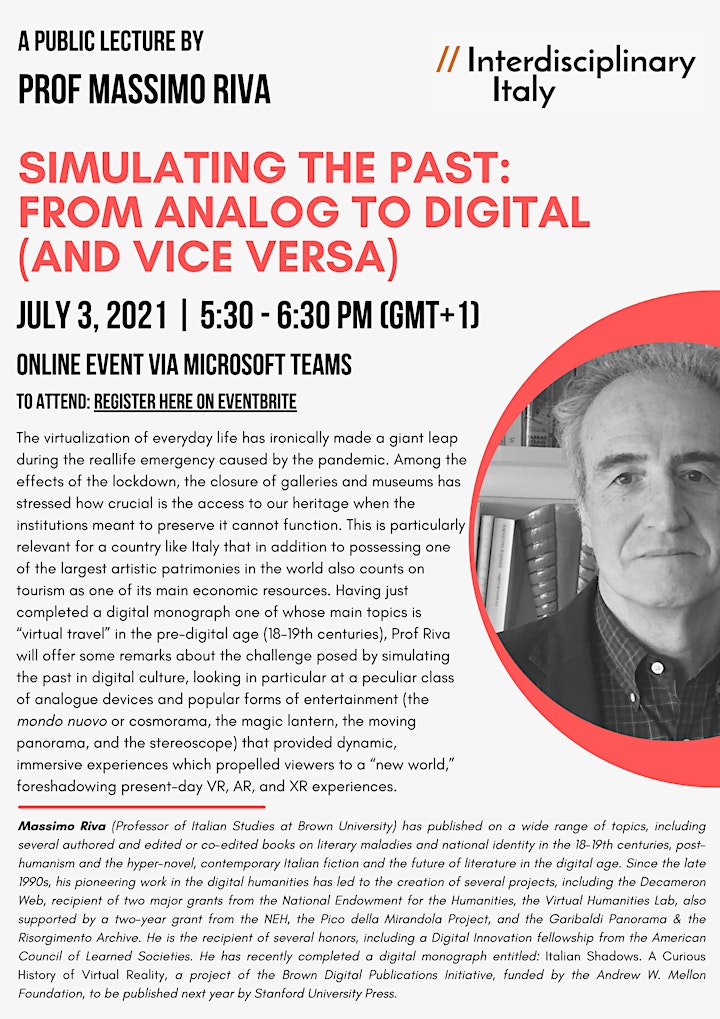 Organiser of Prof Massimo Riva Public Lecture (Interdisciplinary Italy Summer School)