'Profesionales en Prácticas Restaurativas' - 5-Dias Evento - MALAGA, Spain

Monday, 5 May 2014 at 09:00

-

Friday, 9 May 2014 at 20:30 (WEST)
Who's Going

Loading your connections...
3 of your friends are going.
Share it to get more people on board.
Share

Sara Haughty
San Francisco, California

Luke Picard
London, United Kingdom

Rick Vespucio
Florence, Italy
Event Details

Profesionales en Prácticas Restaurativas
La piedra angular de nuestro evento proporciona una introducción completa de los conceptos de prácticas restaurativas. A través de un debate facilitado, vídeos y ejercicios interactivos, usted aprenderá las habilidades prácticas para crear círculos dinámicos que suscitan la participación de los individuos en una variedad de entornos. Estos procesos ayudan a la construcción proactiva y positiva de las relaciones, así como a mantener y fortalecer las ya existentes, fundando un capital social. También usted aprenderá practicando facilitar técnicas restaurativas más formales que reúnen colectividades de atención y soporte, sobre todo cuando se trabaja de forma reactiva para reparar el daño y recomponer las relaciones rotas.
Idioma: ESPAÑOL - Language SPANISH
IIRP Europa está presentando este evento en asociación con:

Detalles de Presentación
IIRP Europa organiza este evento que será facilitado por:
Jean Schmitz, Director del Instituto Latino Americano der Practicas Restaurativas - que ofrece formación y consultoría en prácticas restaurativas en Latino América. Jean es originario de Bélgica. Sin embargo, él ha vivido en numerosos países de Latino América desde 1994, principalmente en Perú, Guatemala, Argentina y El Salvador. Habla fluidamente el español, inglés, portugués y francés.   http://ilapr.iirp.edu/

Este evento está diseñado como curso específico, pero también puede ser aplicado a estudios de pos-grado. Para obtener una comprensión más profunda de las teorías que son la columna vertebral de esta práctica, le invitamos a regístrese separadamente para el Módulo Básico de Prácticas Restaurativa (RP 500) y completar 12 horas de cursos adicional online.
Por favor, tenga en cuenta que en este momento el curso en línea está disponible sólo en Inglés.
Usted puede tomar hasta cuatro cursos de pos-grado sin solicitar admisión. Este curso puede ser aplicado hacia el Certificado de Pos-grado en Prácticas Restaurativas (4 cursos) o la Maestría en Ciencias de Prácticas Restaurativas (10 cursos).
Llame al 001-610-807-9221 (tenga en cuenta que esto es una llamada internacional a los EE.UU.) 08:00 – 16:30 horas de EE.UU (días hábiles) para aplicar en este evento que conlleva al crédito de pos-grado o visite iirp.edu para saber más.
Explore la gama completa de las prácticas restaurativas con el IIRP, líder mundial en el tema.
El desarrollo profesional del IIRP imparte conocimientos y habilidades que usted puede practicar de inmediato en su vida personal y profesional - si usted está involucrado en la educación, la justicia penal, los servicios sociales, el asesoramiento, el liderazgo, el campo pastoral, en el voluntariado u otro trabajo. Las habilidades que se aprenden en estos cinco días fortalecerán su capacidad de ayudar a otros a manejar sus propios problemas y alcanzar sus propias metas.
Apoyado por una extensa investigación, las prácticas restaurativas han demostrado resultados positivos en una amplia variedad de entornos. Hemos evidenciado consistentemente una mejoría del comportamiento, una reducción del bullying y de la violencia en las escuelas, una recuperación de la moral en el lugar de trabajo, una disminución de la reincidencia de los menores en conflicto con la ley penal así como una mejor participación de la familia en los servicios sociales.
Usted recibirá cuatro libros, cada uno relacionado con los módulos impartidos en el evento.
Dia 1:  Introducción a las Prácticas Restaurativas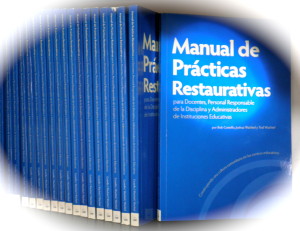 Usted aprenderá estrategias prácticas para construir fuertes y saludables relaciones con estudiantes, familias, clientes, empleados y colegas. Las experiencias interactivas le llevará a una comprensión completa de la premisa fundamental de la unificación de las prácticas restaurativas que dice: "Las personas son más felices, más cooperativas y productivas y más propensas a hacer cambios positivos en sus vidas cuando aquellas personas en posiciones de autoridad hacen cosas con ellas en vez de contra ellas o para ellas.
Dia 2: Usando Círculos Eficazmente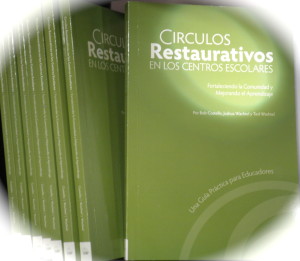 Los círculos facilitan la conversación y alientan la plena participación, pero hay maneras óptimas para utilizar este proceso que promueva una óptima comunicación. A través de videos, de prácticas y de debates, los participantes identificarán métodos fiables para el uso de los círculos para construir comunidad, establecer normas y manejar comportamientos y relaciones. Los círculos son útiles en cualquier ámbito desde la educación y otros servicios sociales hasta la gestión organizacional.

Dia 3 & 4:

 

 Facilitando Reuniones Restaurativas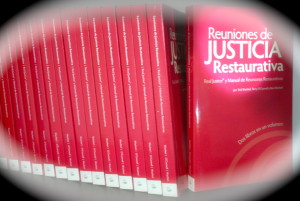 Los videos educacionales y las diversas actividades vivenciales le enseñarán como facilitar una reunión restaurativa, en la que todas las personas afectadas por hechos inadecuados puedan compartir la forma en que se han visto afligidas y tener voz y voto sobre la manera de cómo quisiera que se repare el daño ocasionado. Este círculo formal se utiliza para hacer frente a incidentes dañinos y promueve resultados positivos más que la mera sanción tanto en el sistema educativo, de justicia penal y en el trabajo con jóvenes como en las organizaciones y otros ámbitos.

Dia 5:

 Participación Familiar & Empoderamiento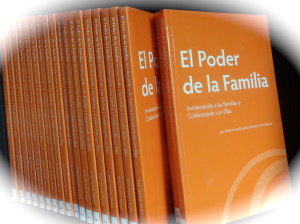 Usted aprenderá cómo involucrar y empoderar a las familias mediante estrategias formales e informales que les ayudan a desarrollar soluciones para sus propios problemas. Los participantes aprenderán cómo organizar reuniones formales de grupos familiares (RGF), también conocidas como la reunión para la toma de decisiones del grupo familiar (RTDGF), que son útiles para cualquiera que intervenga con las familias, incluidos los trabajadores sociales, educadores, los supervisores de medidas de libertad condicional, el personal de penitenciario y otros.

Horario: 09:30 – 14:00 y 16:00 - 20:30 horas (Registración 09:00 horas)
Accommodation Choices:
Here are the hotels near by the training location:
HOTEL IBIS  MALAGA CENTRO CIUDAD
http://www.booking.com/hotel/es/ibis-malaga-centro-ciudad.es.html
HOTEL SILKEN PUERTA DE MALAGA
http://www.booking.com/hotel/es/silkenpuertamalaga.es.html
THIS LINK PRESENT THE DIFFERENT HOTELS (LOW COST) THAT ARE LOCATED IN THE CENTER OF MALAGA
http://www.rumbo.es/hotel/espana/malaga/malaga/hoteles-malaga.html
THIS LINK PRESENT THE DIFFERENT HOTELS (MEDIUM COST) THAT ARE LOCATED IN THE CENTER OF MALAGA
 http://www.rumbo.es/hotel/hoteles/baratos/espana/malaga/malaga/
When & Where

Calle Cuarteles n 33 edificio Piscis, Málaga, España
Cuarteles n 33 edificio Piscis
MALAGA
Spain


Monday, 5 May 2014 at 09:00

-

Friday, 9 May 2014 at 20:30 (WEST)
Add to my calendar
Organiser
International Institute for Restorative Practices (IIRP) Europe

All IIRP Europe courses, workshops and CPD events hold the Restorative Justice Council (RJC) 'Training Provider Quality Mark' (TPQM).     
The International Institute for Restorative Practices (IIRP) Europe (UK Registered Charity 1106409) - offers a wide range of services in all aspects of Restorative Practices. See our website at www.iirp.eu for details.
PLEASE NOTE: Unless stated otherwise, IIRP Europe courses and workshops are presented in the ENGLISH language - IELTS Level 5 to 6 is recommended. Details at: www.ielts.org
PLEASE NOTE: All courses are subject to achieving minimum numbers. You will be notified of cancellations at least 28 days prior to the course start date.
IIRP Europe are happy to offer a 10% Discount on many events to those who are on our records as having attended a previous IIRP CPD event, training course, workshop or conference.
To receive your 10% discount (where available), prior to selecting 'Order Now', YOU MUST FIRST click on 'Enter Promotional Code' just above the green 'Order Now' button and enter the code 'IIRPLoyalty'. Provided you are on our database your 10% discount will be honoured.
IIRP Europe is a Registered Training Provider with the Restorative Justice Council (RJC) and adheres to the RJC Trainers Code of Practice. 
10% Discount for RJC Members on many events.
To receive your 10% RJC discount (where available), prior to selecting 'Order Now', YOU MUST FIRST click on 'Enter Promotional Code' just above the green 'Order Now' button and enter the code 'RJCMember'. To qualify for the discount you ALSO need to add a current RJC membership number in the free text area of the order section that follows.
PAYING BY CHEQUE
We can only accept payment by cheque in GBP Pounds Sterling. Otherwise a Sterling Bankers Draft will be required.

PAYING IN EURO's
Our PayPal account will accept payment in Euro's at current conversion rates.
'Profesionales en Prácticas Restaurativas' - 5-Dias Evento - MALAGA, Spain