Description
***EXHIBITORS***
Fantastic, limited, opportunity to speak directly with your target audience and a broad range of lighting professionals at an innovative event.
The Professional Lighting Summit is the annual must-attend event for any lighting professional and includes our AGM. This year's Summit will take place on June 12 and 13 at the Life Science Centre, Newcastle.
The Professional Lighting Summit will include two full days of topical, relevant presentations from experts in all fields of lighting, combined with a comprehensive programme of interactive workshops.
Designed to meet the needs of today's lighting community, the Summit is packed with CPD sessions, CPD workshops, and includes a small exhibition within the networking and refreshments area.
Demand will be high, and we recommend early booking.
Affordable exhibition package includes:
• Display space
• Power (subject to safe limits)
• Delegate list (where GDPR permission has been given) – names, job titles and email addresses
• Advance publicity in event advertising campaign, on ILP's website, in print and on social media
• Two exhibitor badges plus lunch & refreshments
• Support from the ILP team
This year you have a choice of space size: 3x2m or 2x2m, Your organisation is welcome to book multiple exhibition spaces if you require a larger area.
Please note the ceiling height is 3m
Orange space: 2x2m / Red space: 3x2m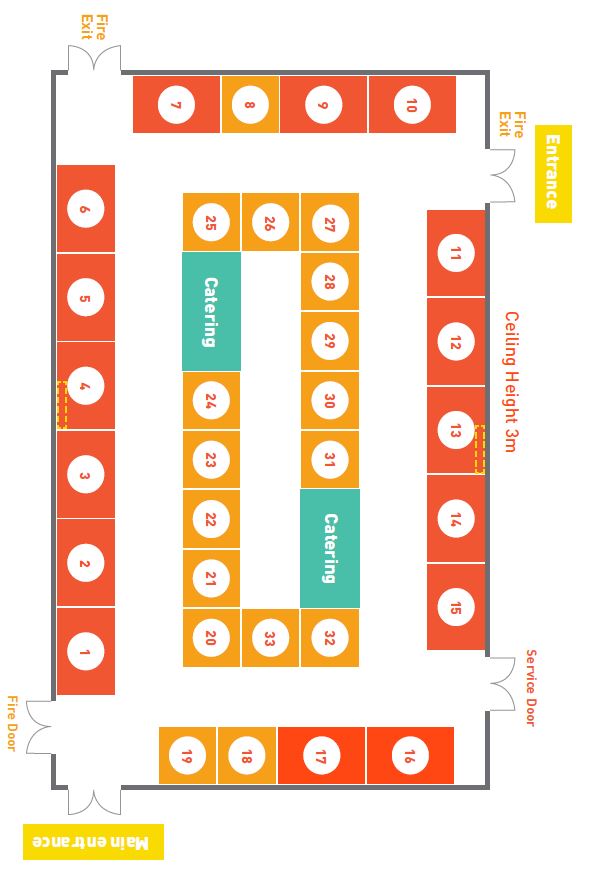 ***SPONSORSHIP OPPORTUNITIES***
The ILP Professional Lighting Summit is the occasion when the lighting community gathers to learn from and inspire each other.
We have a special opportunity for organisations to support this event by becoming an official sponsor. Our sponsorship package is a great way to show your commitment to the lighting profession.
Meet delegates face to face and explain how you can help them.
• Each sponsor has the opportunity to deliver a 30 minute workshop, repeated on both days
• You are free to design the content and style of workshop providing it is in line with the spirit of the event
• This could include a PowerPoint presentation (screen, projector and laptop will be provided so please bring your presentation on a memory stick), handouts, or simply face to face discussions
• The room will be set up theatre style for 30 with extra chairs available
• If you would like to alter the room layout you are free to do so, so long as it is returned to its original state in time for the following workshop
• Your title and synopsis will be needed in plenty of time for us to promote your workshop
Each Sponsor will also receive the following benefits:
• Your logo will be included on all printed marketing materials
• Logo will appear on screen in the main conference room at the Professional Lighting Summit
• Permission to place leaflets on delegate seats and at registration (max A4, one distribution per day)
• Space for one pull up banner to be displayed in Workshop Room (max 1m wide)
• Logo on Professional Lighting Summit web pages linking to your website
• One-page advertisement in the delegate brochure (A4, full colour)
• Access to the delegate list including names, organisations, job titles and email address (where GDPR permission has been given)
• Entry to the papers, exhibition and dinner for 2 staff is included
Who will be there?
The Professional Lighting Summit is designed for all lighting professionals – engineers, managers, contractors, designers, manufacturers and specifiers. The programme provides a high level of CPD, and delegate prices represent exceptional value, just £90 for a day delegate, which makes the Summit attractive and accessible for attendees from Local Authorities and the private sector alike.
If your organisation would like to exhibit or become a sponsor at this event, please choose your exhibitor space and/or sponsor ticket and then follow the booking process.

The CPD programme has almost been finalised. Click here to view the highlights.

You can choose to be INVOICED or pay by CREDIT CARD - on the booking form, under the payment header, there is a dropdown box next to 'payment method', so you can choose.
If you have any queries, please contact jo@theilp.org.uk or call 01788 576492.
Please click here to view our Terms & Conditions.
Your data matters! Here is our Privacy Notice which explains what we do, why, and what your rights are.