Event Information
Location
Volkshotel
Wibautstraat 150
Amsterdam
Netherlands
Refund policy
Refunds up to 30 days before event
Deepen your understanding of Scrum with this immersive, Powerpoint-free class for experienced Scrum Masters!
About this event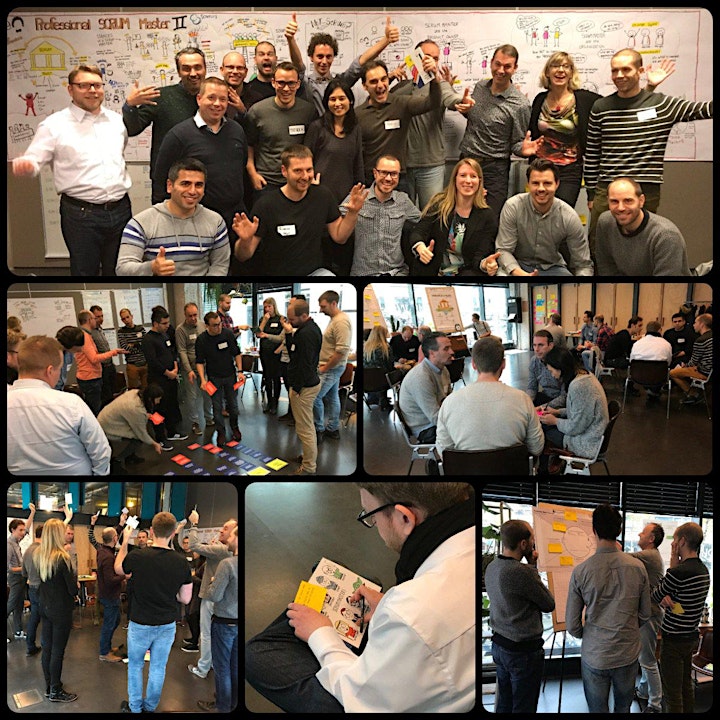 The training on September 23/24 will be provided by Barry Overeem & Christiaan Verwijs. On December 16/17 Barry Overeem teaches the class together with Christian Hofstetter, an experienced Agile Coach from Swisscom.
The Professional Scrum Master II (PSM II) course is an advanced Scrum Master class designed to support Scrum Masters in their professional development. After the class, students are eligible for the PSM II assessment certification. If you pass the assessment, you will gain the industry-recognized PSM II certification. This certification doesn't expire and makes you part of an elite community of less than 1,800 PSM II badge holders worldwide.
The PSM II is an advanced course helping students to understand the stances that characterize an effective Scrum Master and Servant Leader while diving deep into how they serve the Scrum Team, Product Owner, and organization. The class teaches students about related practices and skills to enable them to have the right types of conversations and how to apply them to become better Scrum Masters.
Who Should Attend
The Professional Scrum Master II course is an advanced course specifically designed for experienced Scrum Masters who have a thorough understanding of the Scrum framework. It is particularly beneficial for those people with at least one year of Scrum Master experience.
What You Will Learn
Over the 2 days, students will learn about areas critical to growing as a successful Scrum Master. They'll learn how the principles and values of Scrum help guide Scrum Masters in the decisions they make and how the Scrum Master can help change the environment of Scrum Teams, creating an environment for agility to thrive. The Scrum Master role is complex and often, a Scrum Master must be able to apply different stances in order to be effective, such as:
The Scrum Master as a Teacher
The Scrum Master as a Coach & Mentor
The Scrum Master as a Facilitator
The Scrum Master as a Change Agent
As a Scrum Master, you need to identify, and effectively apply which stance would benefit your team the most depending on the situation.
As a Scrum Master, part of your role is to help management and other stakeholders across your organization understand the benefits of Scrum and Agile. Therefore, it is imperative that you have the information and background that is needed to gain credibility in order to be an effective change agent. Throughout the class, we provide stories, exercises, facilitation techniques (such as "Liberating Structures"), resources and more. There will also be time to provide peer-coaching on challenges that you and your classmates may be experiencing today.
Why Our Class?
Together with Scrum.org, we created and continue to develop this PSM-II class.
With tons of exercises and energizers, we will keep you from dozing off during two high-energy days. No boring Powerpoint!
Every course will be facilitated by two experienced trainers that have coached numerous Scrum teams over the years;
Can I Pay By Invoice?
We love simplicity. Booking through Eventbrite is both simple, safe, and fast. You also automatically receive a VAT invoice from us. If you are unable to pay - for example, because others have to do this - we can send you a manual invoice. Please contact us at info@theliberators.com and let us know the name of your company, the address, a purchase order (when relevant) and the VAT number when your company is EU-based. Because this process is manual and requires manual checks, we add an administration fee of €100,-. When your organization requires vendor registration, longer payment terms, split invoices, or signed vendor agreements, we add a complexity fee of €100,-. In other words, your organization can save money by keeping things simple.
About The Liberators
As The Liberators, it's our purpose to liberate teams from dehumanizing and ineffective ways of organizing work by putting them in control of shaping their future. To achieve this purpose, we create products to unleash the superpowers of (Scrum) teams all over the world. We share a wide variety of content and support a community to learn and grow together.
Examples are:
We don't like fine-prints either, but please make sure to check out our (short) Terms and Conditions for Training Services and Privacy Policy. They apply to all registrations through Eventbrite, either done by you directly, by us on your request, or a third party on your behalf.
Location
Volkshotel
Wibautstraat 150
Amsterdam
Netherlands
Refund policy
Refunds up to 30 days before event
Organizer of Professional Scrum Master II