Description
We all know these principles of the Scrum Framework; try to make Product Backlog Items as small as possible, limit your 'work on progress'. It sounds so simple. But many Scrum Teams find this incredibly challenging. That is why Scrum.org has developed the Professional Scrum with Kanban (PSK)-course. This course is here to help Scrum Teams optimize their flow and - as a result - become more predictable and reliable.
Learn to optimize flow with Kanban
The Professional Scrum with Kanban™ (PSK) is a 2-day course that teaches Scrum practitioners how to apply Kanban practices to their work. Through theory, case studies, and hands-on exercises, participants will understand the importance of transparency and flow as it pertains to the Scrum framework.
Scrum.org worked with Daniel Vacanti (ActionableAgile) and Yuval Yeret (PST) to create this course. Daniel has been heavily involved with the development of Kanban since 2007 and managed the world's first project implementation of Kanban.
In this class, students will learn how Scrum Teams can introduce additional practices from Kanban while continuing the way they are already working today with Scrum, all without losing the value team's receive from Scrum.
In this extra-special class, Daniel Vacanti will pair-up with Scrum.org's Christiaan Verwijs and Barry Overeem to teach an extra interactive version of this course.
What you will learn
Gain a clear understanding of how flow works within the context of Scrum.
Be introduced to Kanban practices that Scrum Teams can adapt to help improve their effectiveness and efficiency.
Understand how to effectively use the appropriate Kanban practices without changing Scrum.
Learn a practical approach to improving transparency and visibility for their work.
This video gives a good impression of what the class looks like and how participants experience it.
Subject Areas
Dispelling Common Myths of Kanban and Scrum
Understanding Professional Scrum
Kanban Theory, Principles and Practices
Kanban in Practice
Scrum with Kanban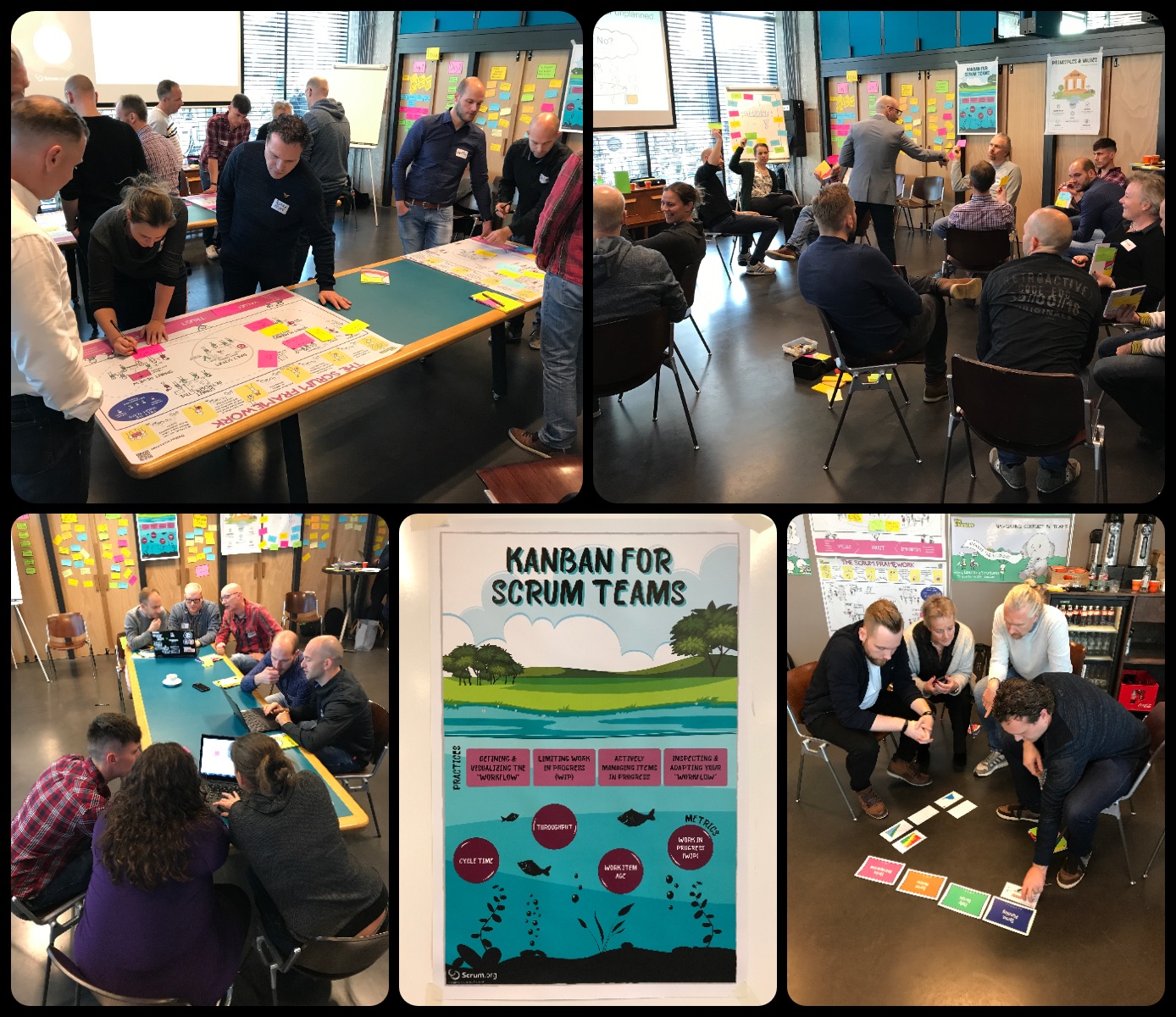 Who Should Attend
Professional Scrum with Kanban is appropriate for practitioners who are looking for additional tools to improve their Scrum teams.
Assessment & Certification
Upon course completion, attendees will have the opportunity to take an online assessment of their skills and earn their Professional Scrum with Kanban I (PSK I) certification.
In class, you will learn the importance of inspection, adaptation, and fast feedback cycles. To reinforce those concepts, if you attend this Scrum.org class and attempt the PSK I certification assessment within 14 days but do not achieve a score of at least 85% you will be given a 2nd attempt at no cost.
What Is Included
Printed course materials
Breakfast and lunch both days
One free attempt at the PSK I assessment (does not expire) - a $150 value

If you attend this Scrum.org class and attempt the PSK I certification assessment within 14 days but do not achieve a score of at least 85% you will be given a 2nd attempt at no cost

An invitation to join the Scrum Retrospective – a quarterly meetup in the Netherlands for participants of all our courses. The Retrospective helps you achieve your learning goals, build networks and learn from other excellent Scrum Masters;
A useful book to further support you in your journey and the materials used during the training;
Questions & answers
Can I pay by invoice?
Booking through Eventbrite is simple, safe and fast. You receive a valid invoice after your purchase. This simplicity allows us to offer tickets through Eventbrite for a price that is 10% cheaper. However, if you need to pay by invoice, we can send you a manual invoice for the regular price instead. Please contact us and let us know the name of your company, the address, a purchase order (when relevant) and the VAT-number when your company is EU-based.
Can VAT be reverse-charged?
Unfortunately, no. Tickets for public events are exempted from VAT reversal. We effectively pay the VAT for you. You can reclaim the VAT from your invoice through your local tax agency.
Who are we?
As The Liberators, Barry Overeem and Christiaan Verwijs take a radical approach to organizational change. Rather than taking the lead, they empower people within organizations to drive change themselves. As facilitators, they create space where people can tackle difficult challenges together while also having fun. Inspired by the fields of complexity science and organizational psychology, they use frameworks like Scrum, Lean Change Management and Liberating Structures to deliver fast-paced interactions, high involvement, and creative destruction.
With a strong focus on radical transparency, an experiential approach and creating a shared purpose, they put organizations in a position to thrive on complexity rather than being defeated by it. Are you ready to leave your comfort zone and unleash your superpowers?
Check out some of our blog posts to get an impression of our ideas:
Terms and conditions
We don't like fine-prints either, but please make sure to check out our (short) Terms and Conditions for Training Services and Privacy Policy. They apply to all registrations through EventBrite, either done by you directly, by us on your request or a third-party on your behalf.