Professionals Training on Responding to violence against migrant women
Free Professionals Training on responding to violence against migrant women - in London, Birmingham and Bristol
About this event
London 9th, 22nd October. Bristol 25th October and Birmingham 31st October
Objectives:
Enable key professionals to understand and explore the multiple forms of violence against women and girls within migrant communities, and their adverse impact
Explore cultural competency in responding effectively to womenm and girls affected by multiple forms of violence
Explore the role of provision of community-based services in improving access to appropriate support and protection services for migrant women
Facilitate networking with colleagues from other sectors and to enable holistic support for migrant women and girls affected by violence.
Who should attend?:
NHS and other health care professionals
Legal Practitioners
Social Workers
Community organisations
Education professionals
What is expected of you?
Register to attend a full day session in one of the training locations.
Be prepared to network and share good practice
What do I get from this training?:
Enhanced and shared knowledge on multiple forms of VAWG that affect migrant women and girls, including intimate partner violence, forced marriage, female genital mutilation (FGM) and human trafficking
Current Information on support services
First-hand information from Community Peer Advocates
Advocates on key barriers and support they require.
Training Dates:
London
Date: Wednesday 9th October, 9.00am-5.00pm
Venue: The Invention Rooms, 68 Wood Lane, White City Campus, London W12 OBZ
_____________________________________________________________________________________
Date: Tuesday 22nd October, 9.00am-5.00pm
Venue: 5-9 Surrey Street, Croydon, CRO 1RG
Bristol
Date: Friday 25th October, 9.00am-5.00pm
Venue: Barton Hill Settlement,43 Ducie Road, Barton Hill, Bristol BS5 OAX
Birmingham
Date: Thursday 31st October, 9.00am-5.00pm
Venue: Tally Ho Conference Banqueting Centre, Pershore Road, Birmingham, B5 7RN
To Register:
Please complete the application form and return to: yvette@forwarduk.org.uk OR register on Eventbrite choosing the location and date you want.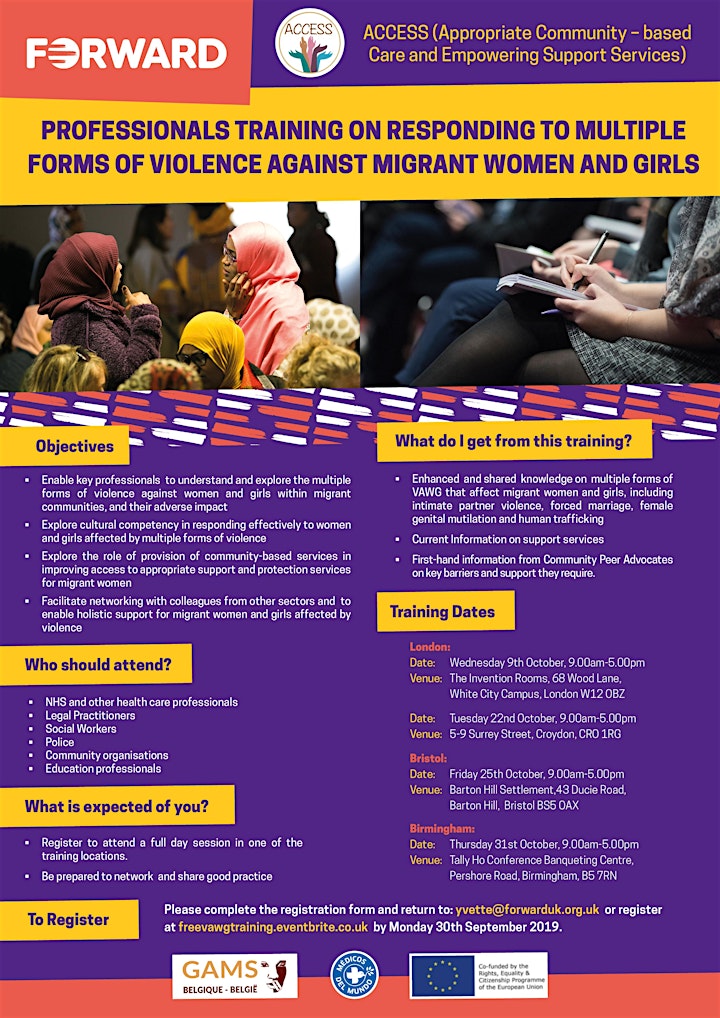 Organiser of Professionals Training on Responding to violence against migrant women
We are the African women-led organisation working to end violence against women and girls.
From female genital mutilation and child marriage to domestic and sexual violence, we tackle abuse and discrimination – enabling African women and girls to have the dignity, health and equality they deserve.
Together, we're working to create a world free from violence for all African women and girls – and we won't stop until we get there.