Description
Edinburgh Napier University is delighted to host Professor Sir Hew Strachan, Scottish military historian and expert in the history of the First World War at historic Craiglockhart.

Sir Hew will give a public lecture on the military and political situation in 1917, on the date which marks the centenary of Wilfred Owen's arrival at the former Craiglockhart War Hospital, as an officer being treated for shell shock.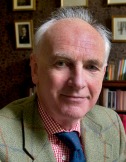 The lecture forms part of a sequence of events to commemorate the war poet Wilfred Owen's time in Edinburgh 100 years ago, and to shed light on Great War poetry and Scotland's connection to war poetry more broadly.
Doors open at 5.30pm / Lecture begins at 6pm

A drinks reception will follow the lecture at 7.15pm (main foyer)