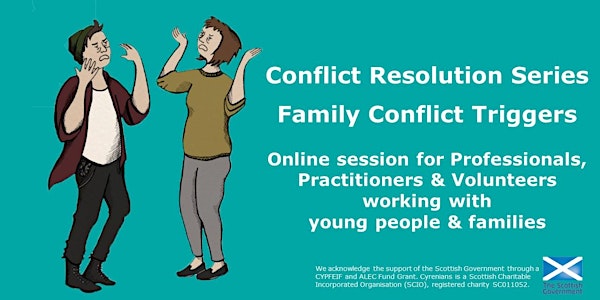 PROF/PRACT/VOL EVENT-Conflict Resolution Session - Family Conflict Triggers
THIS EVENT IS FOR PROFESSIONALS/PRACTITIONERS/VOLUNTEERS WORKING WITH YOUNG PEOPLE AND FAMILIES
About this event
Are you a professional, practitioners or volunteer who works with young people and families?
We have created a series of conflict resolution training based on our normal face to face training but adapted for an online event. Each session is about 40 minutes long and this session 'Family Conflict Triggers' explores those little things that can escalate and cause conflict, and how to manage these. See below some information on the event, and if you sign up you will also be emailed a pre-event pack a couple of days prior to the event with all the information you will need.
Following the session, you will be able to:
Recognise these (daily) triggers that have the potential to escalate within a family context, so you can address them more effectively or seek appropriate support
The session will be delivered on the online platform Zoom, by the SCCR trainer. If you book on to the session you will be sent the details on how to join nearer the time to the event when bookings have closed and a full PDF document with all the information you need to know will be emailed to you. This session is at an introductory level and no prior knowledge of the subject is required.
Please note Zoom offers video capability so you can join with your webcam on, but this is entirely up to you and this option can be turned off. However we would love to see your faces and feel it is a more interactive experience with videos on.
We hope to see you online soon!