Description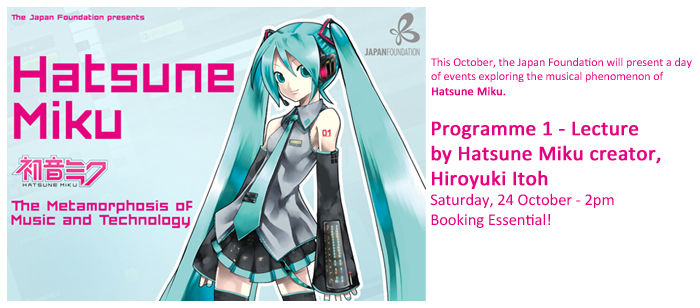 This October, the Japan Foundation will present a day of events exploring the musical phenomenon of Hatsune Miku, Japan's most iconic and globally-recognised singer. Featuring in over 500,000 songs worldwide and appearing in some 170,000 uploaded YouTube music videos, what separates Miku from her contemporaries is that she is in fact a 'virtual' singer and the face of the music production software created by Crypton Future Media, software anyone can buy and use to make her music. As a character "singing" through vocal synthesizer technology, Hatsune Miku became a huge hit since the software's launch in 2007 and inspired collaborations as diverse as Lady Gaga and Pharrell Williams. With Miku's popularity continuing to skyrocket, she continues to change the course of music production, paving a new way for the future of pop music.
Programme 1: Lecture by Hatsune Miku creator, Hiroyuki Itoh
(2pm)
Hiroyuki Itoh, CEO of Crypton Future Media, the parent company of Hatsune Miku and maker of her software, will chart its rise in success, reflecting on how it came to be a worldwide phenomenon. Itoh will be joined in conversation with Dr Rebecca Fiebrink, Lecturer, Department of Computing, Goldsmiths University of London to discuss how music and technology can be integrated and what role a recording and performing artist like Hatsune Miku can play in pop music in the 21st century.
For details of the other Hatsune Miku-themed events taking place, please click here.
***
Booking:
This event is free to attend but booking is essential. To book your free place, please click the green 'register' button above.
***
Important information about the events(お申し込みに際しての重要なお知らせ)
The maximum number of tickets bookable is 2 per person. Should you require more than 2 tickets for the event, please register again with the details of your guest(s) with their separate email address(es).
(お一人様2名までお申し込みできます。それ以上の枚数をお申し込みされる場合は、違うメールアドレスをご使用ください)
Please note that tickets are very limited - should you find you are no longer able to attend this event, please let us know at the very least 72 hours prior to the event by sending an email to info@jpf.org.uk
(参加人数が限られていますところ、お申し込み後に不参加が判明した場合は、遅くとも事業日の72時間前までにinfo@jpf.org.ukまでお知らせください)
All attendees 11 years old or younger must be accompanied by a responsible adult at all times.
(11歳以下のお子様は、保護者の同伴が必要です)
On this occasion the Japan Foundation would like to encourage younger audience members to attend these events. If you, or a member of your party, are aged 25 or under, please tick the corresponding box when completing your booking. Thank you very much for your cooperation.
(応募者多数の場合、25歳以下の若年層の参加を優先いたします。ご本人または同伴者が25歳以下の場合は、該当箇所をクリックください)
***
Disclaimer: By registering for this event, you will be signed up to the Japan Foundation's mailing list. If you wish to not receive emails from us, please contact info@jpf.org.uk to let us know.

Organiser of Programme 1 - Lecture by Hatsune Miku creator, Hiroyuki Itoh