Description
Project Management in a Nutshell - management training course
Do you find yourself with a 'management' job but no 'in-house' training to help yourself? Or perhaps you are a freelancer or business start-up. Often, we progress from being an expert in our field - like an architect, teacher, doctor, lawyer, accountant, lecturer - and end up with 'management' responsibilities.
So invest in yourself, go beyond 'just managing' and start to thrive - at work and at home. Book your place on a Manage and Thrive Training course now.
(For more information, see our case study and video about this course).
Some testimonials:
"A truly educational experience, which allowed me to engage with the design of research projects in a more efficient and logical fashion. In academia, we are not generally taught how to manage a project although it becomes fundamental at both design and delivery stages. An interactive and stimulating course to get the basic knowledge and apply it in the real world."
"Rob was both engaging and knowledgeable in his field."
"Just a thanks for yesterday. A great course, well presented, and filled with nuggets of useful info to help me manage my projects more professionally."
"Many thanks for the great 'Project Management' training today. It was extremely useful and have immediately implemented it into my job. I look forward to more."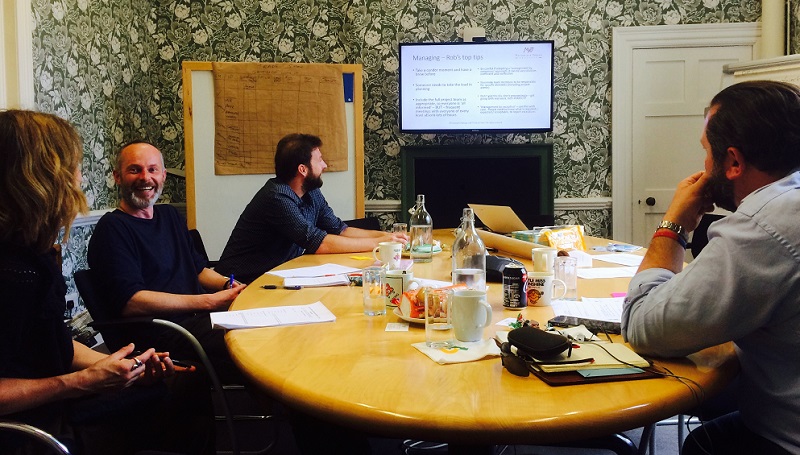 We understand that people are busy, and that a day or week can seem like an impossible trade-off when weighed against the massive in-box and to-do list. So we keep it concise, just some essentials. Manage and Thrive Training offers 'short and sharp' focussed training in 3 hours (or just over). The idea is to give you the essentials, so you can apply them and start to thrive in your management role.
Aim: Learn basic ethos, tools and techniques of project management, in an informal atmosphere where we can share learning and the benefit of our experience.

Summary: Pretty much everything we are asked to do has some element of 'project management', whether we know it or not. The concepts and tools can be applied to many managerial tasks. This course is an amalgamation of useful project management concepts and tools, learned through training and from applied experience. In essence, the content goes beyond what you may think of as 'project management' and should be applicable to whatever you need to do.


And for context - most things we are likely to do are a 'project' in some sense. This course is equally appropriate for those seeking 'general management' training, not just the constraints of 'project management'.
FAQs
What time should I arrive, and what about food?
Please feel free to arrive from 1pm, ready for a (hopefully) prompt start at 1:15pm. If you need to bring some packed food to eat beforehand, then this 1pm-1:15pm slot should allow you to do this. No food will be provided, other than biscuits to go with tea/coffee.

What are my transport/parking options for getting to and from the event?

The Waterfront meeting and training rooms can be found on the 3rd floor of offices situated in Welsh Back, Central Bristol, overlooking the floating harbour. A stone's throw from Bristol's Centre, Queen Square and also a 10 minute walk from Bristol Temple Meads Train Station. It is at Welsh back (a cobbled lane running parallel to the floating harbour, opposite Hobs Reprographics and next door to Vivo Sports Club.

How can I contact the organiser with any questions?
Please email rob@manage-and-thrive.co.uk

Do I have to bring my printed ticket to the event?
Ideally... but if you forget it, don't feel you need to turn back and go home to get it.

Is my registration fee or ticket transferrable?
No.

Is it ok if the name on my ticket or registration doesn't match the person who attends?
In principle that is ok, but please email rob@manage-and-thrive.co.uk to advise of the change.
TERMS AND CONDITIONS FOR MANAGE AND THRIVE LTD PROJECT MANAGEMENT IN A NUTSHELL TRAINING EVENT
The "Organiser" – Manage and Thrive Ltd, trading as Manage and Thrive Training, whose registered address is at The Guild, High Street, Bath, BA1 5EB
The "Event" – Project Management in a Nutshell training event
The "Attendee" - The person booking this event through the Eventbrite website
The "Booking Fee"- £99.00 or as per ticket type
The "Website" – www.manage-and-thrive.co.uk
The "Event Period" – Thursday 3rd August 2017, 13:15 - 16:30
1. The Event shall be held during the Event Period. The details of the Event will be set out on the Website for the duration of the Event Period.
2. The Attendee is entitled to entry to the Event in exchange for payment of the Booking Fee. The Booking Fee is payable upfront upon making the booking on the Eventbrite website. Every Attendee has the right to cancel its booking and receive a full refund of the Booking Free up to 14 days from the date of making the booking, but no later than 7 days prior to the Event commencement. After this date no refunds will be made. Cancelation is to be requested through the Eventbrite website or by emailing the Organiser directly using contact details set out on the Website. The target time to respond to compliant cancelation requests is five business days. In the event that the Organiser fails to honour a refund that an Attendee believes is due under this refund policy, that Attendee may request that Eventbrite initiate a refund by contacting Eventbrite as per the Eventbrite website.
3. A full refund limited to the Booking Fee will be made if the Event is cancelled.
4. The schedule and content of the Event may vary from the description set out on the Website and is at the sole decision of the Organiser. Neither the Organiser nor any third parties provide any warranty or guarantee as to the accuracy, timeliness, performance, completeness or suitability of the information and materials found or offered on the Website or at the Event for any particular purpose. The Attendee acknowledges that such information and materials may contain inaccuracies or errors and the Organiser expressly excludes liability for any such inaccuracies or errors to the fullest extent permitted by law.
5. The Organiser reserves the right to withdraw, change trainer, amend number of attendees, otherwise alter, exclude or move the location of the Event at the Organiser's sole discretion.
6. The Organiser may be taking photographs during the Event. By making this booking the Attendee acknowledges and accepts that he/she may feature in those photographs and that they may be used on the Website or in literature for the purposes of marketing. Photographs will not be made available to any Attendee.
7. Although all reasonable precautions will be taken, the Organiser is not responsible for the property of the Attendee or any other person, or for the loss, damage or destruction by any cause of any such property. The Attendee hereby accepts liability for all his/her acts or omissions during attendance at the Event and indemnifies the Organiser against all liability in respect thereof and against all actions, suits, proceedings, claims, demands, costs and expenses whatsoever which may be taken or made against the Organiser or incurred or become payable by it arising therefrom or in respect thereof.
8. The Organiser may collect the names and personal details of the Attendee (including, but not limited to, their postal address, email, telephone number and date of birth). The Organiser warrants that the names and personal details of the Attendee will be held and processed in accordance with the Data Protection Act 1998.