Description
Project Management in a Nutshell: Approach, tools and techniques to implement immediately
You find yourself with a 'management' job but you need to polish up your skills so you can work more efficiently while gaining more professional, easier, better results.

You want a short, time-efficient course that will give you a relevant approach, tools and techniques. You want someone who can actually present well and share some top tips and lessons learned. You want to walk away with knowledge and skills you can implement now.
Busy people and businesses improve performance through our time-efficient, bite-sized management training packages. Less faffing, more success.
"Many thanks for the great management training today. It was extremely useful and have immediately implemented it into my job. I look forward to more." (Lindsay, National Geographic Partners)

"A great course, well presented, and filled with nuggets of useful info to help me manage my projects more professionally." Karen, role involves communications & editorial consultancy
Book now and join Rob Hart, trainer at Manage and Thrive Training, for concise, relevant, real-world training in project management.

Aim: Learn basic ethos, tools and techniques of project management, in an informal atmosphere where we can share learning and the benefit of our experience.
Summary: Pretty much everything we are asked to do has some element of 'project management', whether we know it or not. The concepts and tools can be applied to many managerial tasks. This course is an amalgamation of useful project management concepts and tools, learned through training and from applied experience. In essence, the content goes beyond what you may think of as 'project management' and should be applicable to whatever you need to do.
Content:
Introduction
Kick-off
Project planning
Managing
Thriving
Conclusion
And for context - most things we are likely to do are a 'project' in some sense. This course is equally appropriate for those seeking 'general management' training, not just the constraints of 'project management'.
Trainer profile:
Rob Hart received formal management and leadership training at The Royal Military Academy, Sandhurst, and subsequently served for seven years as an Army Officer. After leaving the forces, Rob then worked in a number of management disciplines with the United Nations, Government, corporate and small businesses and start-ups. He now shares his experience with others. He is a confident and competent all-round manager, with extensive training and experience of management and leadership in various environments. Specialisms include operations, strategy, projects/ programmes, systems and process, risk, change management, resources, capability, teams and staff. Rob's LinkedIn profile is https://www.linkedin.com/in/robhartbusiness/
About Manage and Thrive Training:
We want to help people and businesses succeed. We do this by providing time-efficient, focussed training in management and leadership. Training is created and delivered by people with world-class training and real-world experience, including both military and commercial backgrounds, who can instruct, and who are trusted by us. Fin dout more about Manage and Thrive Training here: http://www.manage-and-thrive.co.uk/
So give yourself a big gain, for little pain and risk. Invest in you and your team. Book a course now.
(FAQs, and Terms and Conditions, are below)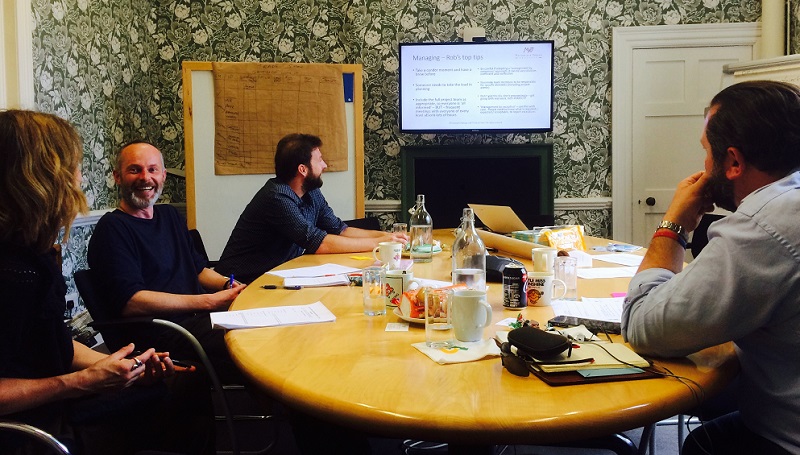 Some testimonials:
"A truly educational experience, which allowed me to engage with the design of research projects in a more efficient and logical fashion. In academia, we are not generally taught how to manage a project although it becomes fundamental at both design and delivery stages. An interactive and stimulating course to get the basic knowledge and apply it in the real world."
"Rob was both engaging and knowledgable in his field."
"Just a thanks for yesterday. A great course, well presented, and filled with nuggets of useful info to help me manage my projects more professionally."
"Many thanks for the great 'Project Management' training today. It was extremely useful and have immediately implemented it into my job. I look forward to more."
FAQs
What time should I arrive?
Please feel free to arrive from 12:45pm, ready for a (hopefully) prompt start at 1pm.
Will food be provided?
Food will not be provided, other than biscuits to go with tea/coffee.

What are my transport/parking options for getting to and from the event?

Find The Guild
The Guild is situated right in the centre of Bath, and is located within the historic Guildhall building. The building itself has three entrances, ours is the last one on the left as you look at the front of the Guildhall, and is directly opposite TK Maxx.
If you use a satnav then please use: BA1 5AW
Otherwise you may be routed to elsewhere in Bath if instead you use BA1 5EB

Arrival by Car
Bath is not a car friendly city. A series of bus gates means that cars cannot drive directly through the centre of the city between the hours of 10am and 7pm (including weekends).
While there is on street parking around the city, it is expensive and in short supply. It will most likely be easier for you to either use one of the park and rides into town, or to use one of the long stay car parks. If you are coming from London via car, we recommend using the Lansdown park and ride.
Otherwise, we recommend Charlotte Street car park. Once you have parked at the Charlotte Street car park, head down to Charlotte Street and head towards Queen Square. Diagonally across Queen Square, find Wood Street (aim towards the Paxton and Whitfield cheese shop). Continue in that same general direction along Quiet Street (the Kitchen shop will be on your left). Go straight over Milsom Street (a major shopping street) and along Green Street (passing the Tasting Rooms wine and whisky shop). Once there, turn right and head that way (the Waitrose building will be on your left). When you get to TK Maxx and Cafe Nero, which should be on your right, head over the road to the Guild Hall building. The entrance to the Guild is to the left of the entrance to the Guildhall market, as you look at it. The door usually has a little sandwich board for the Guild outside it.

Public Transport
Bath is well served by train and coach links.
Bath railway station is an 8 minute walk away.
Bath bus station is situated right next to the railway station.
Use satnav (see above).
Alternatively: as you exit the front entrance of the railway station, you find a road junction with The Royal Bath Hotel and Brasserie Brunel opposite. Head straight up the road in front of you (which is the A3039, with Debenhams' side-entrance and some bus stops on your left). Head towards the big building which houses Garfunkels/Browns/Empire Hotel. When you get to this big building, veer left and follow the wall of this building (so the wall will of the building will be on the right), heading towards All Bar One and Starbucks. Follow the road around to the right. You will then find the entrance to the Guildhall Market, with a Cafe Nero on the opposite side of the road. A little bit further along beyond the Market entrance is the Guild entrance, which usually has a little sandwich board outside for the Guild it. If you get as far as TX Maxx, you've probably gone a little bit too far if you came from the station.

How can I contact the organiser with any questions?
Please email rob@manage-and-thrive.co.uk

Do I have to bring my printed ticket to the event?
No.

Is my registration fee or ticket transferrable?
No.

Is it ok if the name on my ticket or registration doesn't match the person who attends?
In principle that is ok, but please email rob@manage-and-thrive.co.uk to advise of the change.
TERMS AND CONDITIONS FOR MANAGE AND THRIVE LTD Project Management in a Nutshell TRAINING EVENT
The "Organiser" – Manage and Thrive Ltd, trading as Manage and Thrive Training, whose registered address is at The Guild, High Street, Bath, BA1 5EB
The "Event" – Project Management in a Nutshell
The "Attendee" - The person booking this event through the Eventbrite website
The "Booking Fee"- £150.00 or as per ticket type
The "Website" – www.manage-and-thrive.co.uk
The "Event Period" – Tuesday 20th November 2018, 13:00 - 17:00
1. The Event shall be held during the Event Period. The details of the Event will be set out on the Website for the duration of the Event Period.
2. The Attendee is entitled to entry to the Event in exchange for payment of the Booking Fee. The Booking Fee is payable upfront upon making the booking on the Eventbrite website. Every Attendee has the right to cancel its booking and receive a full refund of the Booking Free up to 14 days from the date of making the booking, but no later than 7 days prior to the Event commencement. After this date no refunds will be made. Cancelation is to be requested through the Eventbrite website or by emailing the Organiser directly using contact details set out on the Website. The target time to respond to compliant cancelation requests is five business days. In the event that the Organiser fails to honour a refund that an Attendee believes is due under this refund policy, that Attendee may request that Eventbrite initiate a refund by contacting Eventbrite as per the Eventbrite website.
3. A full refund limited to the Booking Fee will be made if the Event is cancelled.
4. The schedule and content of the Event may vary from the description set out on the Website and is at the sole decision of the Organiser. Neither the Organiser nor any third parties provide any warranty or guarantee as to the accuracy, timeliness, performance, completeness or suitability of the information and materials found or offered on the Website or at the Event for any particular purpose. The Attendee acknowledges that such information and materials may contain inaccuracies or errors and the Organiser expressly excludes liability for any such inaccuracies or errors to the fullest extent permitted by law.
5. The Organiser reserves the right to withdraw, change trainer, amend number of attendees, otherwise alter, exclude or move the location of the Event at the Organiser's sole discretion.
6. The Organiser may be taking photographs during the Event. By making this booking the Attendee acknowledges and accepts that he/she may feature in those photographs and that they may be used on the Website or in literature for the purposes of marketing. Photographs will not be made available to any Attendee.
7. Although all reasonable precautions will be taken, the Organiser is not responsible for the property of the Attendee or any other person, or for the loss, damage or destruction by any cause of any such property. The Attendee hereby accepts liability for all his/her acts or omissions during attendance at the Event and indemnifies the Organiser against all liability in respect thereof and against all actions, suits, proceedings, claims, demands, costs and expenses whatsoever which may be taken or made against the Organiser or incurred or become payable by it arising therefrom or in respect thereof.
8. The Organiser may collect the names and personal details of the Attendee (including, but not limited to, their postal address, email, telephone number and date of birth). The Organiser warrants that the names and personal details of the Attendee will be held and processed in accordance with GDPR.