Project Management Skills for Executive Assistants, PAs and Administrators

Thursday, 30 October 2014 from 09:00 to 16:30 (GMT)
Event Details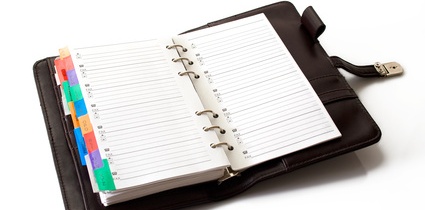 Project Management Skills for Executive Assistants, PAs and Administrators
WHO SHOULD ATTEND
Many EAs, PAs and Administrators manage their own small projects.  Others work closely with project managers.
This course provides you with the skills, checklists, key techniques and confidence to understand, plan, implement and review projects.
It is designed for EAs, PAs and Administrators who have had no previous formal training in project management.
COURSE OBJECTIVES
By the end of this course you will be able to:
Ø  Recognise when to use your project management skills
Ø  Use a range of tools and checklists for planning and controlling project
Ø  Recognise and reduce risks
Ø  Monitor, control and report on your projects - using a few key techniques
Ø  Complete the project and review the process
Ø  Develop action plans to improve your projects
COURSE MODULES
INTRODUCTION TO PROJECT MANAGEMENT
Ø  When to use project skills
Ø  What do we mean by project management?
Ø  The stages of the project life cycle
Ø  Recognising why projects fail
DEFINING A PROJECT
Ø  Agreeing the project's objectives, success criteria, scope and deliverables
Ø  Clarifying the roles and responsibilities within the project team
Ø  Recognising and working with key stakeholders
Ø  Understanding the drivers within a project – quality, cost and time
PROJECT PLANNING
Ø  Being clear about what needs to be done, by whom and when
Ø  Crating a project schedule - Gantt charts
Ø  Identifying when delays are acceptable or unacceptable - Critical paths
Ø  Identifying, evaluating and managing risks
Ø  Ensuring effective communication 
PROJECT IMPLEMENTATION
Ø  Monitoring and controlling the project
Ø  Updating the project plan
Ø  Preventing project creep – controlling changes
Ø  Reporting on project progress and issues
PROJECT CLOSEDOWN AND REVIEW
Ø  Knowing when the project is complete - what to handover and when
Ø  Evaluation - measuring results against objectives
Ø  Follow-up actions
Ø  Capturing learning for future projects
Ø  Celebrating success
PERSONAL DEVELOPMENT
Ø  Formulating an action plan
Not in the UK?  Ask us today about our online training!
Do you have questions about Project Management Skills for Executive Assistants, PAs and Administrators?
Contact Aspira Training
When & Where

Aspira Training Room
Floor 1
72 Wells Street
W1T 3QF London
United Kingdom


Thursday, 30 October 2014 from 09:00 to 16:30 (GMT)
Add to my calendar
Organiser
Aspira Training is part of the Aspira Executive PA search consultancy based in London. 
Aspira Training is dedicated to providing training for personal assistants and support staff within the financial and investment sector. Our aim is to equip our delegates with the necessary knowledge and skills to become indespensible business assets within their organisation. 
We provide a range of courses tailored to each deleagte's needs to ensure that they leave with the ability to excel in their current role and deliver exceptional results. We work with industry experienced trainers, who deliver comprehensive and up-to-date courses relevant to current market trends.