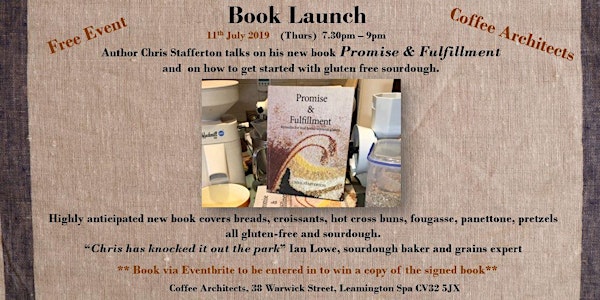 Promise & Fulfillment book launch - formulas for real bread without gluten
Location
Coffee Architects
39 Warwick Street
Leamington Spa
CV32 5JX
United Kingdom
Description
We are very excited to be involved in the UK launch for Author Chris Stafferton's book Promise & Fulfillment, formulas for real bread without gluten.
Not a stranger to dabbling in the kitchen, Chris, who lives in Tasmania, was challenged to go to the next level when his doctor told him to remove gluten from his diet in 2006. With a background in engineering as well as a love of food (especially bread), reading and problem-solving Chris set to work, tinkering in the kitchen to develop real bread WITHOUT gluten. The learning curve was very steep as he set out to understand how to make bread with minimal, simple ingredients and without additives. The challenge increased when one of Chris's daughters was also put on a gluten-free diet. There was the matter of making bread and other baked goods that a teenager would eat and would be confident to share with friends. Chris has provided recipes, coaching and consultancy in gluten-free baking around the world. He has baked and collaborated with bakers in Australia, France, UK, the Czech Republic, Greece, USA and Germany. He continues to research, innovate and refine technqiues to produce better bread without gluten.
You are invited to join Chris at his one and only UK launch for his book Promise & Fulfillment - real bread without gluten.
Everyone who registers through eventbrite gets entered into a prize draw to win a copy of his book, which will be signed on the evening.

Here is what to expect for the evening:
7.30pm: Arrival with a complimentary glass of fizz with gluten free nibbles provided by Liz from Pumpkin & Sprout.

7.45pm: Welcome and presentation from Author Chris Stafferton on his journey from diagnosed gluten-free through to expert gluten-free baker followed with a demonstration and explanation on how to create your own gluten-free sourdough starter to get you baking with his innovative book Promise & Fulfillment, formulas for real bread without gluten.

8.30pm: Prize draw winner announcement followed by opportunity to buy Chris's book with signing for those books purchased on the night.

9pm: Finish
Book Description:
Promise & Fulfillment is about making good bread without gluten. That's bread with taste and texture from, fresh natural ingredients prepared in time-honoured ways. It's about understanding and working with ingredients, to reveal their potential. It may be quick rolls or naturally fermented panettone, challah, brioche and croissants.
On the night the book will cost £30 to every one who buys a copy at the launch.
The online RRP is £31 available online from Amazon and in store locally at Warwick Books.
This exciting event will be held at Coffee Architects in Leamington Spa and hot drinks will be available to buy throughout the event.
We look forward to seeing you!