In our new series, we will present another brilliant comedian do a 1h Stand-Up Special. Like Netflix or HBO? Time to watch quality Stand-Up!
About this event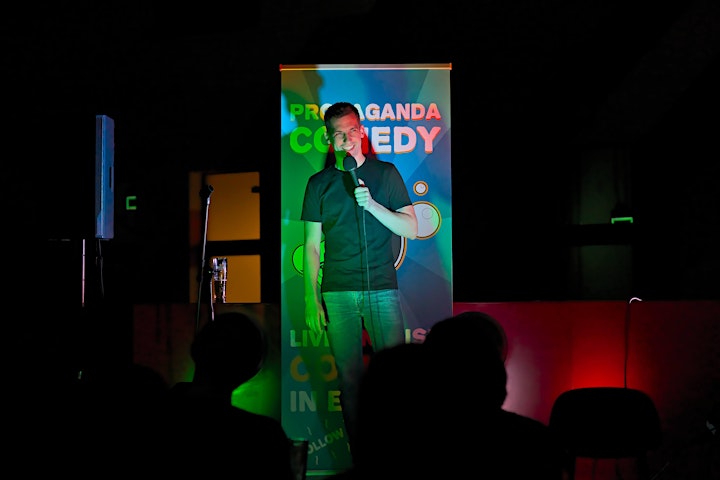 Pavlo Voytovych: Accidentally funny
Pavlo is a journalist from Ukraine turned TV writer and comedian in Berlin.
He accidentally started doing stand-up in Germany, and it accidentally became a very important part of his life. It took him several years to finally collect an hour of jokes that he is not ashamed to tell people (if those people aren't his family).
His credits include:COMEDY CENTRAL - writer
SO YOU THINK YOU'RE FUNNY? - 2018 semi-finalist
NETFLIX - 8 seconds of screen time
BITCOIN - regret not buying in 2011It's pretty much an hour of light-hearted, silly, mostly clean, sometimes even clever jokes and stories that, I promise, will make you laugh.He's performed around Germany, toured Switzerland, and have been seen on famous comedy stages of London, Edinburgh, Paris, and Barcelona, so you know it's good stuff!'
Doors: 8pm
Show: 8.30pm
We use the 2G-system. Your ticket is only valid with a valid proof of full vaccination or recovery. On the plus side: No masks.
This is a donation show. We ask for a 10-12€ donation after the show.
------------------------------------------------------------------------------
And here is a little tast of what to expect:
Q: What kind of comedy is it?
A: The comedy has been described as Cute but Dark and focused on culture, emotional trouble, and emotional limitations.
Q: What language is this show in?
A: The show is fully in English. Np German skills necessary.
Q: Is someone going at me if I sit in front?
A: No, the show is very friendly.
Q: Is it vulgar comedy?
A: Pavlo's comedy is more cultural in nature and focuses on everyday life absurdities; it is not vulgar.