Propagate, activate, aggregate - Route to market workshop food start-ups
Description
Workshop#3: Route to Market
You have a product, you have a brand, people love it... what do you do next? How do you sell it? How do I approach sales? Who wants to buy it? Why isn't it selling? The simple answer is, you have to go out there and sell your product in order to be successful, but standing on street corners, product in hand just won't cut it.

You need to develop a strategy, you need to understand what buyers are actually looking for and what they want to hear from you. Our mentors and speakers will give you the ins and outs of their stories and the tips and tricks they learned in contacting buyers and retail spaces and how they developed strategies to target small businesses to large retailers, and everything in between.

The aim of the workshop is to help you to identify suitable retail channels & partners for your product. How to align with your buyer values and strategy. What does this mean and, how to develop appealing sales pitch?
Bootcamp
This 5-workshop series will offer valuable information to assist food start-ups, as they embark on their entrepreneurial journey. This workshops is designed and led by the Cinnamon Bridge team, experienced food entrepreneurs, industry experts, mentors and creatives alike. Those attending will gain valuable knowledge, which will ultimately serve to facilitate the growth of their businesses. The workshops will include informative presentations, hands-on mentoring, valuable and insightful exercises, talks from successful food industry entrepreneurs, and more. Not only will the workshop facilitate growth and offer industry acumen, it wil be a very unique networking opportunity.
Agenda:
Agenda:
18:00 - 18:10 Registration 
18:10 - 18:20 Welcoming and Introductions 
18:20 - 19:30 Panel Discussion and Q&A
19:30 - 19:40 Break
19:40 - 20:40 Positioning workshop for Food Start-ups
20:40 - 21:00 Pitching 
21:00 - 21:10 Wrap up
21:10 – 22:00 Networking and refreshments
22:00 - End of event
Speakers & Mentors: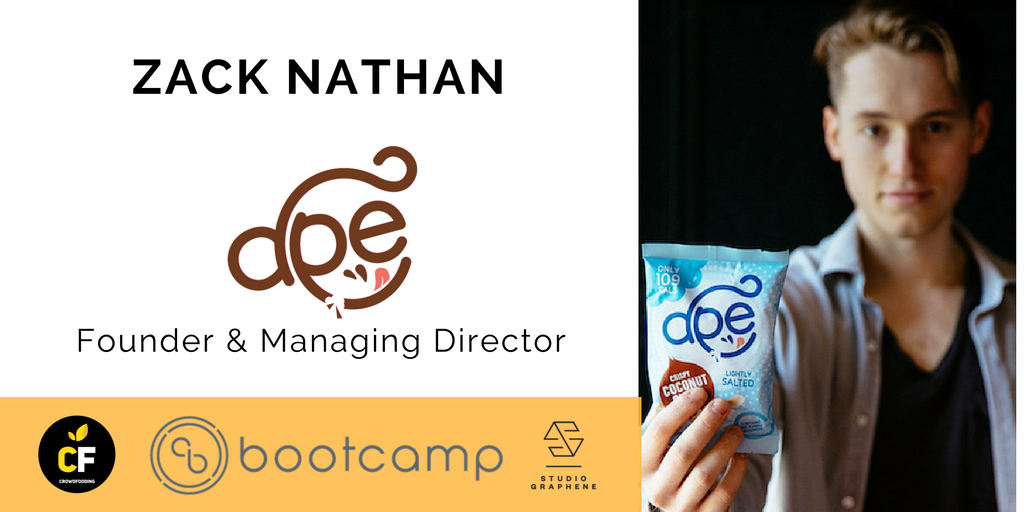 ZACK NATHAN
Founder at Ape Snacks
Zack Nathan, founder of ape snacks, is one of the UK's youngest entrepreneurs.  He founded the business in 2015 at the age of 20.  The business is now worth £2 million at the end of it's second year.
Whilst in his first Semester at Cornell, Zack was frustrated by the food and snacking options available - all of which claimed to be 'healthy' or 'natural' but contained loads of sugar, crazy chemicals and weird preservatives.  When he started to look more into the science behind nutrition and Paleo, he discovered that his friends were literally cutting their lives shorter because of what they were eating, and a lot of illness could be prevented through healthier diet.  Zack's family had always eaten according to the Paleo Diet and when his mum took some coconut flakes, threw them into a pan with some cinnamon and salt and toasted them to perfection, he started to wonder why it wasn't that easy to snack 'better' all the time. 
He left University, returned to the UK and started on his mission to get people snaking healthier, without having to compromise on taste.  
In June of last year he started ape snacks.One year on and ape continues to go from strength to strength with nationwide listings secured in Ocado & Morrison's and a host of healthy independents.  Watch this space for new products, new markets and new initiatives.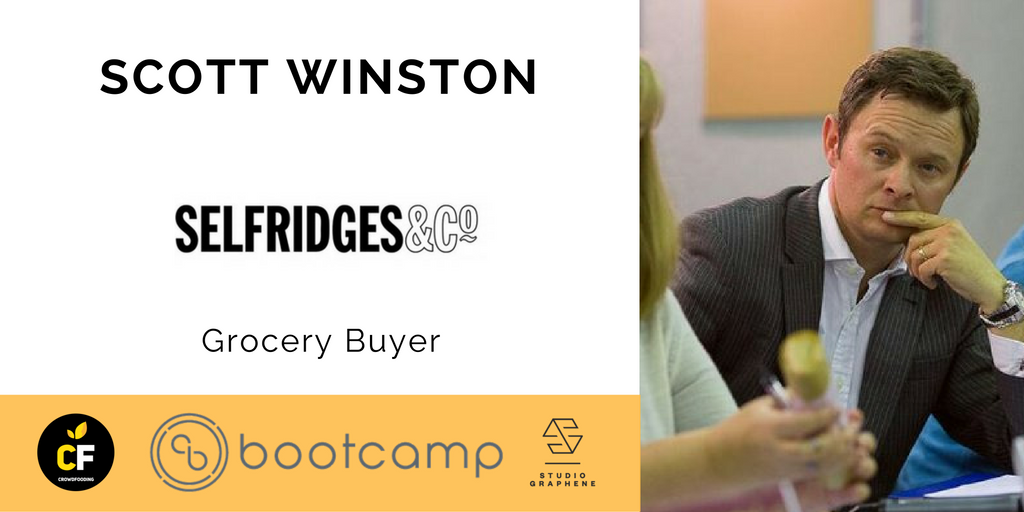 SCOTT WINSTON
Grocery buyer at Selfridges & Co
Scott found a passion for discovering, eating and selling fine food when he started working as a sales assistant at Harvey Nichols iconic Foodhall some 20 years ago. Scott pursued his passion and forged a successful career in food buying at Harvey Nichols before moving to Harrods and then most recently Selfridges.
Scott regularly works with regional food organisations (such as 'Food From Scotland') to help promote and mentor new artisan suppliers as well as working with the Guild of Fine Foods on their successful Great Taste Award scheme. Last year Scott formed part of the supreme judging panel for Great Taste.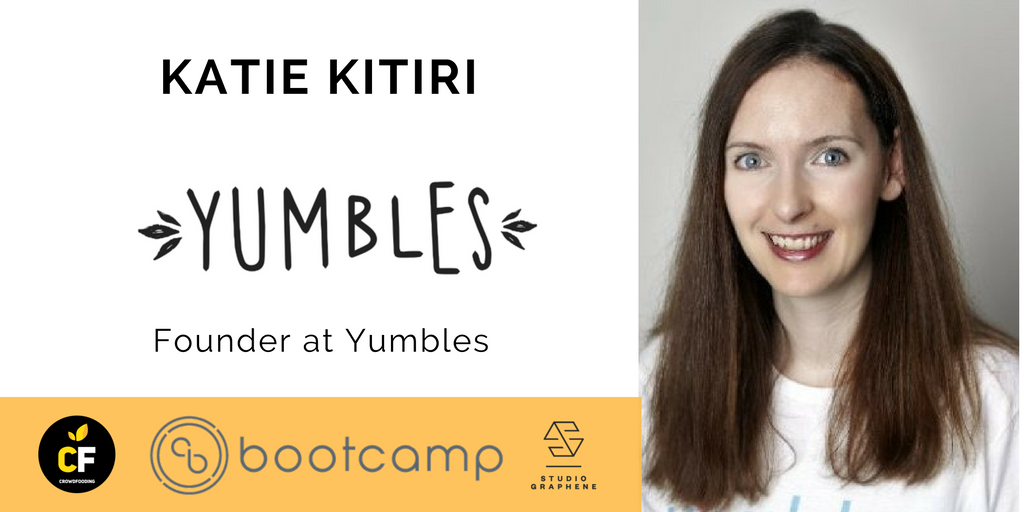 KATIE KITIRI
Founder of Yumbles
With a background in various online marketplaces and technology businesses, Katie is combining her passion for great food with her professional expertise to bring a new and exciting way to discover and buy independent, hand-crafted foods.
Yumbles is a curated marketplace connecting food lovers with the UK's best small batch independent food and drink producers.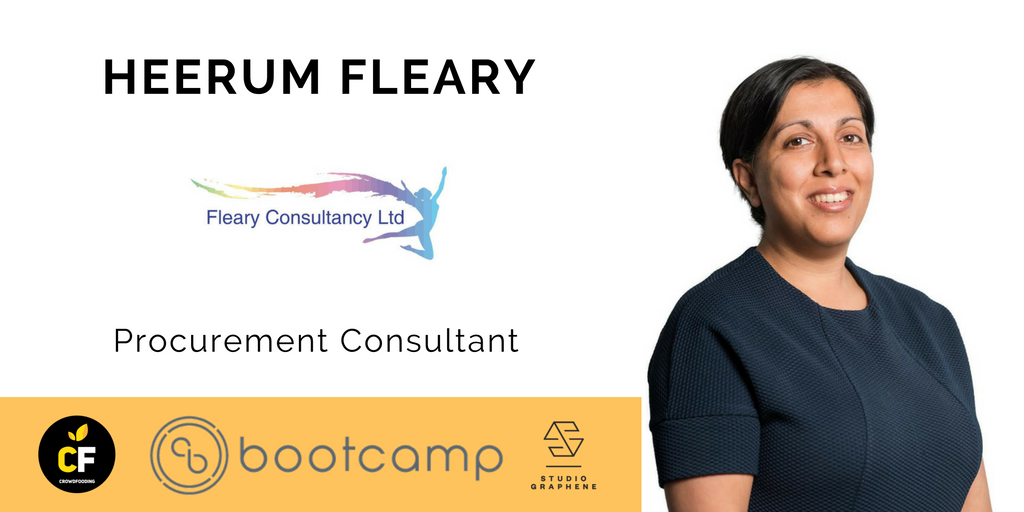 HEERUM FLEARY
Procurement Consultant at Fleary Consultancy
Heerum is a Procurement professional with over 13 years of experience. If you would like to know more about how I can help you and your business then please get intouch.
If you are a food manufacturer who would like to start supplying to the travel sector or would like to grow further please contact me to know how I can support you and really make a difference.
Grab your tickets now and learn how to fast-track your business.
We also have 3 other workshops as part of Food Startup Bootcamp:
Workshop#2: Building brave brands - Branding
Workshop#4: Buzzing for Loyalty - Marketing and PR

Workshop#5: Pitch & close the deal - Fundraising and Investment