Property Sourcing 101 - Make £10,000 per Month

Saturday, September 10, 2011 from 9:00 AM to 5:00 PM (BST)
Event Details
NOW is the perfect time to profit from property

"You have the potential to make an extra £10,000+ every month"
This unique MANUAL is offered only to Mark I'Anson Property
Positive Cash Flow of £10,000 = Profit Every Month
Let us show you how you can make a fortune from property as the recession eases and confidence grows. We guarantee that it will be the most profitable DAY of your life.

And how do we know this? Because you will be shown the exact same easy to follow strategies that we have used. New, up-to-date strategies specifically designed to profit from the current market conditions and the economic recovery.

Just like us, you too will be in a position to make the most of low property prices and profit from the green shoots of recovery. At the same time you have the potential to make £10,000 per month - all within just 90 days of starting!
Previous property experience is NOT needed.
18 or 80 / Employed or Student / Full or Part time / Beginner or Experienced investor
it doesn't matter!
Attend our property course to start your path to a 6 figure income. All you need is the desire to make more money than you could ever dream of.
We are so confident, we'll even give you your course fees back on your first deal, here's what you'll get

What you'll receive: COMPLETELY FREE

Property Sourcing 101 - the book, written this year and set out over 6 chapters to give you a step by step manual to sourcing property deals to make YOU £10,000 per month - RRP £99+vat

  This could be the most profitable day of your life.
UK's Number 1 Property Investment Training Course - Property Sourcing 101
Our Property Course is officially the best in the UK. At what? At providing you with groundbreaking new strategies to make more money off current market conditions.

In a recent survey, 96.8% of our course attendees in Jan 2011, rated our course as being either 'Superb' or 'Outstanding', giving our tools and investment strategies a rating of 4.6 out of 5 for their quality and relevance to the existing economy.
Mark has been in the property industry for over 7 years.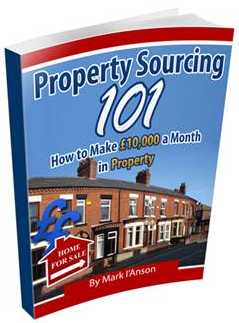 The best time to get a property bargain is now; the best time to make your fortune is now. In the last year alone I have used the system to trade 351 properties nationwide with a value of well over twenty eight million pounds. Some don't complete, some don't work - then move on to the next. I also have a positive cash flow every single month. I've recently completed three more deals (this week), even though we were in the middle of a recession."


"Having been involved in the last crash, I knew there was nothing to worry about. People often tell me that I am lucky to have got involved in property so many years ago. This is just an excuse for them so they can feel better about their lack of ambition & lack of action."
Robin Johnson, businessman
"To win you have to be in the game, so I am trading and will continue to trade. After a lot of years in the property market I've seen people come and go. I have listened to all of the 'so called' Guru's but I know there is no better business than a system - just look at McDonalds."
Graeme Saunders, property sourcer and investor

"At Mark I'Anson Property we have the best property system on the market and now it can be yours."
PS "The system was updated in Jan 2011, with new strategies to ensure you have a positive cash flow of over £10,000 per a month & continue to profit. The recent recession was great for us, because all the amateur investors got scared and were willing to sell us their properties at 40%+ below value! So even now as we begin to see the green shoots of recovery there are still plenty of deals to be had."
Our unique, easy to follow strategies are not revealed anywhere else. You can only find the latest, most updated techniques at Property Sourcing 101.

Why? Because we know if you give us A DAY, we can give you ALL the information you need.

What will you learn in just a day? Everything you need...
"94% of March 2010 course attendees would recommend our property negotiating skills."
You will be introduced to the unique system only available from Mark I'Anson Property. The same system we use to make more money now, than we did during the 'boom'.

In just a day we will go through with you:
How you can buy or control a property with very little of your own cash

within just 30 days. We will introduce you to the simple, tried and tested system that our sourcers use every day of their property investing lives!

Why property is NOW the best place to invest!

Take advantage while most investors stay away because they do NOT know better. The recent recession has presented lots of opportunities for savvy investors and now is the time to lay foundations for future, long term, massive profits.

The best type of properties to buy and why.

They are NOT the ones you think. Find out how you can get Estate Agents begging you to buy properties that you want.

Our success and our property investment trading!

Listen to exactly how we are making our fortune and how you can do the same.
'You learn a lot of new skills'

 

"I am learning all the time. Different ways of doing things in my business. At some point you have to take control"

Andy - Internet Marketing Whizzkids
'I have just done my first 2 deals!'

 

"I feel there's always something to learn and right now there's a fantastic opportunity in property.


Gary - Host of the Northampton Property Meet

'I will achieve everything I want now'

 

"I have been dealing in financial strategies most of my life...


We are teaching on this course, how to get your own property leads using our simple, but effective lead generation system.

Rory - Financial Wizard and Lead Generator

The recession is old news. We have experienced property crashes before and always come out of them having bought more property and making more money every month - and this time is no different. But the recovery is happening fast so you need to act now to take advantage of property bargains.

This is our favourite time! If you attend our course you will be one of those people that other people call 'lucky' in 10 years time.

When in reality, you actually got off your backside and decided to make extra money, instead of just wishing. Our course offers you the chance to live the life you want to live, without worrying about money. Financial freedom for you and your family.
How to ensure a positive cash flow.

This will give you a monthly income above any costs! Yes - initially that will be £10,000 per month.

How to structure your properties to ensure LONG TERM success

. Enjoy gigantic month by month positive cash flow as you continue to expand.

Why estate agents can be your best friend.

You can easily work with them to get exactly what you want from any property deal.

Your next steps.

What you need to do NEXT to reach an extra £10,000 per month & set yourself up for financial freedom. Simple steps that thousands of successful investors use!
All of our sourcers are just like you. They took action and booked themselves on the course.

We guarantee that the day you spend with us, will be the
most profitable of your life or your money back

■ QUESTIONS? SUGGESTIONS?
Mark | 08456 434 595 | mark@markianson.com
When & Where

Park Inn
30-40 St Albans Road
Watford
WD171RN Hertfordshire
United Kingdom


Saturday, September 10, 2011 from 9:00 AM to 5:00 PM (BST)
Add to my calendar
Organizer
After an early career in the Armed Forces, Mark started a second career in sales with household names like Ntl (now Virgin) before discovering property. Although successful careers give a good standard of living, they don't set you financially free.
He has two arms to the business, trading property and teaching others how to make their own property millions using different strategies of sourcing, buying, keeping and trading.
Mark has spoken and available to speak at various events, such as the Property Investor Show (Excel), The London Property Meet, Vanish Patel's Millionaire Club, Property Super Conference, pin Meeting Network and the Many independant property meetings. Enthusiastic, inspiring and always available to help other achieve their financial goals.
Making money with people rather than from them.