Description
The PropTech AR & VR Hackathon is an event in which small teams of developers, designers and Hololens AR enthusiasts will gather to challenge their skill against others as they develop a Hololens Augmented Reality (AR) experience just over 24 hours.
*Prior Hololens development experience required*
2 Days - 1 Theme - 24H to create
Attendees will be given a theme on the day and must create a unique AR application connected to their own interpretation of that topic. They will have just over a day to plan, create, test and present their Augmented Reality experience. Beyond this, the only limits are time and imagination.
Plenty of snacks, food and drinks will be provided during the duration of the hack. Many mentors will also support the teams and guide them in the creation process.
After 24-hour hack our judges will announce and prize the winning team.
Join us a few days prior on Thursday, February 16th for an evening of presentation, demos and networking about PropTech industry using Augmented Reality and Virtual Reality, and be ready to dive in!
Please register on: https://www.eventbrite.com/e/property-technology-proptech-arvr-conference-tickets-30518060340

HACKATHON SCHEDULE
Day 1 - Saturday
10:00AM - ARRIVAL & SETUP
Arrive, get in and get your kit set up, tested and ready before we begin.
12:00PM - LUNCH AND NETWORKING
Refuel, make new contacts and introduce yourself and start to form your team.
1:15PM - WELCOME & ANNOUNCEMENT
The Realities Centre Team will introduce the mentors, the topic and the rules for the next 24 hours.
1:30PM - PLANNING AND BRAINSTORMING
Time to get ready: There are 90 minutes of time purely allocated to planning and brainstorming ideas, getting the key mechanics down on paper and generally agreeing on the direction of things.
3:00PM - HACK BEGINS
24 hours to create, test and ultimately prepare your AR experience

Day 2 - SUNDAY
3:00PM - CEASE
Jamming is over! Be ready for the demo.

3:15 - JUDGING BEGINS
The judges move around to each experience.
5:00 - CLOSE
Time to declare the winner(s)!
FAQ
> Do I need to know how to code to join?
Diversity is a key in a team! Hackathons are focused on the creation that includes a variety of competencies, If you have any doubts, don't hesitate to get in touch.
> I don't have a team, can I join by myself?
Teams will be formed on site so just bring yourself and meet the rest of the attendees on Saturday morning.
> Do I need to bring my own laptop/PC?
Please bring your own computer and devices.
Can't join us? Stay tuned on social media @RealitiesCentre. We will share many insights using the hashtag: #PropTechARVR
Any additional question? Get in touch at events@realitiescentre.com
Please note the event will be recorded and material will be use for marketing purpose.
Please Note: This is a two-day event and accommodation is not provided. Those wishing to participate will need to ensure that they have their own accommodation arranged prior to the event.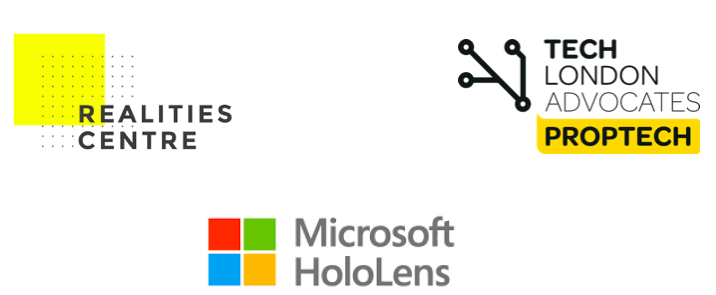 Organizer of Property Tech Hololens Hackathon
Realities Centre - Soft opened in London in December to bring everyone from #AR / #VR / #MR / #360Video together through co-working, incubation, events, training, courses, hacks & more - contact@newrealities.space - Follow us on @RealitiesCentre or visit www.realitiescentre.com

TLA PropTech - Bring together a community of passionate, opinionated and big picture thinkers who can set the agenda, lead the conversation and move the dial on PropTech www.techlondonadvocates.org.uk.