Prospecting for Sales Bootcamp - DURHAM

Thursday, 21 July 2016 from 09:30 to 16:30 (BST)
Event Details
"How to FILL Your Sales Pipeline, Attract More Clients and Grow Yours Sales, Without Spending a Fortune on Sales LEADS!"
Give me one day and I will:
  *) Show you my 5 star prospecting system to generate leads and appointments FAST

  *) Give you the system I have used to make 1000's of appointments and leads for my clients, resulting in over £2million in sales....

  *) Help you generate a sales pipeline that will guarantee new customers NOW and in the years to come

  *) Plus... I will show you the emailing template which has helped me to generate appointments with top CEO's in FTSE 100 companies
The brutal fact is the number one reason for failure in sales is an empty pipe and the root cause of an empty pipeline is the failure to consistently prospect.
By ignoring the muscle of prospecting, many otherwise competent businesses consistently underperform.
And anyone who tells you otherwise is lying.
I have lost count of the amount of people who have tried to prospect for new sales only to find that they are okay for a while, but sooner or later their leads dry up when they get too busy - all because they did not have a replicable system to generate new leads.
Or people have spent thousands of pounds (in some cases tens of thousands) with lead generation companies and have had very little back in return, because they were using a fundamentally flawed strategy.
Now for the GOOD NEWS...
In the past 6 years I've trained and worked with thousands of people in seminars, workshops, conferences, and other live events and helped them generate 1000's of appointments and leads and millions of pounds in sales as a result.
And right here on this page I am not only going to explain to you how I did it, but also how you too can tap into the profits of successful prospecting.
Now, I understand that trying different avenues of prospecting can be daunting, especially when you may have only been used to one or two ways.
But my guess is, you are reading this because you would like to reach more people, get in front of more prospects, and make your business more profitable. Running you own prospecting campaigns is a great way to do that… providing you do it right!
Like I said, I understand that right now you may be a little fearful...
*)  Maybe you are frustrated because you have tried to prospect in the past without much success...
*)  Maybe you are concerned about how much time and effort it takes to generate good quality leads and appointments

*)  Maybe you are worried because most people you speak to already seem happy with what they have in place already and they don't want to change

*)  Or maybe you already are making lots of calls, sending out lots of emails, using social media, but you are sick of the amount of rejection you are getting.

Ten Years Ago, I Felt Exactly the Same
I was sat at my desk on a horrible wet day staring at my laptop in disbelief.
I had to give a detailed report to my Director of all the prospecting I had been doing over the past year – sales were down and I had to be accountable.
I could no longer rely on the success that I had in previous years, winning Salesman of the Year two years in a row, I was in serious trouble now and I needed to do something quick.
You see….
I had become complacent, I had won the largest customer my firm had ever had, a customer that was spending in excess of £3million every year.
I was living the high life. Spending came easy and I am happy to admit it I was stupid.
I had a "spend now, think later" school of thinking and I spent…
We moved from a small terraced house to a large 4 bedroom detached.
When it came to holidays no expense was spared for my family.
Money was going out quicker than it was coming in, I could handle that, I was at the top of my game and nothing could stop me, that was until the financial crisis struck and over night everything changed.
The money that I was accustomed to overnight had vanished as my biggest customer went bankrupt within 2 weeks.
The highlife I was living had to come to a stop as my outgoings were far exceeding the income I was receiving – I was in trouble.
And now to top it all I was under the spotlight at work, they wanted to know what I was going to do to turn it around.
Clearly, Something DRASTIC Needed to Happen
I was scared and I went into panic mode. My first instinct was to pick up the phone and I started increasing the number of prospecting calls I was making, this was clearly a good start but more was needed.
I was frustrated though, by the amount of calls I had to make just to get one appointment, I was hit by rejection after rejection and I needed to change what I was doing in order to get better results.
I started to emerce myself in books, I attended courses across the UK, I invested in training programs in the US, I made 100's of calls every day, I sent out 100's of emails, I studied social media and before long became a true prospecting expert.
I had a prospecting system that would turn my sales around and of others who were willing to practice it themselves.
It was not long before my sales were back on track and I was beginning to smash previous years targets. In one week I generated over 30 face to face appointments at Director level in large UK businesses, my winning formula was proving a success!
I knew I was on to something and wanted to do more, I wanted to help others be more successful as well. I realised that most sales professionals are great when they are face to face with prospects but they struggle to generate leads and would pay well to receive qualified leads and appointments. I had a winning formula and I knew I could make money from it! That was when I set up my first business...
Welcome to Touchstone Leads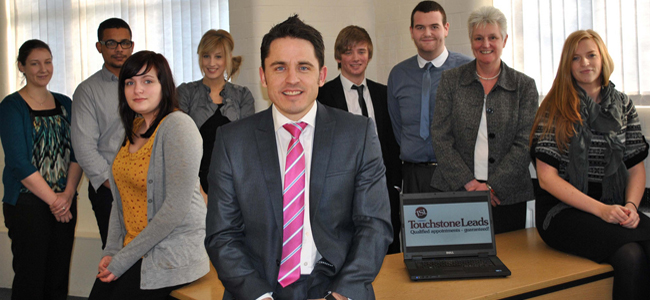 In 2008 I set up a telemarketing company that I knew was going to lead the way. It was the first of it's kind, a Telemarketing company that would only ever be paid on results.
I was that confident that my formula would work, I put my money where my mouth was, my clients only ever paid for the appointments we generated, not on a day rate! It was results driven.
The business grew overnight, the picture above shows my team after trading for only one year!
I trained my staff on how to be effective in getting past gatekeepers
I helped them develop a winning pitch for every new campaign they started, delivering results right away.
They learned quickly how to overcome objections and how to turn rejection into success.
They learned how to close for an appointment very quickly and no matter what sector they were working in, the results were the same.
I soon realised though that the telephone was just one way to generate new leads, we needed to use other avenues.
That is when I developed my "5 star prospecting system" to generate quality leads.
My team were flying, I had a winning formula which was transferable to any sector.
It wasn't long before clients and friends were telling me I should teach this "system" to others - but I resisted because I was not sure I could replicate the same level of success we were getting as a business.
After sharing my dilemma with a good friend and sales trainer he suggested I put together a workshop on prospecting skills and he would help me market it.
So in 2011 I put together my first ever workshop in Durham and called it the "Prospecting Masterclass"
I Started to Make a Real Impact
These were just some of the comments I received from those first events:
"Before your workshop I was struggling to find new leads, I had no motivation and I had exhausted all my data.
The biggest com­pli­ment I can give you is to tell you that fol­low­ing my atten­dance on the course, I have secured meet­ings with ten prospec­tive new clients! So thank you very much"
Lydia Owen – OSP Heathcare
"Hav­ing attended many courses pre­vi­ously, I was sur­prised at how much new infor­ma­tion and how many new tech­niques were presented. I have stated implementing the system straight away and already I am seeing some excellent results!"
Michelle Smith – Keytech
We had 15 people on that first event but it was the feedback I received that gave me the impetus to do it again.
I had people emailing me their success stories.
I had attendees telling me how refreshing the training was.
I had people tell me how overnight they changed the system they were using to my '5 star prospecting system' and they were getting winning results.
Since that first ever workshop I have:
Worked with and trained over 2600 attendees
Consulted with over 274 companies - in-house.
Helped attendee's to generate 1000's of appointments and leads
Helped grow revenue and sales to an excess of £10million
But Enough About Me, Let's Talk About YOU
Do you want to grow your business?
Do you want more customers but do not know where to turn?
Do you find that once you are in front of a prospect face to face, you have no problem converting them into a client - the biggest challenge that you have is getting the lead in the first place.
If you want a solution to getting new customers that will bring you an ongoing stream of new business enquiries than the Prospecting For Sales Bootcamp is for you...
*) The simple process I use to generate quality leads time and time again (this system has been responsible for literally millions of pounds of new invoiced business)
*) My *proven* 5 Star Prospecting System blueprint designed to get prospects calling you instead of you calling them.
*) The 5 step Telephone Framework to get more appointments with less rejection. You will be able to copy this framework and generate more leads than ever before.
*) The secret 'Follow up' technique used to resurrect a prospect when all has gone quiet. Use this clever piece of software to get clients calling you back and it's FREE!

*) How to get people replying back to your emails - See a live case study of how I managed to receive 108 emails in reply to an email sent to 250 contacts. You can copy the same email template.

*) The massive opportunity that most sales people miss out on that gives that gets them instant communication with their prospects.
*) My proven technique that will help you breeze past gatekeepers so that you can speak directly to your prospects

*) No matter what business you are in, how to use Facebook as a LEAD generator. You will learn how to create compelling copy so that prospects will come to you.

*) The secret to getting access to quality lists to promote your services, product or promotion
*) The seven mindsets of true sales prospectors - duplicate these mindsets and you will guarantee yourself success

*) You will be given the same script I use to generate referrals from my customers and the email I give to my customers to send to THEIR referrers.

*) How to train your staff to MAXIMISE their potential - help your staff to master the prospecting system, multiplying your income fourfold.
..Plus I will share real-life stories and examples, showing you how I managed to generate leads for some of the UK's largest bluechip companies.

Kevin's 'Better Than 100%' Money Back Guarantee
Register your place today and attend the 1-day bootcamp. Absorb every bit of information I have to offer. Get all of your planning done and have your seminar ready to go.
And if by the end of the day you don't think it was worth every penny you paid – and more – just let me know and I'll refund your investment in full – no questions asked – PLUS I'll even refund up to £250 to cover your documented travel and accommodation expenses!
Over the last 6 years my method of prospecting has been proven to work in a variety of different markets... from insurance companies to manufacturing... from corporates to SME's... and just about any other industry you can think of!
So, obviously my system works.
You've seen the proof here on this page. And I truly believe that if you use even just ONE TENTH of it in your business, you will generate more leads and appointments, sell a lot more, reach a lot more people, and make a lot more money.
So if you're serious about taking your prospecting to the next level, I urge you to invest your time and money in attending this workshop today!
And I'm so sure that you will love every minute of this workshop that I'm willing to offer you a 'better than 100% money back guarantee'…

PLUS, When You Register Today You Get Instant Access To The Following Bonus:
Million Pound Prospecting Success Templates (Normally £997)
Look, I understand that whilst "learning" this information is valuable, what you really want is for me to DO IT ALL FOR YOU, right?
Obviously, it's impossible for me to do all the work for everyone who attends the Prospecting for Sales Bootcamp.
However, I've come up with what I believe is the next best thing…
When you register today I'm going to give you instant access to all the templates I use to successfully prospect.
Including:
6 step template for telephone success - Gatekeeper - Pitch - Question - Objection Handling - Close - Voicemail
A copy of my new book "How to get a win on very call"
The exact email sequence and templates I use to generate leads and appointments time and time again
The LinkedIn followup template to use after connecting with them directly - use this to generate new leads

Do you realise what this means?
You can literally copy the materials I've spent years (and tens of thousands of pounds) creating, and put them to work in your business, saving you MONTHS of hard work, and a LOT of money!
The materials I'm giving you have already been successfully TRIED-AND-TESTED by myself and my clients, meaning they're GUARANTEED to work for your business.
VALUE: £997.00 – YOU GET IT FOR FREE!
WARNING: ONLY 20 TICKETS AVAILABLE
Due to venue restrictions, there are only 20 tickets available for the Prospecting for Sales Bootcamp.
And since the last Bootcamp sold out in record time, you can understand why I expect tickets to sell out fast!
Once all 100 tickets have been sold this page will be taken down, so be sure to reserve your seat today to avoid missing out.
But I understand that as you read this, you may still have questions. I regularly speak to people who want to attend my workshops or purchase my products, but something's stopping them from pulling the trigger and going for it.
It's usually one of these three things:
1. They do not think they have the time

Believe me when I say… the strategies you'll learn and implement when you attend the Prospecting for Sales Bootcamp will save you weeks if not months of messing around and trying to work how to generate new leads for yourself.
Prospecting for new business is without doubt the BEST way for you to, reach more people, and increase your sales.
2. They do not think they can afford it
Firstly, I don't want you to see this as an expense. I want you to see it as an investment.
An investment is defined as:
"to put (money) to use, by purchase or expenditure, in something offering profitable returns, as interest, income, or appreciation in value."
I know with absolute certainty that when you implement the ideas I share with you at the Prospecting for Sales Bootcamp, you'll make many multiples of your investment back – and fast!
And remember, I'm even willing to back that up with a 'better than 100%' money back guarantee so there really is no risk to you whatsoever.
3. They are not sure it is for them
If by the end of the day you don't think you have the tools and strategies necessary to get a significant return on your investment, just let me know and I'll refund your investment in full, plus up to £250 to cover your documented travel and accommodation expenses.

If you genuinely have no interest in growing your sales pipeline, increasing the amount of leads you have, and getting more paying clients, then I accept and agree that this investment probably isn't right for you.
However, my guess is if you're still reading this but haven't yet decided to register your seat, it's more likely that you're questioning your own ability to make real use of what you're going to learn.
You might be thinking 'I will never be great at prospecting' or something similar. The beautiful thing about what I'm going to share with you is… you don't need to be!
Everything is laid out in a simple way and all you have to do is follow the system - I have done all the hard work for you.
Look...
 If you're really serious about prospecting, you simply must attend the Prospecting for Sales Bootcamp.
 You've seen countless examples right here on this page of how normal, everyday people have used my methods to generate more leads, fill their pipeline, and dramatically increase their income... and of course you'll see much more proof when you attend the live workshop.
 Really, all you need to do is attend and then apply the things I show you in your business.
I look forward to meeting you in person in July!
Speak to you soon,

P.S. Remember, you can register for the Prospecting for Sales Bootcamp today with ZERO RISK. If you don't think the day was worth every single penny, just let me know and I'll happily refund your investment in full, plus up to £250 to cover documented travel and accommodation expenses!
P.P.S. When you order today you also get instant access to my Prospecting for Sales Templates.
These materials have cost me tens of thousands of pounds to put together, and have already been successfully TRIED-AND-TESTED by myself and my clients, meaning they're GUARANTEED to work for your business. You can literally COPY what works, saving you MONTHS of hassle, trying to do it all on your own.
When & Where

Portland House
Belmont Business Park
Durham
DH11TW


Thursday, 21 July 2016 from 09:30 to 16:30 (BST)
Add to my calendar
Organiser
Helping Sales People Say Exactly The Right Thing By The Phone, For Rejectionless Cold Calling And Selling