The LSESU Colombian Society & the Anglo-Colombian Society invite you to a talk on the Colombian Peace Agreement in times of the pandemic.
About this Event
Attendees will receive the Zoom link to access the live feed one hour before the event starts.
The Colombian Symposium 2021: "Transitioning to the new normal: the path to recovery for Colombia" will take place from Tuesday 2nd March to Friday 12th March 2021 to explore the direction that Colombia should be taking after the Covid-19 crisis.
Within the framework of this Symposium, the LSESU Colombian Society and the Anglo-Colombian Society jointly invite you to the Conference "Prospects for the Colombian Peace Agreement in times of the COVID-19 pandemic" on 9th March 2021, 6:30 pm GMT.
Both societies share values and interests and through their mutual cooperation aim to offer you interesting and informative conferences throughout the year.
***********************************************************************************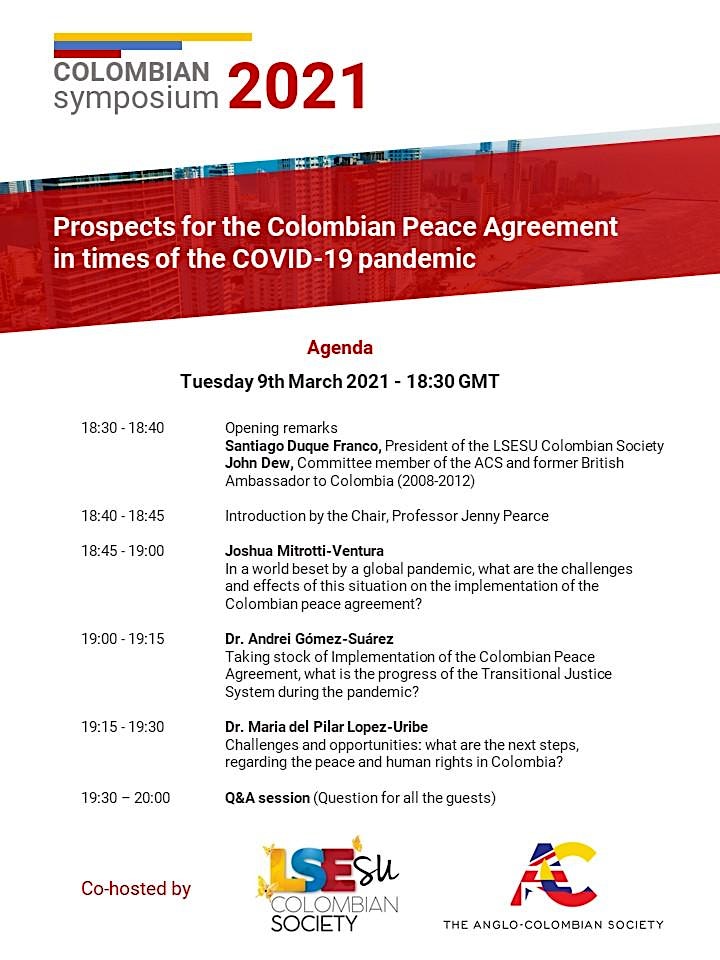 The LSESU Colombian Society was established in 1999 and it is a student group linked to the Students Union at the London School of Economics and Political Science. The society seeks to promote Colombian development through the debate of key issues of the country and its culture in the United Kingdom. It is pleased to host the annual Colombian Symposium which gathers speakers of the highest caliber in the academic, financial, and political world. This event covers topics that ranges from historical and current affairs to a detailed insight into the Colombian social and economic development.
For further information on the LSESU Colombian Society visit: https://www.lsesu.com/organisation/6408/
***********************************************************************************
The Anglo Colombian Society (ACS) is a not for profit, non-political organisation which seeks to improve knowledge of Colombia in the United Kingdom and to foster ongoing friendships between British and Colombian people.
The ACS provides a meeting point for our members through a variety of social and academic events and fiestas. We are currently hosting our events via Zoom meetings due to the ongoing restrictions.
For further information on the Anglo-Colombian Society and membership details please visit: http://anglocol.co.uk/