Description
Would you like to spend a day exploring your relationship with money?
Discover hidden blocks which may be limiting your ability to manifest
Transmute old patterns which may have damaged your relationship with money
Experience a glorious expansion of your 'Prosperity' vibration
Energise a powerful Vision for your future
Get Rachel's input on your individual challenges and aspirations
Meet like-minded 'evolved' entrepreneurs and business owners
Be part of a special ceremony to invoke the Goddess of Prosperity Lakshmi to amplify the power of your intentions.
Join award winning entrepreneur and business mentor Rachel Elnaugh for a day in the City of London with a small group of small business owners, entrepreneurs and solopreneurs designed to create magical results in your ability to 'flow' money effortlessly.
The day will combine some of the teachings and practical exercises from Rachel's book PROSPERITY combined with new learnings about underlying Money Trauma from Rachel's work with Juliet Yelverton which has dramatically enhanced her understanding of money as one way in which the Universe is powerfully attempting to speak to us. You will discover exactly what it is trying to communicate to you!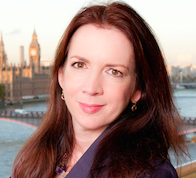 We're holding this event on Diwali - festival of the Goddess of Prosperity Lakshmi - an especially powerful New Moon day and portal for money manifestation!
The event is being held in the main nave of St Ethelburga's Church on Bishopsgate in the City of London - the global financial centre of the world. Founded in 1250 the Church was rebuilt and restored after an IRA bomb severely damaged the building in 1993 and it is now a Centre for Reconciliation and Peace. Closest tube Liverpool Street Station, and not far from Bank and Aldgate.
Arrive at 9:30am for a 10am start. We aim to finish by 5pm. There will be a one hour break for lunch (not included). All other refreshments will be provided. Please bring a journal and pen.
PAY-WHAT-YOU-CAN-NOW
If cashflow is an issue for you, opt for a WAITLIST ticket and IF ANY SPACES ARE REMAINING ON MONDAY 16 OCTOBER they will be offered to everyone on the Waitlist on a Pay-What-You-Can-Now-And-Pay-The-Rest-Later basis. There is no time limit on when you pay the balance; it is left to your honour, on the basis that the experience will help you get into 'Flow' of money and abundance.
In the highly unlikely event that we need to cancel this event (as we have already reached the minimum number of participants to make it viable) our liability is limited to the ticket price - which will be refunded to you in full.