Description
READ FULL EVENT DESCRIPTION HERE.
---
Supported by
Hardware Pioneers is supported by some of the leading companies in the IoT sector:
Mouser Electronics (Headline Sponsor)
Digi-Key Electronics and Cocoon Networks.
---
Join hundreds of IoT pioneers to discover the best practices and new technology when it comes to prototype IoT devices. The companies who will take the stage on the 10th of May will be:
- The British multinational semiconductor and software design company (ARM).
- One of the leading software company that provides PC-based electronics design software for engineers who design PCBs (Altium).
- A leading provider of microcontroller and analog semiconductors, providing low-risk product development, lower total system cost and faster time to market for thousands of diverse customer applications worldwide (Microchip).
- A market leader in short-range, license-free, sub-1GHz wireless technology (Low Power Radio Solutions).

See agenda below for full info about the speakers.
Drinks will be served throughout the night.
---
Lucio di Jasio compares the radically different design approaches taken by 8-bit and 32-bit MCUs. The book outlines the sheer software-driven power and higher clock speeds of low-end 32-bit MCUs against the continued simplicity of 8-bit design using Core Independent Peripherals (CIPs). It provides a refreshingly new perspective which challenges designers who think that they know the 8-bit architecture.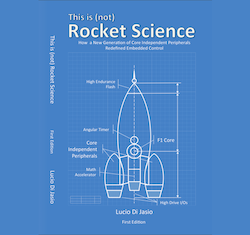 ---
About the speakers


Michele Riga, Product Specialist / Mike Eftimakis, Senior IoT Product Manager at ARM
Talk title: TBC
About the speaker: Michele Riga is a product specialist in the Embedded and Automotive Line of Business at Arm. He is responsible for managing the Armv7-A processors and Arm Cortex-A53 in the thriving IoT and embedded markets, and works on the Arm DesignStart initiative - a low-cost, easy-access route to Arm IP. Michele's experience covers product marketing and hardware engineering, including design and verification in the memory system of Arm DynamIQ technology and other Arm processors, area where in which he holds one US patent and one patent application.
Before joining ARM as IoT product manager, Mike Eftimakis has been innovating at VLSI Technology, Philips Semiconductors, NewLogic, his own start-up and a consulting business. He has held many different roles in engineering (layout, digital design, PCB design, system architecture, Web and database design) and in business (including being a start-up's CEO for 8 years). His active participation in the early design of Bluetooth & WiFi IP, and in definition of consumer electronics and remote monitoring systems are key to his involvement in IoT.
About the company: Arm technology is at the heart of a computing and connectivity revolution that is transforming the way people live and businesses operate. Their advanced, energy-efficient processor designs are enabling the intelligence in 100 billion silicon chips and securely powering products from the sensor to the smartphone to the supercomputer.
Video: Powering IoT with ARM
Video: Arm, Architects of Possible
Philip Mayo, Customer Sales Director, EMEA at Altium / Jonathan Riley, Director of IoT Routers
Talk title: IoT Routers, our journey to secure IoT
About the speakers: Before joining Altium Philip was Managing Director at Premier EDA Solutions, acquired by Altium in 2017. Now he is responsible for the Customer Sales teams across Europe, Middle East and Africa at Altium. Philip is an hard working entrepreneur with considerable experience in electronics design automation software, sales, support and distribution. He is passionate about the success of electronics design in the UK and supporter of education and life skills development for young people.
Jonathan is presently a director of IoT Routers, a company founded to produce high performance secure routers for embedding in systems handling sensitive data. His areas of specialisation are high-speed digital/FPGA design and Radiation effect analysis of systems used in space. His career so far spans more than three decades and includes designing RF composite Direct Digital Synthesis systems for answering marine radar, the communications control systems of a constellation of 900 satellites, and of course many and varied multi-protocol router designs.
About the company: When it comes to electronic design, Altium is a technological leader in developing truly unified PCB solutions, and has over 30 years of experience in bringing designers the tools they need to help them make the most of modern technologies, successfully manage projects, and deliver connected, intelligent products.
Article by Altium: Designing PCBs for IoT
Article by Altium: Flexible PCBs and IoT: How the Landscape of PCB Design is Rapidly Changing
Arild Rodland - Product Marketing Manager at Microchip

Talk title: Effortless IoT design - Talk will include how to deal with IoT enabling existing designs and what to think about when starting a new design from scratch.
About the speaker: Arild is a Business Development Manager in Microchip MCU8 group. He joined Atmel in January 1999 where he started as a Field Applications Engineer at the AVR Design Center. Prior to his current position he spent the 6 years doing Technical Marketing for capacitive touch solutions and 8 years managing AVR Technical Marketing covering Asia. Arild received his M.Sc. in Electrical Engineering from the Norwegian University of Science and Technology.
About the company: Micorchip Technology is an American manufacturer of microcontroller, memory and analog semiconductors. Microchip serves over 70,000 customers in more than 65 countries who are designing high-volume embedded control applications in the consumer, automotive, office-automation, communications and industrial-control markets worldwide. Headquartered in Chandler, Arizona, the company offers outstanding technical support along with dependable delivery and quality.
Video: Out-of-the-box Prototyping with 32-bit Curiosity
Video: Microchip demonstrates LoRa low-power IoT wireless internet network technology
Nick Pummel, Managing Director / Srikanth Ganji, Applications Engineer at LPRS
Talk title: Quickly integrating a LoRa radio for use within a private network
About the speakers: Nick is LPRS's Managing Director who passionately believes in LPRS second-to-none ability to help OEM's use license-free ISM radio. He believes LPRS's solutions add real value, being able to help any OEM use ISM/LPWAN technology.
Srikanth is one of LPRS's key development and applications engineers, who loves to help customers of all types and sizes, integrate low power radio communications.
About the company: Low Power Radio Solutions (LPRS) is a market leader in short-range, license-free, sub-1GHz wireless technology. LPRS was one of the first companies to supply a modular wireless solution — a major step forward for wireless designers. LPRS then developed easyRadio, the world's first radio module with an embedded communication software protocol.
Development tools, Evaluation Kits and Software by LPRS
RF Solutions for Agriculture and Smart Farming

---
Agenda
6:30pm - Arrival and registration.
6:40pm - Drinks and networking.
6:50pm - Event opening.
7:00pm - Michele Riga, Product Specialist / Mike Eftimakis, Senior IoT Product Manager at ARM
7:20pm - Philip Mayo, Customer Sales Director, EMEA at Altium
7:40pm - Arild Rodland - Product Marketing Manager at Microchip
8:00pm - Nick Pummel, Managing Director / Srikanth Ganji, Applications Engineer at LPRS
8:20pm - Community announcements and demos: This is your time. If you would like to share what you are working on with the community or make any sort of announcement. You have 2 minutes max for a short shoutout.
8:30pm - Drinks and networking.
9:30pm - Event ends.
---
Global partners
Electronic Specifier - Europe's premier publisher of information resources to the global electronics industry.
Publitek - The leading global marketing communications and PR agency for B2B electronics.
---
About Hardware Pioneers
Discover more about Hardware Pioneers on our website.
Get notified about future events by subscribing here.
Check out what people say about @HdwPioneers on Twitter!