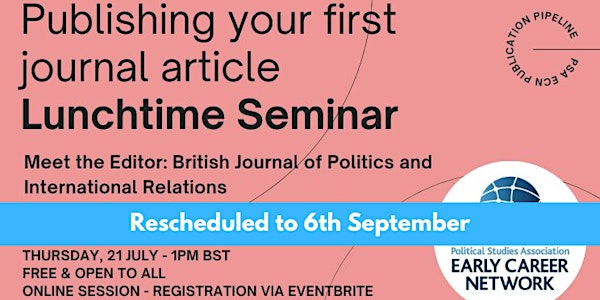 PSA ECN Lunchtime Seminar: Publishing your first journal article
The PSA's Early Career Network is hosting a lunchtime seminar about publishing your first journal article. It is free and open to all ECRs.
About this event
Rescheduled to 6th September, 1pm (UK time)
Publishing your first journal article and meet the editor of BJPIR
This is a FREE lunchtime seminar organised and hosted by the Political Studies Association's Early Career Network. It is targeted towards Politics ECRs and PhDs but open to all.
Speakers:
Publishing articles in academic journals is increasingly important for an academic career. If you're looking to publish your first article, the whole journal submission and peer review process can seem a little complicated. But it doesn't have to be. The PSA ECN are teaming up with BJPIR's Derek Edyvane to walk you through the process of getting your first journal article published.
This is a chance to get valuable advice about what journals and their editors are looking for in paper submissions and how to make sure you get yours published.
How do I know whether a journal is right for my paper?
How do I avoid a desk reject?
What happens once I have submitted my paper?
These are just some of the questions that this session will cover as we demystify publishing your first journal article for PhDs and early career researchers. In particular, the session will explore some useful tips and advice for pitching papers to journals and the peer review process. It will give you a valuable insight into what editors look for in papers and what makes a successful submission.
There will be an opportunity to meet the editor and ask specific questions too - so, bring your thoughts along and get clued up on publishing your first journal article!
—-—
This lunchtime seminar forms part of the Political Studies Association Early Career Network's 'Publication Pipeline' which aims to support ECRs to equip themselves with the skills and knowledge to secure a publication. There is still much work to be done to make academia more inclusive. In our commitment to promoting equality, diversity, and inclusion within the discipline, this workshop aims to widen access to conferences and publication by bolstering the skills of ECRs and removing barriers to much of the 'unspoken' knowledge we need to participate. We encourage participation from scholars of all backgrounds based in any location.
The Political Studies Association (PSA) is committed to supporting the next generation of political scientists through its Early Career Network (ECN). The PSA ECN exists to represent the interests of postgraduate students, postdoctoral researchers and early career academics within the PSA. It opens a space that specifically addresses the interests and needs of postgraduates and early career researchers in an independent, peer-based environment, while still getting support and guidance from the Executive Committee of the PSA when required.
The British Journal of Politics and International Relations (BJPIR) is an international journal that publishes peer-reviewed, cutting edge scholarship across the full breadth of the fields of international relations, comparative politics, public policy, political theory and politics. As a flagship journal of the UK's Political Studies Association, BJPIR is the world's premier outlet for research on British politics.