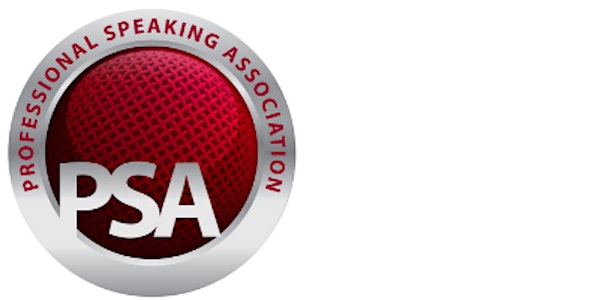 PSA Ireland November 2021 – Finish 2021 Strong And Start 2022 Even Stronger
Event Information
Refund policy
Contact the organiser to request a refund.
Eventbrite's fee is nonrefundable.
We've had such a great year in PSA Ireland with amazing speakers giving our members outstanding content and expertise...
About this event
...So we want to finish this year off strong and set you up to make 2022 and beyond even stronger for your speaking business.
With that in mind we've called in the BIG GUNS – the veterans of speaking to end our year on a high!
We have masterclasses on how to:
- Have the courage to share your message
- Be the speaker audiences want to hear
- Understand behaviours and motivators
- Build an outstanding speaking business
Come join us and celebrate the amazing year we've just had in 2021 and get ready to put your plans in place for an outstanding 2022!
Here's Our Agenda:
• 08:45am – doors open to our zoom room for our members to join
• 09:00am – start with our members-only Masterclass, masterminding and networking
• 10:15am – doors open for our non-members and guests to join
• 10:30am – Better Speaker, Better Business, Showcase sessions along with networking and discussions
• 01:00pm – end
The Courage To Follow Your Heart with Rikki Arundel
What is your primary aim as a speaker? Do you see it as just a way to make a living or do you have a greater purpose. I believe that to be a great speaker we have to have a greater purpose than making money. In some way we want to change the world. I want to help to make the world a fairer place where every persons gender is accepted and respected. How do you want to change the world, how will the world be a better place because of what you have said.
Rikki Arundel is a Keynote Speaker, executive coach and diversity expert and was the founder of the PSA. Their career as a technology speaker ended following a change in gender in 2002. Faced with considerable discrimination, Rikki completed a master's degree in gender research and established themselves as a leading diversity speaker, delivering keynote presentations and workshops on trans and non-binary awareness, unconscious bias, social identity and gender equality, including two successful TEDx talks. This year Rikki was awarded the prodigious PSAE (Speaker Hall of Fame) award and was the winner of the PSA Annual Comedy Night competition.
How To Be The Speaker People Want To Hear with Phillip Khan-Panni
Phillip Khan-Panni is a Co-founder and Honorary Fellow of the PSA and a winner of multiple awards for public speaking. In Toastmasters, he has been Anglo-Irish champion a record four times and was the UK's first World Championship Silver Medallist. He was also the Inaugural UK Business Speaker of the Year. Author of eight books on communications skills, he has trained business leaders in that subject since 1994. Now retired, he lives with his Irish wife in Ireland.
In this masterclass you will…
• Understand what audiences want to hear
• How to connect with an audience
• How to tell the right story and tell it well
• What it takes to be a memorable speaker
Have You Ever Been Mismanaged Before? with Louise Lally
Louise has been managing teams in retail for over 13 years. She has a background in HR and training and most recently has become a qualified coach. She has a passion for people and believes in an empowered and educated workforce in the retail sector. Having worked in the sector for many years Louise saw the gaps in people development and wants to be part of the solution to this through developing her own training programs and having these supports in place for managers. She set up her own business this year and is challenging the status quo.
In this masterclass you will…
• Be able to understand the different behavioural styles.
• Be able to differentiate between the observable behaviours and motivators.
• Have an understanding of how these observables show up in the workplace.
Pulling More Speaking Business Out Of The Hat In 2022 with John Hotowka
John Hotowka has first-hand experience of the highs and lows associated with running a speaking business. What's more he's BURSTING to spill the beans and he's not holding back. For the last 32 years he's been self-employed as a speaker, humourist and magician and has a sack full of top tips to share. In 2009 he went back to basics and decided to re-build his speaking career from the ground up and you'll learn from his journey. He created 'Achievement Thinking' a methodology to build resilience and manage change which he's taught to many corporate and smaller business clients.
In this masterclass you will learn…
• How to work out what the right business model is for you.
• Do you really need to showcase? If so where and how would you leverage that to generate contacts that grow in to leads.
• How to make the PSA work for you.
• Plus some myth-busting about being a professional speaker
So when I talk about the BIG GUNS you can see why!
For our final event of 2021 before everyone gets into the madness of December, come join us for what will be four hours well spent and gain the golden nuggets of experience and expertise that our speakers have to share with you – with only one thing in mind – to help you on your speaking journey.
Non-members of the PSA are very welcome to join us.
If you would like to attend the members-only part of the event, you can join as a PSA member here: https://www.thepsa.co.uk/join/membership-application/
I look forward to seeing you on the day.
Paul Davis
Regional President – Ireland
How do we use your data?
When you register to attend a PSA event, we share your name and contact details with the person running the event. For regional meetings, this will be the Regional President. They may share these details with members of the Regional Committee, for the purposes of contacting you about the event, welcoming you, and following up with you afterwards.
Date and time
Location
Refund policy
Contact the organiser to request a refund.
Eventbrite's fee is nonrefundable.
Organiser of PSA Ireland November 2021 – Finish 2021 Strong And Start 2022 Even Stronger
Our aim is to help you speak more and speak better. Our events will help you do just that.
On behalf of The PSA Board:
The coronavirus is a growing public health concern that is continuing to have a significant impact throughout the international events and conference industry. Due to the recent update from the UK Government requiring individuals to stay at home, our physical events have now moved online, registration for these is available via our events page as usual. With the situation changing at a rapid pace, we are keeping an eye on the official guidance and will be continually reviewing this.  
Rebecca Jones
PSA Chair
Cancellation Policy: Please be aware that we do not accept cancellation of bookings for PSA meetings, as we make arrangements to support the number of places booked and incur costs that cannot often be recovered. If you have booked a place at a PSA event and are no longer able to attend, please ask around your local PSA community to see if another speaker wishes to attend in your place - we're happy for you to transfer your booking, and just ask that you let us know by emailing admin@thepsa.co.uk.
Processing your personal data: Please note that when you book an event your data will be processed in accordance with the PSA's Privacy Notice. This is in addition to Eventbrite's privacy policy.
Photography
We will be taking photographs throughout the event and may also be video recording the event. By purchasing a ticket you agree that all photography may be used at the discretion of the PSA and for the business of any speaker being filmed during the event. However, if you do not wish to appear or be identified in any photography or video footage please advise any Committee member on arrival at the event so we can, of course, accommodate your preference.