PSA London Alive - Bringing energy to your speaking

Saturday, 14 April 2018 from 09:30 to 17:00 (BST)
Event Details
PSA London Alive - Bringing energy to your speaking
 PSA London Alive will be a WOW day.
If you want to WOW your speaking business and get more bookings and fine tune your speaking skills, you MUST be with us!
We have 6 OUT-STANDING speakers lined up.
All of them are PSA fellows (the most successful speakers of PSA UK).
They will unveil their most precious advices from stage then you will be able to spend time with them during the numerous coffee breaks and the lunch.
If you discover PSA London, look at what people say from our previous events.
With 60 to 80 participants (some of them are coming for the 1st time) in the room every month, we tailored the event for you to get the buzz that comes from being with other high-energy and inspiring speakers and discover strategies that will get your business to a totally new and higher level.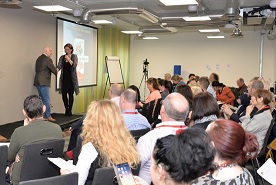 Celia Delaney MC coming on stage to deliver her keynote

So if you are the kind of speaker who wants to really grow its business … you MUST be there!
As you will see, these keynotes are the perfect balance between business and speaking skills.
You must be wondering… who are the 6 speakers?
Suspense is over …
Here they are!
Frank Furness
With a speech titled:
The Three Pillars to Success in Professional Speaking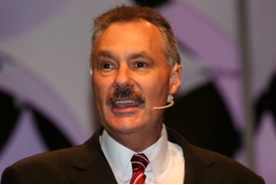 Frank will be sharing the three pillars to success he has discovered over his 21-year speaking career.
They include
'Your Speaking Career'

'Creating Income while you sleep' and…

Your 'Exit Strategy'.
Create the lifestyle you want by planning your strategy and being different to other speakers.
Derek Arden
With a speech titled:
The Secret Language of Success – Body Language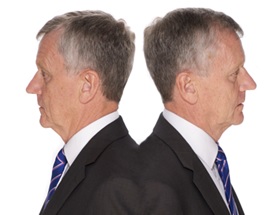 Every Brit needs a second language – and that second language should first be Body Language.
In this short, sharp and succinct session. Derek will share what he has discovered with his study of analysing body language.
Upgrading your skills at reading body language will enable you to -
Make better decisions

Make more money  

Make more time for yourself


Whether you are a SME, Large corporation, Speaker, Trainer, Coach or sole trader, Negotiation has become one of the most important elements to the profitability of your business.
Derek has trained individuals and businesses around the world on negotiation with amazing results.
He is a consultant to a number of large organisations and has helped them to increase profits, sales and reduce costs with his focused masterclasses
Rikki Arundel with a speech titled
Bring energy to your speaking with better audience engagement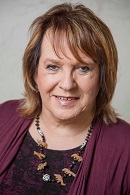 Most of us choose to become professional speakers because we want to change the world.  
But to do that we need to make sure that the audience remembers our message and takes action.  
One of the most effective ways to do that is to engage the audience fully in the presentation.
Rikki will explore many of the different ways we can engage the audience, demonstrate at the pros and cons of audience participation and look the importance of room layout in planning audience engagement.
Lynda Shaw with a speech titled
How to Get More Bookings by Leveraging Quirks of the Brain in Your Marketing.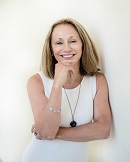 Marketing is like marmite isn't it?
You either love it or hate it.
But whichever camp you sit in, most speakers are missing a trick or two when it comes to effective marketing.  By the end of this 30-minute talk you will understand:
Why so much of your marketing is received below conscious awareness

Why this is a good thing when you understand it

3 practical strategies to leverage these quirks of the brain to get more gigs
Carole Spiers with a speech titled
Speaking Is More Than Just Talk!

 Behind every spellbinding performance lies a philosophy of extreme resilience to keep you on top of
Your all-year schedule of networking,

Speechwriting,

Promotion,

Hi-tech and pressures of life on the road.
 Mike Blissett with a speech titled
Speak Like A Pro Online - How To Add Online Sales To Your Speaker Business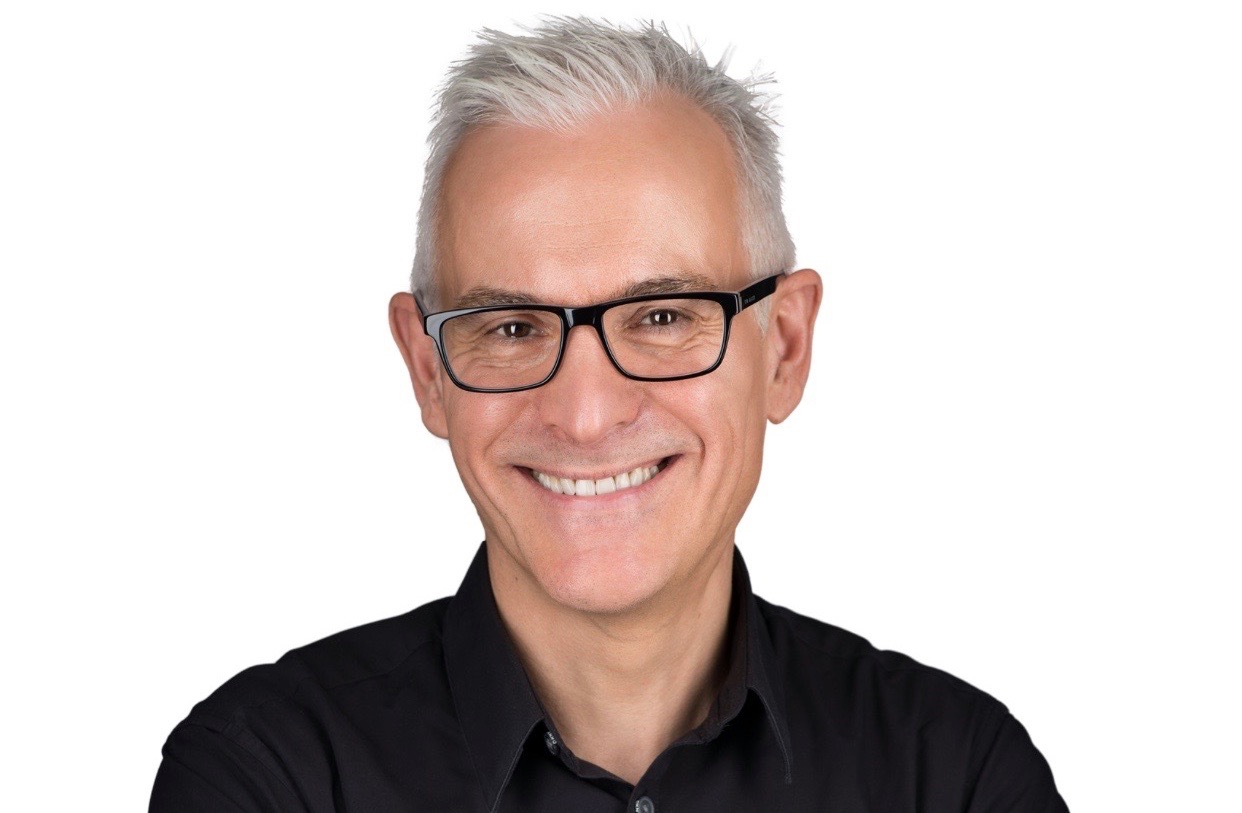 In this 30 minutes talk, Mike will share how to create extra income from your speaker or coaching business, even when you're not 'in the room.'
These 6 speakers will power the day and I strongly encourage you to grab your ticket now to discover new ways to get the edge in your business so you make 2018 the great year you deserve!
I am sure you'd like to know more about the day.
But first, some pictures from the previous event.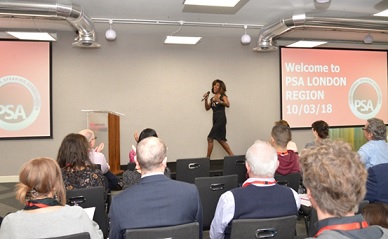 Pearl Jordan - PSA London President walking on stage
HOW WILL THE DAY UNFOLD?
It will be a very simple day.
As you will arrive at 9:30am, our team will greet you; show you the breakfast bar with free good coffee and pastry and introduce you to other speakers.
The keynotes will start with each of our 6 great speakers and what you will discover will fuel discussions during the 1-hour lunch break.
It is a great way to get to know fellow speakers. (From the moment you arrive, we do everything to make you feel comfortable and get to know as many people as possible.)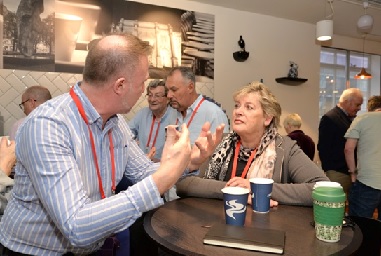 Networking during one of our numerous break with fresh and GOOD coffee
What you will NEVER get at PSA London
We do not sell from the stage.
This is not a day to sell you a "bigger event".
The day is the big event to help speakers get to the next level.
It is a powerful training for speakers by speakers this is why you will receive tremendous value on this day.
The audience praises the event month after month as they leave the room inspired and full of energy.
 Ready to join us?
The event is on Saturday 14 April from 9:30am until 5pm in Central London.
I know it is a whole day, on a weekend and it is your time.
However…
Listen up.
When speakers are serious about growing their business, coming to PSA London can be their most important decision.
Because getting to know other speakers and applying what you will discover can literally transform your business.
Booking this next gig…
Joining this speaker bureau…
As Simon Sinek said, "The goal is not to be perfect by the end, the goal is to be better today."
So join us!
Let me recap for you what you will get.
Enjoy an all-day event in a premium venue in Central London

A welcoming atmosphere for speakers at all levels

Breakfast with coffee and pastries (all included in the fee)

Fully catered hot lunch (included in the fee)

Tea break in the morning and afternoon

Six keynotes from expert speakers

You will feel pumped as you leave the day, knowing that you discovered new ways to speak and run your business.

And much more…
Timings: 
09:30: Breakfast - coffee and pastries
10:00: We start
11:30: Coffee & Tea break
13:00: Hot lunch
14:00: Restart
16:00: The main event ends and the important networking continues
17:00: The networking gets really serious as we move to the pub


The booking fee starts at £48 for members in the early bird ticket.
We can keep your investment so low as we operate as an association and all the committee members are unpaid volunteers so all the money goes towards booking the room, the AV and the fully catered day for you.
It is now time to invite you to join aspiring and professional speakers on Saturday 14th April at 9:30am by booking your tickets now.
The early bird tickets are available until Wednesday 11th April so don't miss out and book your ticket now.
Simply click on the green "Order Now" button at the top of the page to reserve your seat.
When & Where

etc.venues Marble Arch
86 Edgware Road
W2 2EA London
United Kingdom


Saturday, 14 April 2018 from 09:30 to 17:00 (BST)
Add to my calendar
Organiser
Our aim is to help you speak more and speak better. Our events will help you do just that.
Cancellation Policy: Please be aware that we do not accept cancellation of bookings for PSA meetings, as we make arrangements to support the number of places booked and incur costs that cannot often be recovered. If you have booked a place at a PSA event and are no longer able to attend, please ask around your local PSA community to see if another speaker wishes to attend in your place - we're happy for you to transfer your booking, and just ask that you let us know by emailing admin@thepsa.co.uk.
Processing your personal data: Please note that when you book an event your data will be processed in accordance with the PSA's Privacy Notice. This is in addition to Eventbrite's privacy policy.